Festive Fireworks at Gulliver's World to start the countdown to Christmas goes off with a bang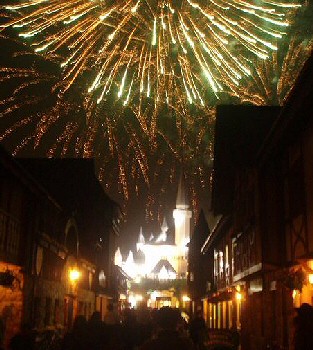 FAMILIES from Warrington and beyond where invited to Gulliver's World, on Friday, 22 December 2017, for a fantastic Festive Fireworks display that will being the countdown to Christmas with a bang! The Festive Fireworks event is a special event in Gulliver's Christmas calendar. Synchronised to seasonal music, the professional pyrotechnic performance will light up the night sky above Warrington in a frenzy of fabulous colour. Christmas shows also ran throughout the day, before the fireworks show in the evening, ensuring magical memories for those attending.

Dean Kimberley, Director of Guest Services at Gulliver's, said:- "The staff at our theme parks simply love Christmas. It is the most wonderful time of the year and we enjoy getting in to the Christmas spirit. Being a part of such a special time of year for families who visit the theme park or attend one of our annual Christmas event helps us embrace the Christmas spirit even more. It's a great feeling to know you're bringing cheer to children and their parents. Smiles add to the magic of the season, alongside our festive attractions for families."

The theme park is open, from 10:30am, on Friday, 22 December 2017, for people to enjoy a full day of festive fun and activities as mascot, Gully Mouse, whisks revellers on a wonderful journey around the world. Christmas has been in full swing at Gulliver's World during December, with thousands of excited children visiting to share their Christmas wishes with Santa, practice their helper skills at Elf School and enjoy a host of festive activities, rides and attractions. Christmas packages are available to suit all budgets, and include special festive attractions. Many of the park's most popular rides are running and other attractions dotted around the park will keep even the youngest of visitors entertained all day long. To book your Festive Fireworks event tickets and other Christmas packages at Gulliver's World, visit:- GulliversFun.Co.UK or call the Gully's Hotline on:- 01925 444888.

---
Liverpool's HOPE Project receives ₤1000 worth of donations
ESTABLISHED 4 years ago, the HOPE (Helping Other People Exist) Project, which is funded entirely by donations, supports Liverpool's homeless. They are group of volunteers who go out into Liverpool City Centre giving out a hot drink and a sandwich to those living on the streets. The charity has recently received ₤1,000 worth of donations from local pensions administrator MyCSP. Donations include everything from gloves and hats to sleeping bags and thermal socks. The group at the HOPE Project go out four nights a week between 9.30pm and 11.30pm and stick to a regular route so those in need know where to find them. David Boardman, Director of Customer Excellence at MyCSP said:- "Hot food and essential items such as warm clothing and sleeping bags are vital for anyone sleeping on our streets. We're full of admiration for the HOPE project and the support they provide for some of the most vulnerable in our society." MyCSP's community fund supports local causes, and since its launch three years ago has donated over ₤40,000 to 85 different fundraising campaigns. If you would like to donate or volunteer with the HOPE Project, please visit their Facebook page.

Plumbers' winter warning to avoid costly bills from burst water pipes and flooding this Christmas

WATERSAFE, who are the UK body for approved plumbers, is urging homeowners in Merseyside to wrap up their homes this Christmas to avoid frozen and burst water pipes putting a damper on festivities. The national accreditation body, which is backed by water companies including United Utilities, is supporting the Met Office's 'Get Ready for Winter' campaign. The campaign includes advice on keeping homes warm and safe during the festive season and beyond.

Derrick Ryall, Executive Head of Public Weather Services at the Met Office, said:- "People in the UK are resilient and severe winter weather is something we're all used to, so we sometimes underestimate its impact on our everyday lives. Our research shows that many people are too relaxed, however, and are confused about what they need to do to prepare. This is why we have created the comprehensive winter checklist, so households can ensure they are fully prepared this winter."

As temperatures drop below zero degrees, frozen and burst water pipes can cause flooding, damage and leave homes without water. New figures from the Association of British Insurers say claims to repair a burst water pipe can reach ₤7,500. Despite this, new Met Office research shows that 75% of people it surveyed are unsure if their pipes are insulated and protected against freezing.

WaterSafe is advising homeowners to check water pipes in draughty areas such as attics and garages and outside taps. If they aren't wrapped in lagging (a foam material designed to prevent freezing) it's time to act. Insulating pipes not only protects them from winter weather but keeps the heat in, saving money too.

WaterSafe is also encouraging homeowners to fix leaky taps before temperatures drop, as even a trickle can result in a frozen tap. Dealing with leaks as soon as you discover them is also an important water-saving measure as every drop counts. Fixing a dripping tap could save 5,500 litres of water a year, not to mention ₤18 off water bills.

Top tips for a winter ready home include:-

► Make sure you know where your stop tap is and check it's working.

► Make sure all pipes in unheated areas and outside taps are insulated.

► Fix any dripping taps or toilet cisterns – this will also save water.

► Check your central heating boiler has been serviced.

► If you're going away, consider leaving your heating on and set the thermostat to 14°C. Ask a neighbour to keep an eye on your property.

► Keep the name and number of a WaterSafe approved plumber to hand for emergencies.

Julie Spinks, director of WaterSafe said:- "Knowing where your stop tap is, so you can turn off the water quickly if a pipe freezes or bursts, is essential. However, 'prevention is better than cure' so following our tips now will help homeowners enjoy peace of mind and a safe festive period during colder weather. If you're not confident about insulating water pipes or fixing dripping taps yourself, a WaterSafe recognised plumber can help and offer advice."

To find your nearest approved plumber use the postcode search at:- WaterSafe.Org.UK or call:- 0333 207 9030. You can also get further advice on getting homes winter ready on that WaterSafe website.

Find out more about the wider:- 'Get Ready for Winter' campaign, which is run by the Met Office on behalf of the Cabinet Office. More information about the campaign can be found on the Met Office website.