'Make Every Minute Count' challenge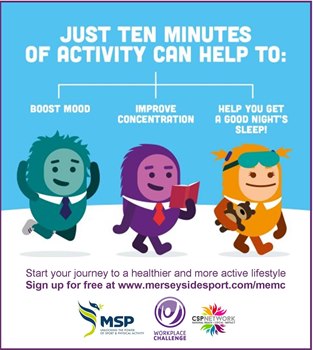 WORKERS within the Liverpool City Region are being encouraged to take part in the free:- 'Make Every Minute Count' challenge. The initiative is designed to leave those taking part feeling more energised, less stressed, refreshed, and able to beat the winter blues this January. Those looking to get more active this New Year aren't alone. In fact 38% of us in the UK set resolutions at the start of each year to become more active. The good news is that you don't need to join a gym or start training for a marathon with the 'Make Every Minute Count' challenge. The initiative, spearheaded in the region by MSP, which works to enable people to be active every day, is just about fitting small amounts of activity to fit around your working life. Anyone can get involved too, no matter your age, ability or fitness levels and signing up online is easy.

The 8 week challenge starts, on Monday, 8 January 2018, and challenges you to log at least 1 mile (or 10 minutes) of physical activity per day, this could be say:- walking, jogging, cycling, taking part in an activity class; whatever you enjoy and fits in to your life. It's about finding simple ways to do more activity, such as taking the stairs instead of the lift, or parking further away from the office.

Each time you do your daily activity and log it on the Workplace Challenge website you'll get the chance to win prizes including:- gift vouchers, theatre tickets, signed Liverpool FC and Everton FC books, a signed LFC and EFC shirt, a sit / stand desk and much more. It's all part of the Workplace Challenge, which is a free website / app that helps you to log how much activity you do; it's provided in 30 counties across England, including Merseyside.

Danny Woodworth, from MSP, said:- "The campaign has a particular emphasis on breaking up your working day with physical activity to reduce sedentary behaviour. NHS guidelines state that getting plenty of regular exercise, particularly outdoors and in daylight, can help to improve symptoms of seasonal affective disorder. So, in January stepping away from your desk during the lightest and brightest part of the day is a great way to improve your wellbeing and can help tackle the culture of a desk-bound lunch."

You could also push yourself to try a brand new activity; to help, MSP have put together a calendar of great sessions and events taking place across the whole of the Liverpool City Region for you to get involved with. Sign up for the free 'Make Every Minute Count' challenge at:- MerseysideSport.com, where you'll find details of the events calendar and lots of top tips to keep active this winter. You'll also find plenty of videos and ideas to keep active at work by following MSP, on both Twitter and Facebook.

Local student to compete in leading super yacht design competition
THOMAS Scowcroft, a promising young design talent from Merseyside, has been handpicked from across Britain to compete live at the London Boat Show 2018 for the iconic title of Super Yacht UK Young Designer 2018. Standing between them and the coveted title will be their imaginative transformation of an ex-military vessel into an exquisite, bespoke explorer super yacht.

Currently studying for a BA (Hons) in Product Design at the University of Central Lancashire, he will be up against strong contenders in this year's competition.

The prestigious annual Super Yacht UK Young Designer Competition is run by industry representatives, Super Yacht UK, an association of British Marine, and kicks off on the 1st day of the prestigious London Boat Show, taking place from 10 January to 14 January 2018.

It is the only competition of its kind in the UK and is among a select few across the world to recognise future design talent and provide them the opportunity to truly grow such talent within the industry. In recent years, the competition has been a launch pad for some of today's most ambitious super yacht designers and naval architects.

Thomas will be hoping to secure himself the winning prize of a 4 week internship at world leading custom super yacht builder and refit specialists and event sponsor, Pendennis Shipyard. There he will get the invaluable opportunity to develop his understanding of how to translate great design into practical production working on one of the shipyard's high profile projects.

The talented runner up will receive the prize of a unique 2 week internship at world leading design and naval architecture studio and event sponsor, Olesinski based on the Isle of Wight.

Explaining his life long ambition to be a designer, Thomas Scowcroft says:- "Ever since I was a young boy I have had a passion for design. It is the motive for me being an aspiring designer today. I appreciate the natural forms and attention to detail within these companies who design luxury yachts. The competition will vastly benefit me in developing my sketching skills to a more refined level. It will also give me an insight into how these fascinating vessels are designed."

Peter Brown, Chairman of Super Yacht UK, commented:- "The UK remains a global hub for super yacht design and Super Yacht UK is keen to help nurture the next generation of design talent. The core skill of hand sketching is increasingly rare and is often dismissed in favour of software generated design work and so the challenge for young designers becomes 1 of differentiating themselves from much of the competition by employing a more traditional skill set when the situation demands it."

Stephen Hills, Projects Director at Pendennis Shipyard and judge of the Super Yacht UK Young Designer Competition 2018, added:- "The Super Yacht UK Young Designer Competition is a unique platform for showcasing the range of design talent from British universities and colleges. Since being involved as a sponsor, Pendennis has always been impressed with the imagination, hard work and enthusiasm shown by the candidates during the Show, as well as the high calibre of each winner during their subsequent internship at the yard. We are very much looking forward to seeing the young designers at work during the London Boat Show once more; the range of responses to the brief and the calibre of drawings produced are always impressive."