Brit Floyd is heading to Liverpool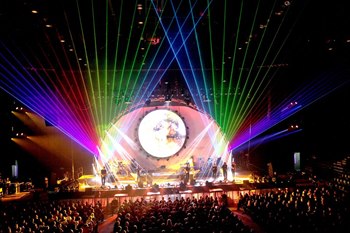 BRIT Floyd, the world's greatest Pink Floyd tribute show returns to the stage in 2018 for a very special:- '45th Anniversary' retrospective of Pink Floyd's iconic 1973 album:- 'The Dark Side of the Moon.'

Having sold in excess of 45 million copies and judged by many as the greatest rock album of all time, The Dark Side of the Moon was an ambitious psychedelic masterpiece that redefined rock itself and propelled Pink Floyd and its members to rock immortality.

Each night Brit Floyd will perform classic tracks from:- 'The Dark Side of the Moon' alongside gems from:- 'Wish You Were Here,' 'Animals, The Wall' and 'The Division Bell' plus lots more.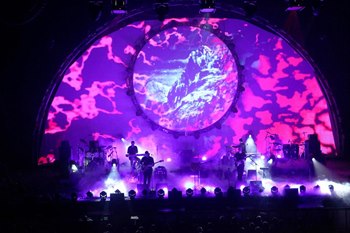 The Brit Floyd show has truly become a phenomenon, widely regarded as the world's greatest live tribute to Pink Floyd. Faithfully recreating the scale and pomp of the final 1994 'Division Bell' tour, complete with a stunning million dollar light show, large circle screen and arch plus moving lights, lasers, inflatable's and theatrics. A Brit Floyd show really is as close as fans will get to experience the magnificence of a Pink Floyd show live.

Brit Floyd is more than a tribute! It really is as good as they say; believe the hype and don't miss it!

Tickets are on sale now through:- TicketMaster.co.uk or via calling:- 0845 845 0444 / 0845 499 9990 (for Events in Scotland)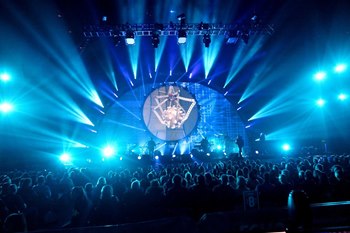 Tour Dates:-

► Friday, 2 March 2018, at the Liverpool ACC, call:-0845 8000400.

► Saturday, 3 March 2018, at the Newcastle Metro Radio Arena, call:- 0845 493 6666.

► Monday, 5 March 2018, at the Glasgow Royal Concert Hall, call:- 0141 353 8000.

► Tuesday, 6 March 2018, at the Bristol Colston Hall, call:- 0845 8871500.

► Wednesday, 7 March 2018, at the Brighton Centre, call:- 01273 290131.

► Friday, 9 March 2018, at the Portsmouth Guildhall, call:- 0845 8472362.

► Saturday, 10 March 2018, at the Birmingham Symphony Hall, call:- 0121 7803333.

► Monday, 12 March 2018, at the London Palladium, call:- 0845 412 4657.

► Tuesday, 13 March 2018, at the Leicester De Montfort Hall, call:- 0116 2333111.

► Thursday, 15 March 2018, at the Southend Cliffs Pavilion, call:- 01702 351135.

► Friday, 16 March 2018, at the Manchester Bridgewater Hall, call:- 0161 907 9000.

► Saturday, 17 March 2018, at the Poole Lighthouse, call:- 01202 280000.

► Sunday, 18 March 2018, at the Plymouth Pavilions, call:- 0845 146 1460.

Eagle eyed School children in Cheshire to look out for the nation's favourite birds
BLACKBIRDS, house sparrows and robins are at the top of the checklist for hundreds of School children across Cheshire this week as the world's biggest Schools' wildlife survey kicks off.

The RSPB Big Schools Birdwatch; which takes place during the 1st ½ of the spring term, that runs until 23 February 2018, is a chance for children to put down their books and get outside to experience and learn about the nature that lives in their local community.

The Birdwatch involves children spending an hour watching and counting the birds that visit their outdoor space, before sending the results to the RSPB.

A recent survey of 200 teachers and 1200 School children from around the UK revealed that 96% teachers believed it was important for children to experience nature at School, while 77% of pupils agreed. With close to a million School children taking part since its launch in 2002, the RSPB Big Schools Birdwatch is the perfect opportunity for Schools to get outside, learn and make their 1st discoveries in nature.

Last year, more than 1000 children and teachers in Cheshire took part. House sparrow was the most common playground visitor in the county and over ½ of Schools spotted 1 during their watch. Blackbirds, woodpigeons and starlings all featured prominently in the results, and with over 70 different species recorded, there is sure to be a few surprises in Schools around the county.

Emma Reed, RSPB Education, Families and Youth manager in Northern England said:- "Taking part in Big Schools Birdwatch uses just 1 lesson or lunchtime, so it's really fun and simple to set up, and it works for all ages. We hope that taking part will inspire School children in Cheshire about the wildlife they share their space with. Sadly, children today are spending less time outside in nature, which means they are missing out on the positive impact it has on their physical health, emotional wellbeing and their education. The Birdwatch is the perfect chance for them to experience nature first hand, make exciting discoveries, and the results help provide our scientists with valuable information, so the children are helping to make a real difference for wildlife."

For the 1st time the RSPB has partnered with Cbeebies favourites Twirlywoos to provide exciting new activities and resources specifically tailored to Early Years, to help get their mini Birdwatches off to a flying start.

The Big Schools Birdwatch is a free activity and only takes an hour to complete. Teachers can pick any day during the 1st ½ of the spring term to take part, with the flexibility to run it as a 1 off or as the centre piece of a cross curricular study, project work or a way for the children to improve their outdoor space.

To take part in the Big Schools Birdwatch and help the next generation of children start their own wildlife adventure, visit:- RSPB.Org.UK/SchoolsWatch.
---
NHS Equipment Amnesty
KNOWSLEY'S Integrated Community Equipment Service (ICES), is running a campaign to encourage patients to return all NHS loaned equipment that they no longer need, so it can be cleaned, recycled and put to good use again.

The service, which is delivered by North West Boroughs Healthcare NHS Foundation Trust, provides free NHS equipment to support patients across Knowsley and Sefton.

ICES is asking that everyone takes the time to check if they have any NHS community equipment they no longer need and to get in touch as soon as possible to arrange a free collection, as part of their equipment amnesty.

Every year around 20,000 pieces of equipment are loaned out in Knowsley, but less than ½ of these are returned. This costs the local NHS over ₤300,000 a year to replace.

Some examples of how much money could be saved by returning unused NHS community equipment include:-

► Each wheeled zimmer frame saves the NHS around ₤17.

► Each bath lift returned saves the NHS around ₤200.

► Each pressure mattress returned saves the NHS between ₤140 and ₤550.

► Each kitchen trolley returned saves the NHS around ₤40.

Sara Harrison, Head of Service for the Centre of Independent Living, said:- "We need to make best use of our resources and ask anyone who has any equipment such as walking aids, kitchen or bathroom aids, supportive seating, specialist mattresses or cushions to kindly return them. Everyone will be aware of the financial pressures currently facing the NHS, and the Community Equipment Amnesty is 1 way to help save some money locally."

If you or a relative has any NHS equipment you no longer need, you can arrange for it to be collected free of charge by contacting the Knowsley Integrated Community Equipment Service (ICES) on:- 0151 244 4380

Alternatively, you can return the equipment yourself, during opening hours (Monday to Friday from 8:30am to 4:30pm) at the following address:- The Knowsley Centre for Independent Living, Unit 11 Brickfields, Huyton Business Park, L36 6HY.