Latest information about the ACC Car Park fire
Photographs via Merseyside Fire and Rescue Service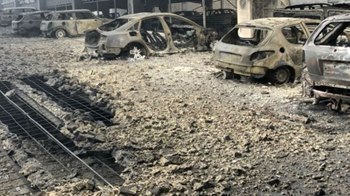 ON New Years Eve 2017, many where counting the hours to the chimes of Big Ben, but for some, it was counting the cost and fear for those affected by a devastating fire that ripped through the Liverpool ACC Car Park.

The fire stated as the Liverpool International Horse Show was taking place and those attending or taking part and had to be evacuated from the area. Also apartments and hotels near to the fire had to be evacuated, leaving many stranded in the City on New Years Eve. Despite it being New Years Eve, many volunteers came out to help those affected. The houses that that could also no longer travel home got taken to Liverpool's Aintree Race Course for the night. Merseyside Police told us that:- "The Red Cross helped those and unable to get home or need shelter, at the Reception Centre within Lifestyles, on Park Road." We have also been told that a number of Taxi Cabs helped people to get home for free.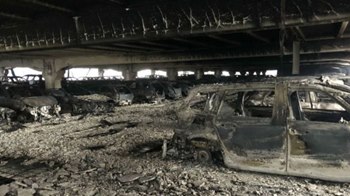 Merseyside Fire and Rescue Service have also told us that:- "Investigations still indicate that this was an accidental fire within a vehicle caused other cars to ignite and thankfully no 1 was seriously injured."

Security around the ACC Car Park on the Liverpool Waterfront has now been stepped up to prevent public access, with hoardings set to go around the car park building.

Even though their has been extensive damage to the car park, which now has 24 hour security to ensure public safety, Liverpool Arena and Conference Centre (ACC) remains open for business and its full schedule of booked events will still go ahead.

Liverpool City Council's Parking Services team is currently making contingency arrangements to provide extra open air parking in the area.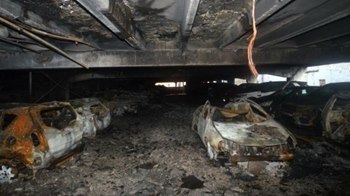 As soon as the site has been made secure, structural engineers will begin the process of determining the viability of the structure and people are being urged to keep a safe distance from the building.

The process of removing the 1,305 vehicles that were parked inside is estimated to take many weeks, as most were entirely incinerated.

Mayor Liverpool, Joe Anderson, explained:- "We are still in the process of trying to make the site safe so that structural engineers can being the process of analysing the extent of the damage. Frankly, it's likely that the car park will have to be demolished as the fabric of the building has been extensively damaged. To put this in perspective, one of the cars of the third floor has actually crashed through to the floor below. So it's not safe yet even to enter the building and we cannot have anyone risking their lives trying to do so, especially with the strong winds we're currently experiencing."

Mayor Anderson added:- "I know that some cars have not been destroyed and those people will rightly want to retrieve their vehicles and contents, but I would ask them to bear with us while the recovery work continues. We will do everything we can to try and recover any vehicles and possessions that are still viable, but everyone needs to understand that the car park was an inferno and the vast majority of cars were completely incinerated. We are dealing with a freak event and people who have worked in this field for a lifetime have never known anything like it. Thank God there was no loss of life in the fire. However public safety must continue to be our Number 1 concern."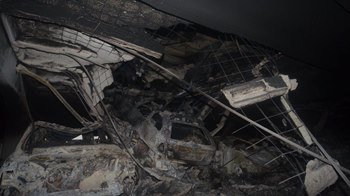 Vehicle owners affected by the devastating car park fire at ACC Liverpool are being urged to get in touch with Liverpool City Council, so they can be kept informed about latest developments as recovery work at the site continues.

Mayor of Liverpool, Joe Anderson, explained:- "I want to reassure all those people who had vehicles in the car park that we will do everything we can to assist them during this traumatic time. To help us do that, I am urging them to contact us via the form on our website, so that we can keep them up to date as work continues to make the site safe. We will ensure they have the latest information, including any photographs and footage from inside the car park."

► Vehicle owners can fill in the e-form online.

► A 24/7 helpline has also been established for any queries:- 0151 233 3011.

Mayor Anderson added:- "I have already written to the Association of British Insurers asking them to ensure their members respond compassionately and imaginatively and do not delay in making payments. In addition we are exploring whether any of the CCTV from the car park is recoverable as it might help to determine which cars were inside, but it is not clear whether it has even survived the fire. In the meantime, I would urge people to keep their car park tickets as proof."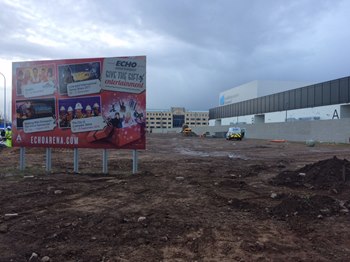 Meanwhile the events programme at ACC Liverpool continues as normal, and Liverpool City Council's parking services department is currently creating a 600 space open air car park as a temporary replacement, located at Kings Dock, to be operational very soon.

The incident number is:- 'MP-20171231-0650' if your car was destroyed and you need if for your insurance company.

The Organisers of the Liverpool International Horse Show said riders were donating money towards the cancer treatment of Joanne Henderson, who is the wife Joanne is a prevention manager, at MFRS. This is being done to show their gratitude to Merseyside firefighters.
Karen Lounds has set up a crowd funding appeal for Matt Henderson, 42, whose Ms Lounds, who said the NHS in the UK could not offer him further treatment, is trying to raise ₤200,000 so she can get it in the USA. The Just Giving Page is currently active should you wish to donate.
We are also told that UK Insurance Company Admiral are:- "Wavering the excess and allowing No Claims Bonuses to be retained and unaffected for claims relating to the fire."

If you have any more information about those who volunteered and helped those affected by the fire, please email us to:- News24@SouthportReporter.com as we would like to know who they are.

The Little Mix Experience heading to Southport Theatre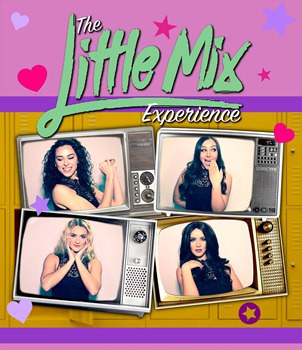 JOIN 'The Little Mix Experience' for a jam packed concert of 1 of the X Factor's finest exports, presented by Sweeney Entertainments.

4 hugely talented girls pay tribute to 1 of the UK's finest girl bands, with breathtaking dance moves, replica costumes and some of the finest vocals in the UK. Bursting with personality, this is a high energy show from beginning to end!

The Little Mix Experience bring you all of Little Mix's greatest hits including:- 'DNA,' 'Wings,' 'Salute,' 'Black Magic,' 'Love Me Like You,' 'Secret Love Song' and many, many more.

Sweeney Entertainments, co-founded by Julie and Peter Sweeney, has been providing a wide repertoire of top quality touring shows for theatre and corporate events for over 15 years, both in the UK and internationally. 2017 was the company's strongest year to date with more shows touring than ever before and 2018 brings even more new shows and UK tour dates. Julie said:- "The Little Mix Experience faithfully recreates Little Mix's greatest hits, emulating the style, sound and dance moves in a concert environment that is suitable for all ages."

Shannan Cairns, performer (as Perrie Edwards), Choreographer and Creative Director for The Little Mix Experience, said:- "The audience can expect a high energy show for all the family to enjoy. All the hits from Little Mix from the very beginning until now, along with replicate dance routines and costumes. It really is the full "Little Mix" Experience."

They are said to look like Little Mix and sound like Little Mix, so you're sure to:- 'L.O.V.E. The Little Mix Experience!'

Top see this show at Southport Theatre, on Saturday, 10 February 2017, please book your ticket now via calling:- 01704 500036 or going online.
---
Johnny Cash Roadshow heading to Merseyside and Manchester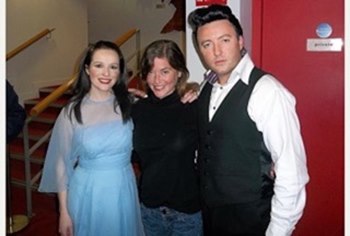 THE spirit of the 'Man in Black' is alive and 'kicking like a mule' with an outstanding celebration of the iconic legend that has been endorsed by Johnny Cash's family.

This is gold standard, fire cracking entertainment from the 1st note, delivering an inspired set of cherished numbers with impeccable rhythmic pace. A dynamic performance from an unparalleled group of highly talented musicians and a guaranteed treat for country music lovers and die hard Cash fans alike.

The stage lights up with a colourful explosion of energy, against a striking backdrop of classic screen imagery of the 'real deal.' Clive John, captures the essence of Cash with exceptional style and confidence. His deep, distinctive vocals are spot on, evoking pure country magic with:- 'Walk the Line,' 'Folsom Prison Blues' and 'A Thing Called Love.'

Charismatic duets are superb. Renditions of:- 'Don't You Think It's Come Our Time' and 'Jackson,' encapsulate the tender charm and uplifting humour shared by the late enigmatic pair. The music doesn't miss a beat as the set glides seamlessly along, evoking a timeless quality of a golden era with fresh contemporary flair.

Martin Bentley (bass) is in a league of his own and Nick Davis (guitars) and Darren Bazzoni (drums) 1st class. Backing vocals by Louise Masters and Amanda Stone add sparkle and glamour as the Carter sisters, complimenting the line up with equally impressive versatility.

Despite the band's professional portfolio and slick stage presence they reach a direct intimacy with audiences of all ages that other performers can't quite pull off. This is more than just a show, it's a heart warming story played out with genuine passion and a wonderful celebration of 1 of worlds greatest known artists.

Further information including tour dates and new album release:- 'Johnny Cash Roadshow Gold,' can be found at:-JohnnyCashRoadShow.com along with full tour dates and venues.

Liverpool City Region and Manchester Dates:-

► 20 January 2018 - Convention Centre - Southport, UK.

► 25 February 2018 - Opera House - Manchester, UK.

► 21 Apr 2018 - The Brindley - Runcorn, UK.
---
520,000 North West businesses can get free help with their Tax Returns

THE North West's 521,795 small businesses are urged to sign up to an easy to use forum to get top Tax tips.

With the midnight, on 31 January 2018, deadline for Self Assessment Tax Returns to be filed online approaching, businesses are urged to join HM Revenue and Custom's (HMRC) Small Business Online Forum.

It is hosting Q&A help sessions throughout January on how to file, paying taxes for the 1st time and how to use HMRC's digital services.

The Q&As are aimed at new enterprises and start ups but any self employed individual or new business can sign up to the forum, which launched in August 2016.

The sessions, where questions are answered by HMRC specialists, are on:-

► Friday, 5 January 2018, from 11am to noon.

► Friday, 12 January 2018, from 1pm to 2pm.

► Thursday, 18 January 2018, from 1pm to 2pm.

► Friday, 26 January 2018, from 1pm to 2pm.

Businesses can also share their experiences and knowledge on the forum.
Just sign up with an email address, password and create a username at:- Online.HMRC.Gov.UK

Businesses looking for Self Assessment advice can also access HMRC's YouTube videos and webinars through the forum.

HMRC's Customer Services Director General, Angela MacDonald, said:- "The Small Business Online Forum is a vital tool full of great advice and handy hints to make life a little easier for those starting up in business. All small firms should take advantage of the Q&A sessions, especially with the Self Assessment deadline approaching at the end of January 2018."

The deadline for sending 2016 to 2017 Tax Returns to HMRC, and paying any Tax owed, is 31 January 2018.
Please also keep an eye out for a rise in Tax related scam emails and phone calls through out 2018. You can get advice on how to spot them via the UK Government website:- Gov.UK.