Health trust wins children and young people's mental health innovation award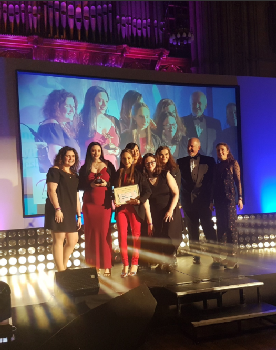 A young people's mental health service from local NHS trust CWP has been named:- 'Innovator of the Year' at this year's National Children and Young People's Mental Health Awards.

The accolade, won by Cheshire and Wirral Partnership NHS Foundation Trust's (CWP) Child and Adolescent Mental Health Service (CAMHS), was awarded to the Trust for its pioneering mental health support website, MyMind.org.uk.

MyMind has been co-produced with young people accessing CAMHS and aims to support anyone interested in the mental health and wellbeing of children and young people across Cheshire and Wirral.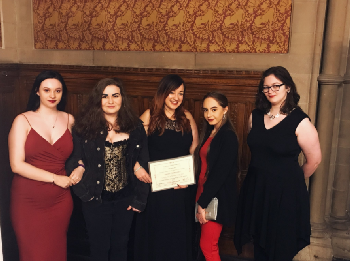 This is the latest in a long line of recognition for the site, which has a growing reputation nationally as a pioneering digital resource that supports the mental health and wellbeing of children and young people. In recent years, Mymind has been named winner at the iNetwork Innovation Awards and has also been highly commended in both the 'Innovation in CAMHS' category at the Positive Practice in Mental Health Awards and the 'Innovation in Mental Health' category at the Health Service Journal (HSJ) Awards.

Dr Fiona Pender, Consultant Clinical Psychologist and Clinical Director at local mental health Trust CWP, said:- "We were really proud to be winners at the inaugural National Children and Young People's Mental Health Awards and to be recognised for all the work that young people, their families and staff put into delivering and maintaining the MyMind website."

At the ceremony in Manchester's Town Hall, CWP's CAMHS service was highly commended in no less than 4 categories on the night. The Winsford CAMHS service was highly commended in the Contribution to Services category for their mental health in Schools project - #mymindmystory, Rebecca Bywater was highly commended in the volunteer of the year category for her work assisting the CAMHS Listen up group and contribution to Schools mental health training, and Helen Bibby was highly commended in the parent/carer/sibling category for her support in the mental health in Schools project.

Dr Pender added:- "We're also incredibly proud of Rebecca and Helen, who were shortlisted in the awards and attended the event, as well as our Winsford CAMHS staff for their mental health in Schools project."

Year of the Volunteer
SEFTON Council, in partnership with Sefton CVS, is dedicating 2018 as the Year of the Volunteer! Following on from the huge success of the 'Year of the Coast,' the tireless work of Sefton's thousands of volunteers, who give an astonishing 116,000 hours of their time each week, will be celebrated in a yearlong campaign to raise awareness of how much volunteers do for the borough.

Volunteers make a real difference in Sefton. They touch people's lives in so many different ways, providing comfort and support, fostering community development, and actively helping to keep Sefton clean, green and beautiful. Volunteering also has a positive impact on the health and wellbeing of those who participate in it.

'The Year of the Volunteer' will be officially launched, on Tuesday, 6 February 2018, at The Atkinson, Southport, where partners, community groups and residents can learn more about what 2018 has in store for the voluntary, community and faith sector and how to get involved.

Throughout the year we will be celebrating a number of different volunteer themes including health and wellbeing, animals and the environment, culture, the armed forces and youth volunteering.

Cllr Trish Hardy, Sefton Council cabinet member for Communities and Housing, said:- "In recognising the valuable role that volunteers play, it made sense that 2018 becomes the Year of the Volunteer. This theme will not only celebrate the vital work that volunteers do, but hopefully it will encourage other people to get involved as well. Throughout the year we hope to celebrate the valuable contribution that volunteers make, highlight the volunteering opportunities available in Sefton and increase the number of people who sign up to volunteering activities."

Sefton CVS Chief Executive Angela White OBE said:- "Sefton CVS and the Volunteer Centre Sefton are delighted to be working in partnership with Sefton Council to highlight the work of local volunteers and the organisations across the borough throughout 2018. The Volunteer Centre Sefton will continue to play an active role I supporting local residents to access volunteer roles, and also support local voluntary, community and faith sector groups to recruit, manage and retain volunteers."

Further information about the launch event and themes for Year of the Volunteer will be released in due course.
---
Man charged in connection to New Ferry explosion
ON the evening of 25 March 2017, an explosion rocked the junction of Boundary Road and Circular Drive, New Ferry, Wirral, leaving a trail of devastation in its wake. As a result of investigations by Merseyside Police, on Tuesday, 16 January 2018, they confirmed that they had charged a 56 year old male in connection with the explosion.

Pascal Blasio, of Gillingham, Kent, was the owner and director of Homes in Style Furniture Shop which was located at the site of the explosion. We are informed that he was charged with causing an explosion likely to endanger life. The particulars of the charge being that, on 25 March 2017, in Birkenhead, he unlawfully and maliciously caused, via an explosive substance, an explosion of a nature likely to endanger life or cause serious injury to property. Pascal Blasio has since been released on Conditional Bail and is due to appear at Wirral Magistrates Court, on Wednesday, 4 April 2018.

Contract Natural Gas Limited (CNG), an independent gas supplier which provides gas exclusively to business customers, has also been charged with an offence under the Health and Safety at Work Act 1974, for failing to discharge general health and safety duty to a person other than an employee. The particulars of that charge being that between 22 August 2012 and 25 March 2017, in Birkenhead, they failed to conduct its undertaking to ensure, so far as is reasonably practicable, the health and safety of persons not in its employment, including:- Lewis Jones, by failing to ensure that the redundant live gas service to 43 Bebington Road, New Ferry, was disconnected following removing the meter.

In relation to the other 2 males arrested in connection with the incident:-

► No action will be taken against a 63 year old man from the Flintshire area.

► A 65 year old man from Cheshire was notified in July 2017 that he was no longer under Police investigation.