Pieters knocks birthday boy Fleetwood off top spot
...Photographs by Getty Images...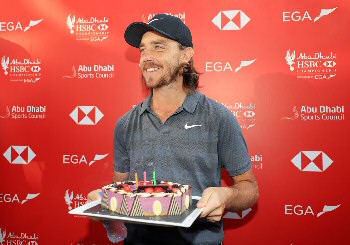 ON Friday, 19 January 2018, in Abu Dhabi, UAE: Belgium's Ryder Cup sensation Thomas Pieters' bogey free 65 made him the man of the moment as he soared to the top of leader board in round 2 of the Abu Dhabi HSBC Championship presented by EGA.

Pieters finished at 12 under, 1 ahead of Spain's Jorge Campillo who added a 64 to Thursday's 69, to finish on 11 under. Round one leader and reigning champion Tommy Fleetwood, who celebrated his 27th birthday today, is well placed on 10 under, alongside fellow Englishman Ross Fisher and Frenchman Alexander Levy. Paul Casey, who has won 2 previous Championships, sits at 9 under, while World Number 1 Dustin Johnson will fancy his chances at 8 under, after shooting a flawless 64 to get into contention.

An early start suited Pieters, as he claimed two birdies in his 1st 4 holes. He finished the round dramatically chipping in from the bunker on his 18th hole (9th hole) to secure his 7th birdie of the day. Asked if he expected to start his first event of 2018 so well, Pieters said:- "Not really! We have a decent game plan. I'm in a positive mind set, keeping calm, knowing I've done well here in the past and that the course suits me. The greens are perfect, the weather's perfect. I'm ball striking well and I hit 16 greens today. That all helps. Off the tee was decent and I rolled in a couple of putts which was nice. So now I am going to eat, practise, and make sure I don't hook and slice anymore, and I'll be ready for tomorrow."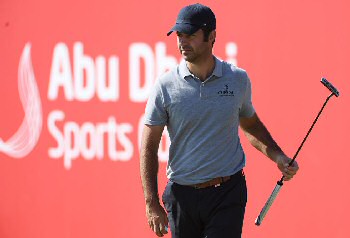 The 31 year old, Spaniard Jorge Campillo, tied the low round of the day with an impressive 64, a shot behind Pieters, to take him into 2nd place on 11 under. Campillo said:- "I always like to come here to Abu Dhabi and play golf. I've had a Top 10 here, and I normally play well. So I do like the course. I think it's a fair course. It's tough but it's playing easy, but it can play hard with the wind. It seems having practised hard this winter that the work is paying off. Brit Ross Fisher produced another solid round of 67, matching his efforts of 5 under on day 1. Fisher soon got into his stride and didn't let a bogey on the 6th put him off, as he went on to hole 6 birdies, including his last 2 holes. Today felt marginally better and was another solid day. I didn't really miss many shots, except that sloppy bogey playing the 6th. But I'm obviously delighted with the 2 days' work, all safely through to the weekend."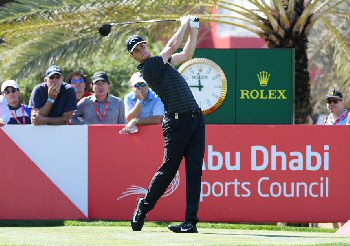 English compatriot Paul Casey, who has twice been a winner here, shot a 7 under par 65, which included an eagle and 5 birdies, is at 9 under for the Championship. >>> Continued in opposite column... >>>

<<< Continued from opposite column... <<< The 40 year old Englishman re-joined the European Tour towards the end of 2017, having not played for more than 2 seasons. He said:- "Today was really good. I dialled things in and shot 5 better. I'm not a morning person, but the golf course was perfect this morning: just a little softer, greens less fierce. This course is so well prepared that guys are going to make putts. Personally, I know this course well and I think that's the thing; I know how to get around it. I know where I struggle around this golf course. I know where I can capitalise with the strengths of my game. Every hole it seems like I've got good memories of, so it really is drawing from some of those past experiences. But I think the biggest motivation is the fact that Kaymer has got three Championship titles and I've only got 2! So I would love to equal that record this week."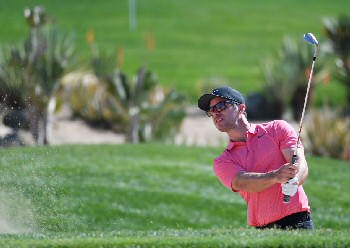 1 of the most popular groupings of the day was the headline trio of World Number 1 Dustin Johnson, 4 time Major winner Rory McIlroy and reigning champion, Southport's Tommy Fleetwood (UK). Fleetwood managed a 68 while Johnson and McIlroy finished rounds of 64 and 66 respectively, with McIlroy bagging a timely Eagle on the 18th. Commenting on his performance, McIlroy added:- "I tried to stay as patient as possible and I now feel so much closer to the lead. The 1st 2 days I've been really, really happy. Today was an improvement on yesterday just in terms of scoring and I'm glad I made the eagle on the last. I'm right in the mix after 2 days, and you know, I'm happy to be in that position. I feel like I've got a really good chance this weekend."
The Olympic trio of Justin Rose, Henrik Stenson and Matt Kuchar struggled to keep up with the headlining pack. Justin Rose and Matt Kuchar just managed to make the cut, both finishing the day T57 on 2 under. Stenson fared better ending T21, 6 under and still in contention ahead of day 3.

The home grown talent of Championship invitees Ahmed Al Musharrekh, Tom Buchanan and Dan Kirkwood mustered up strong support on day 2 of their campaigns.

Although unable to make the cut, Buchanan brought with him a voluble crowd of supporters from his home club of Al Ain. Accompanied by the applause 1 might expect for a professional top 10 player, Buchanan finished on the 9th green with great cheers from his friends and family.

Buchanan described his 2nd round performance as "ropey," but was quick to appreciate the following he's gained:- "Unbelievable. Incredible. There's a big following from everywhere, which is obviously great, and for them to be here is something I'll never forget."

Ahmed Al Musharrekh, the Championship's 27 year old, Emirati qualifier explained that he played:- "much better than yesterday" and that he was already looking forward to next year. He stressed the value of being an ambassador for aspiring Emirati golfers, saying:- "It's a real privilege to be here and to be a national. Hopefully we can get more UAE national juniors into the game and more players from the national team competing at this professional level."

The Championship's only amateur entry, 32 year old Dan Kirkwood, couldn't quite replicate his previous day's form. The UAE resident could only post a round of 81, ending on an overall 11 over par. Reflecting on his performance and having the opportunity to play against the world's best Kirkwood said:- "All things considered it was an amazing experience. Playing in front of that many people was not what I was used to and I think that showed. But it was fun nonetheless, particularly the local support. A load of children from the school where I teach at came to watch me, so that was brilliant, along with my family who have flown in especially to support me. I hope I can inspire some of the children at my School to now get into golf having now seen me play. Some of them even asked me for autographs, which was weird! But it was so much fun and I'd love to be back here in Abu Dhabi playing again next year."

The tournament saw a bumper crowd on:- 'Ladies Day', as visitors soaked up the sun and activities within the Village. A highlight of the day saw lucky Championship goer Jennifer Cullen win a trip for 2 to Milan Fashion Week thanks to Etihad Airways in the highly contested:- 'Best Dressed' competition, judged by Emirates Woman magazine.

The 2018 Abu Dhabi HSBC Championship presented by EGA runs until 21 January 2018, with Abu Dhabi Sports Council (ADSC) looking to top 2016 turnout of more than 69,000 spectators. The 2017 tournament grew the championship's social media following by more than 65% and the HD TV coverage, with a potential reach of almost half a billion viewers, allowed a global audience to watch the world's best vie for the coveted Falcon Trophy and a share in the US $3 million prize purse.