US band Hayseed Dixie heading to Liverpool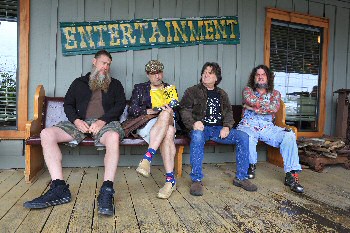 A Hillbilly Tribute to AC/DC called Hayseed Dixie will be perform a concert at O2 Academy in Liverpool, on 6 February 2018. We are told that the band was formed during the summer of 2000, in the Appalachian Mountains of East Tennessee, USA. Since forming, they have recorded 15 albums and in 2005 they recorded a videography called:- "No Sleep Till Liverpool (DVD)." The band has a unique fusion of bluegrass and rock music, playing a mixture of cover versions of hard rock songs and original compositions. The current 4 band members:- John Wheeler, Hippy Joe Hymas, Jake "Bakesnake" and Tim Carter have been performing all over the world. They have appeared at countless, from Nashville in the US to Roskilde Festival in Denmark, plus a few down under, in Australia. They have even preformed in BBC Television show Top of the Pops twice and many other shows... We are told they have topped up the whiskey to float a battleship from the Florida Coast over the pond to Liverpool, so get ready! If you like Country, do not miss this amazing show when it comes to Liverpool...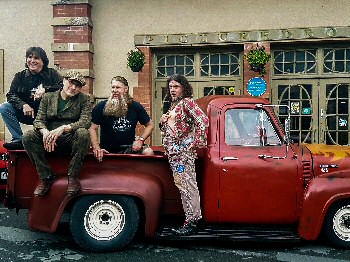 If you have not heard them these are 4 links to tracks on YouTube to get your hillbilly feet twitching:-

► Oliver's Army Army.
► Buffalo Soldier Soldier.
► A Change Is Gonna Come.
► A Hot Piece of Grass.
---
49% of the North West 'too busy' to wash their hands
56% of the North West think there should be more measures in place to control infection.
The research was conducted by Sterillo who make what is claimed to be the world's most hygienic hand dryer.
The study found that 35% in the region worried if they got sick that treatment from the NHS wouldn't be available. Despite these concerns 41% in the North West admitted that they have gone to work when they have been ill and possibly contagious.

Handwashing correctly is another problem. Despite 75% of respondents saying they had been shown how to wash their hands properly, 57% do not wash them for 20 seconds or more; the minimum amount of time required to clean hands effectively to avoid spreading germs. Alarmingly, 49% admitted they sometimes forget, or are too busy to wash their hands after they go to the toilet!

A lack of education is also exacerbating the problem. 62% of those surveyed did not know that if someone coughs or sneezes the highly contagious flu virus can remain on surfaces for 24 hours.

This may be why 63% would like to see better hygiene education in Schools, while 55% said there should be campaigns on effective hand washing. 55% would welcome the implementation of a washroom hygiene standard, as well as workplace policies to keep viruses at home.

65% were aware that public washrooms are a likely place to pick up a virus. Whilst a whopping 77% correctly believed an unclean washroom was an even more likely place to catch the flu. Smelly toilets, most believed (78%) indicated they were also dirty. Despite this awareness of bad smells and unclean conditions being signs of harbouring illnesses, 34% said they are less likely to wash their hands in an unclean public washroom.

Steve Levy, Inventor of the Sterillo says:- "Effective handwashing can't be achieved in an unclean environment, even if the public did always use these facilities to wash their hands they would likely still be contaminated. This is why we are seeing outbreaks with viruses like flu and even worse the Aussie Flu. We need a hygiene standard in place to assist with infection control."

Matthew Bourne's Cinderella is heading to Liverpool and Salford
...Photo by Hugo Glendinning...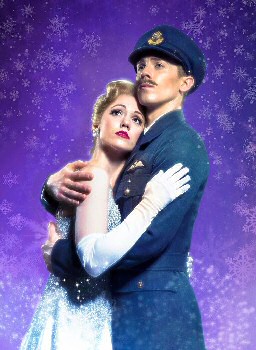 NEW Adventures are returning to North West with 1 of their most popular and beloved productions, Matthew Bourne's Cinderella; a thrilling and evocative love story, set in London during the 2nd World War.

Matthew Bourne's interpretation of the classic fairy tale has, at its heart, a true war time romance. A chance meeting results in a magical night for Cinderella and her dashing young RAF pilot, together just long enough to fall in love before being parted by the horrors of the Blitz.

It takes the audience into the heart of Prokofiev's magnificent score, and the sights and sounds of war torn London, with surround sound designed by Paul Groothuis, and a specially commissioned recording of a 60 piece orchestra, Lez Brotherston's Olivier Award winning designs and lighting by Olivier Award winning Neil Austin.

"Cinderella is 1 of my most heartfelt works and a personal favourite amongst my re-imagined classic stories," says Matthew Bourne. Make sure you book your tickets on time!

For more information please visit:- New-Adventures.Net.

Matthew Bourne's "Cinderella" Tour Dates in 2018 are as follows:-

► The show will be unning until Saturday, 27 January 2018 at Sadlers Wells, London.

► Tuesday, 30 January to Saturday, 3 February 2018, it will be at the Theatre Royal, Plymouth.

► Tuesday, 6 February to Saturday, 10 February 2018, it will be at the Hippodrome, Birmingham.

► Tuesday, 13 February to Saturday, 17 February 2018, it will be at the Milton Keynes Theatre.

► Tuesday, 27 February to Saturday, 3 March 2018, it will be at the Theatre Royal, Norwich.

► Tuesday, 6 March to Saturday, 10 March 2018, it will be at the Theatre Royal, Nottingham.

► Tuesday, 13 March to Saturday, 17 March 2018, it will be at The Lowry, Salford.

► Tuesday, 20 March to Saturday, 24 March 2018, it will be at the Bristol Hippodrome.

► Tuesday, 27 March to Saturday, 31 March 2018, it will be at the May Flower, Southampton

► Tuesday, 3 April to Saturday, 7 April 2018, it will be at the Wales Millennium, Cardiff.

► Tuesday, 10 April to Saturday, 14 April 2018, it will be at the Liverpool Empire.

► Tuesday, 17 April to Saturday, 28 April 2018, it will be at the Theatre Royal, Newcastle.

► Tuesday, 1 May to Saturday, 5 May 2018, it will be at the New Wimbledon Theatre.

► Tuesday, 8 May to Saturday 12 May 2018, it will be at the Alhambra, Bradford.

► Tuesday, 15 May to Saturday, 20 May 2018, it will be at the Lyceum Theatre, Sheffield.

► Tuesday, 22 May to Saturday, 26 May 2018, it will be at the Marlowe Theatre, Canterbury.

► Tuesday, 5 June to Saturday, 9 June 2018, it will be at the Festival Theatre, Edinburgh.

► Tuesday, 12 June to Saturday, 16 June 2018, it will be at the Kings Theatre, Glasgow.

► Tuesday, 19 June to Saturday, 23 June 2018, it will be at the New Victoria Theatre, Woking.