Celebrate '125 Years Of Goodison Park History' In New Stage Play At The Epstein Theatre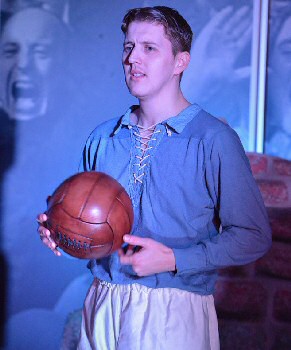 THE Epstein Theatre are excited to welcome Kenny O'Connell's stage show:- 'From the Heart of Everton's Badge to The Grand Old Lady,' coming to the venue from Wednesday, 22 August to Saturday, 25 August 2018.

After the success of the stage play:- 'Ball of Fire' in 2017, Blue Park Theatre return in conjunction with The Epstein Theatre, delving into the extraordinary history of Goodison Park, which has been home to Everton Football Club for 125 years.

Starring ex-Everton player Ronnie Goodlass, some of the most memorable nights played at Goodison Park will be dramatized on stage along with footage from matches in Everton's history.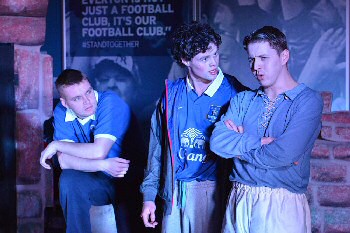 The story is centred around the Everton Lock up which has stood at the peak of Everton Brow since 1787; steeped in rich history, many untold stories attached to this small tower and Goodison Park, are all about to revealed.

Celebrating 125 years at Goodison Park, Everton FC have organised an event outside the Lock Up to promote the anticipated move to Bramley Moore Dock. Two Evertonians, Jamie and Robbo barge their way through the crowd and barricade themselves inside the Lock up in protest.

As the show unfolds, Jamie informs Robbo of his goal to search for Prince Rupert's gold believed to be buried underground, which he intends to use to renovate his beloved Goodison Park. On their crusade they stumble upon a secret tunnel and unwittingly release the ghosts of Everton's past:- Dixie Dean, Molly Bushell, Prince Rupert and Bessie Braddock…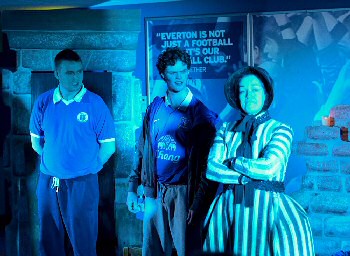 Jamie and Robbo listen in awe as each ghost reveals remarkable stories of love, triumph and magical nights at Goodison Park.

Through each ghost, they are taken on a historical journey, discovering what really lies under their feet and the true meaning of being inside the heart of Everton's badge.

The cast includes ex-Everton player, Ronnie Goodlass, who stars in the play as the radio commentator, with poetry written by Bobby Parry, and the show's song:- 'The Grand Old Lady,' written by both Kenny O'Connell and Bobby Parry.

A must see, not just for Everton fans, be sure to book tickets early and uncover all the thrills and spills, from the last 125 years, at Goodison Park.

Theatre manager, Rebekah Pichilingi, said:- "We are very excited to have this show on stage at The Epstein Theatre. Everton FC and Goodison Park are such an iconic fixture for the city so to be able to celebrate its history told through this wonderful stage show is going to make for a fantastic performance."

For more details check out:- EpsteinLiverpool.Co.UK and to book tickets call:- 0844 888 4411.

Civic honour for entertainer Pete Price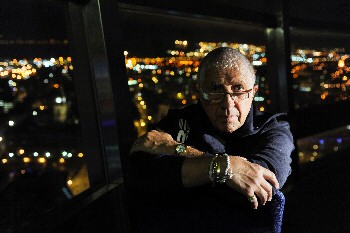 ENTERTAINER Pete Price is to receive a top civic honour from Liverpool City Council. The 71 year old has been nominated for Citizen of Honour in recognition of his 50 years in showbusiness and his charity work, and will receive the award at Liverpool Town Hall, on Tuesday, 23 January 2018. The comedian, actor, panto star and broadcaster shot to fame in the 1970's when he won the ITV talent programme:- 'New Faces,' and went on to star in many more TV appearances and travel the world as a stand up comic. After a stint at the BBC, working for Radio Merseyside, Radio One and the World Service, he started working for Radio City and has been almost a permanent fixture ever since, presenting a late night talk show since the 1990's which now goes out every Sunday night across Radio City 2 and Radio City Talk. Over the years he has broken many big news stories, including the horrific murder of James Bulger where he reflected City's grief on media outlets around the world. He also generated global headlines of:- "Last night a DJ saved my life" when he left his radio studio in search of a 12 year old boy who had called and said he planned to end his own life. Pete is openly gay and has spoken out about the aversion therapy treatment he received in the 1960's, in which Doctors used electrodes to "treat" homosexuality, which was illegal at that time.

Lord Mayor, Councillor Malcolm Kennedy, said:- "Pete Price is an institution, loudly passionate about Liverpool because he genuinely cares about the City and its people. He has used his fame and his phone in to rightly shine a spotlight on many difficult issues as well as speaking out against homophobia, bullying and highlighting mental health issues. I am delighted to be able to confer the Citizen of Honour award on him."

Mayor of Liverpool Joe Anderson said:- "Pete Price has been a fixture of Liverpool life for generations and this honour is much deserved. The list of people he doesn't know isn't worth knowing, but he is so much more than that. He has spent a lifetime not just making people laugh by entertaining them, but also using his radio programme to speak up for those who can't be heard. He has also been an incredible roving ambassador for Liverpool; he is the City through and through and it is right and proper that we recognise his significant contribution by awarding him Citizen of Honour."

Pete's passion for Liverpool was taken to a new level 5 years ago when he began travelling to Singapore selling the City on the world stage as part of a project called:- "The Best of British."

Among the many charities he works continually for is Claire House Children's Hospice in Wirral, of which he is a patron. Pete Price said:- "Liverpool has been my life. It gave me the opportunity and platform to be who I am today. It has had some dark times, but now, as I always have been, I am proud to talk about Liverpool. People sometimes ask why I live on the Wirral, but from my lounge every day I have the best view of the City, overlooking one of the most iconic waterfronts in the world. I never take for granted the City or the people, and apart from this new honour, one of my biggest achievements was being made an honorary scouser. Thank you Liverpool for giving me so much."
---
New West Kirby flood barrier moves a step closer
A multi million pound plan to build a flood defence barrier at West Kirby is set to come to fruition after a successful bid for funding. Wirral Council submitted the proposals to build a 1.1km floodwall along South Parade, in West Kirby, to the Environment Agency, in the hope of securing:- 'Grant Aid' for the scheme, which aims to help protect the resort from flooding into the next century. That bid has been approved meaning the ₤3m scheme can now progress to the next phase, which will once again involve residents in helping to influence detailed plans as to how the barrier will look and fit in with the needs of the area.

Cllr Phillip Brightmore, Wirral Council's Cabinet member for Environment, welcomed the news, saying:- "Our location as a peninsula inevitably means we are at more risk of flooding than many areas and our responsibility to protect residents, businesses and the local environment from that risk is 1 we take very seriously. The proposal to construct a brand new floodwall that will run the length of the promenade at West Kirby is something we have been developing closely with local people for a number of years and we made a strong case that had a lot of support from within the community. We are delighted that the key issue of funding has now been secured and this plan can now move forward and we can put the protection in place that is needed in this location."

By today's estimate, up to 70 homes and 23 businesses in West Kirby that have a 0.5% chance of flooding in any year will be protected by the new floodwall. Over the next 100 years as climate change continues to cause sea levels to rise, the new floodwall will reduce flood risk to 567 homes and 104 businesses, effectively safeguarding West Kirby town centre from flooding from the sea. Cllr Brightmore added:- "We will soon be inviting submissions from specialists to work with the Council and the local community in developing the detailed design for the scheme ahead of submission for Planning Approval. We don't take the public support for this project for granted and we will certainly be continuing to involve local people further as we move forward. We hope that if all goes to plan, we could be looking at construction starting towards the end of this year."