Local Merseyside young designer impresses with philanthropic superyacht design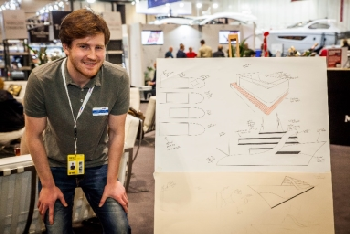 PHILANTHROPIC design took centre stage at this year's annual Superyacht UK Young Designer Competition 2018, in partnership with Pendennis Shipyard and Olesinski, as Thomas Scowcroft, a promising young design talent from Merseyside, competed in the prestigious event at London Boat Show on Thursday, 11 January 2018.
Hand picked to compete out of University students from across the UK, Katherine, a product design student from the University of Central Lancashire, impressed the judges with his creativity, ingenuity and engineering capabilities.

The prestigious annual Superyacht UK Young Designer Competition is run by industry representatives, Superyacht UK, an association of British Marine. It is the only competition of its kind in the UK and is among a select few across the world to recognise future design talent and provide them the opportunity to truly grow such talent within the industry.
The competition is judged by a world class panel of designers and superyacht experts, including:- Chairman of Superyacht UK, Peter Brown from Burgess, Stephen Hills from Pendennis Shipyard, Justin Olesinski from Olesinski, Tony Dixon of RWD, Bill Dixon of Dixon Yacht Design, Dimitris Hadjidimos of D-iD Limited and former Superyacht UK Young Designer 2016 winner, Dastinas Steponenas.

This year's design competition was unlike any other. Rather than being greeted with a blank piece of paper, the 10 competing students from:- Coventry University, Southampton Solent University, Staffordshire University, University of Central Lancashire, University of Plymouth and University of Wales, Trinity St David were tasked to transform a 52.12m ex-navy vessel, the Ocean Star, into a bespoke superyacht.

It was a tight race which left the judges divided, but in the end 2 young designers shone out from the rest. Christopher Mobley, a Transport Design student, from Staffordshire University, was crowned the winner, whilst Ashley Scott, a product design student from the University of Plymouth, secured the title of runner up.

Thomas was tasked with designing the ideal superyacht for a proclaimed philanthropist, looking for the prefer vessel to support research into the problem of plastics in our oceans, whilst also offering luxury transport to peruse his passion for adventurous and unique holidays.

Peter Brown, Chairman of Superyacht UK, comments:- "Both Christopher and Ashley's designs were sympathetic to the DNA of the original vessel whilst still coming up with innovative designs truly encompassing the character of the brief. A huge congratulations to all the students who were selected to compete in this year's competition. It is great to see so much up and coming talent from our British universities and we hope this competition has helped inspire these students with the diversity and wonders of a career in the superyacht sector and the connections and experiences they have gained throughout the competition prove fruitful. We look forward to seeing these students, and many more like them, driving forward Britain's superyacht powerhouses in the future."

On competing in the competition, Thomas Scowcroft, remarks:- "Competing in the Superyacht UK Young Designer Competition was a learning curve. It was a brand new experience for me and I will be taking away a lot of new skills and knowledge."

VIEW highlights of the Superyacht UK Young Designer competition, in partnership with Pendennis Shipyard and Olesinski.

Investigation underway following a firearms discharge in Bootle
ON Tuesday, 16 January 2018, at 10pm, Merseyside Police Officers were contacted by the North West Ambulance Service following reports that a male, in his 20's, had suffered an injury to his buttocks, which was consistent with a firearm being discharged. It's believed that the male had been on Akenside Street, with a second male, when a silver Ford Focus car pulled up alongside them and a shot was fired from the inside of the car. The male has been taken to Hospital where his injuries were described as non life threatening. The car was then believed to have been driven off along Akenside Street, in the direction of Derby Road. The motive for the attack is currently unclear and an investigation is underway. Chief Inspector Diane Pownall said:- "An investigation into the full circumstances surrounding this incident is underway. I would appeal to anyone who May have seen anyone acting suspiciously in and around Akenside Street, shortly before or after the incident to contact us, as any information they have could be vital to our inquiries. Likewise if you saw any light coloured cars in the area at that time, or have any home CCTV or dashcam footage, let us know. I can assure you that all information will be acted upon. To use a firearm in the street is clearly incredibly reckless and we are determined to find those responsible and bring them to justice. We need communities to stand together to get these cowardly individuals off our streets and take firearms out of circulation. We have acted and will continue to act on all information about such incidents, but we need you to help us build up the evidence against these offenders who are prepared to put our communities at risk so that we can make the streets safer for you and your families." Anyone who witnessed the incident or has any information is encouraged to contact Officers on the Matrix Serious and Organised Crime Gun Crime Hotline on:- 0800 230 0600 or call Crimestoppers anonymously on:- 0800 555 111. Information can also be provided to Crimestoppers online.
---
All Tesco stores in Southport now donating to good causes as meal total hits 41,611
MORE than 40,000 meals have been provided to charities and community groups in Southport thanks to Tesco's surplus food redistribution scheme Community Food Connection. The total has been released to mark the roll-out of the scheme across all of Tesco's stores across the UK. Stores are able to provide surplus food every night. To date more than 20 million meals have been provided to charities and community groups taking part in the scheme, with food for 600,000 meals a week now being provided to good causes across the UK, saving them money which can be used to provide other services. In Southport Tesco's initiative has seen 41,611 meals donated to local groups including homeless shelters, community centres, breakfast clubs, and groups providing food to vulnerable older people. The Community Food Connection programme is run in conjunction with FareShare and FoodCloud. Good causes are able to link up with local Tesco stores, from small Express stores to big Tesco Extras, via an innovative app that allows store teams to alert them to surplus unsold food items available at the end of each day. Not only does the scheme benefit the community groups involved, but it also prevents unsold food going to waste. Tesco's Head of Community Alec Brown said:- "We know that Community Food Connection is making a real difference to communities in Southport by providing people in need with meals from food that would otherwise go to waste. Now that all of our stores are taking part in Community Food Connection there are more opportunities than ever for groups to benefit from the free food provided under the scheme. I would invite any group that thinks they could benefit from the scheme to contact FareShare, as we have the capacity to help even more good causes." Tesco helped develop the nationwide scheme in partnership with food redistribution charity, FareShare using an app created by the small social enterprise FoodCloud. Lindsay Boswell, Chief Executive of FareShare, said:- "This is an incredible milestone in store level food redistribution to charities which Tesco has made possible since developing the programme with FareShare and FoodCloud. Tesco has led the way with introducing such a step change in tackling their store surplus food and having seen the scheme grow and create such impact for vulnerable people, it proves that it can deliver very obvious results which can benefit other retailers and their local communities too." Tesco and FareShare are calling on charities and community groups across Southport to register for the scheme, which sees food including fresh produce such as fruit, vegetables and bakery products, as well as chilled products like meat, cheese and ready meals, donated for free to groups that sign up. If you are a charity or community group that could benefit go on to the support of Community Food Connection website to register.