A star lit night for round two.
IT was yet another night at the Southport Arts Centre, not only were the stars out, out side, but the stars were out inside as well. As the temperature soared, so did the competition. Thursday night was the toughest fight yet for the North West 2nd Heat of Search for a Star 2003, seeing performers from as far as Halesowin through to local talent from Southport, Formby and Crosby. Unfortunately Lost from Ormskirk could not compete, as they were in the finals of the Battle of The Bands in Liverpool. So it was up to the other local talent came in the form of Tracy Kemp (Southport), Becky Bell (Formby), Alexandra Tiffin and Liz Rushton (Southport) to give the other competitors some hard competition. All the way from Upton in West Yorkshire was Andrea Meadow, Katy Coffey from Wilmslow (Cheshire) and members of Red. Not forgetting Paula Edwards, from Prescot, then the duo The Whinnettes and the nights only male Michael Sallis from Halesowin.

The youngest in the heat, at just gone 16 was Kristy Leigh from Kirkham (Preston). She was very nerves and told us that "It is my first ever time on a stage. I do not know what to expect." As she went on. As she came off it was, "I really enjoyed that. I was so nerve but as soon as I got on I focused and gave it my best. I could not stop shaking my hands though as I knew my parents were in front of the stage." Well done Kristy, see you next year we hope!

The winner of heat 2 was Michael Sallis. Born and educated in Southport but now living in Halesowan in the West Midlands, just out side Birmingham took centre stage with a fantastic performance.

With such stiff competition it was hard for the judges to make a choice and for the second time in a row, making history and breaking the competitions records it yet another joint second. Alexandra Tiffin from Crosby gave a stunning performance of operatic skills and also coming second was Liz Rushton from Southport, who won the Fame Search for a Star at Pleasureland earlier this year.

Well done to all of you who took part in what was the best heat I have ever seen. At least though this week no one got stuck on stage and got carried off….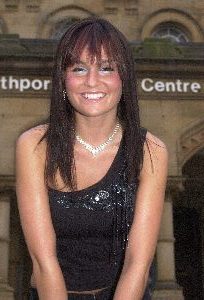 To read about last weeks Heat 1 click here & Click here to read about Fame Search...
This is page 1 of 2