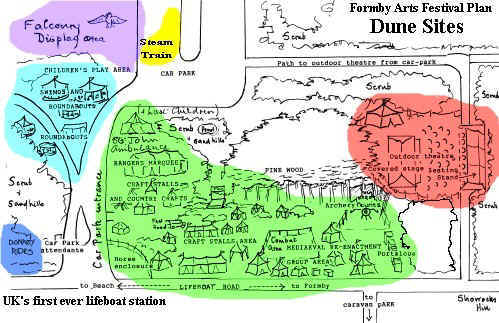 Click on map above for zone information.

Garden Party in Historic Formby Hall!

The last day time event is on Saturday 13 July will be by ticket only in the Historic grounds of Formby Hall, with Strawberries and Cream, wine and the Shakespeare's Henry 1V Part 1 being preformed on the lawn. This is with thanks to the present owner Mr Michael McComb. £25 for mainly ticket and £10 single tickets. (family ticket is for 2 adults and 2 children aged 12-17) Ample Free car parking at this location.

HOW TO FIND US:

-

Motor Vehicles:- Follow AA signs from Formby-by-Pass to Ravenmeols Lane for pinewoods events. Then all the way to end of Lifeboat Road. For information and directions to be emailed to you please email us and give your location that you are travelling from.

For places to stay:

-

Contact Tourist Information Centre, 112 Lord Street, Southport

.

More up to date information can be got by reading our newspaper or reading the Formby Times.

N.B. There is a Sefton Council parking fee for use of car parks.