Cartlton's Last Night. Photos on next page.
Only five days after the New Year celebrations, the Carlton rock pub was closing. What a way to start the New Year. First, the Fox and Goose pub closed on Christmas Eve, now it is the Carlton's turn. Even though the pub was closing, the last night of the Carlton was a great hit. The place was packed full of people having a good time and making sure that the Carlton got a good send off. Everyone was having fun and dancing away to good music supplied by the DJ Mike Howard. It was sad to say good buy to another era. We also say good buy to the lovely landlord, landlady and the entire bar staff, take care and see you around guys. The Carlton will be opening in a couple of weeks after being refurbished, but we are unsure at this point weather it will be a rock venue, as there are loads of rumors going around, but its more than likely to be a wine bar. If this is the case and the Carlton is going to be a wine bar, where are all the rockers and bikers going to go. Does this imply to the view that Sefton and other councils have made about rockers dress sense, the whole package being dark and mysterious. Have the pubs and breweries taken on this stereotypical and narrow-minded opinion. Sorry guys the rockers are not all drugged up villains and devil worshipers. Some people should be more open-minded about other people tastes and views. People are not all the same and it would be very boring if everyone dressed the same, did the same thing, listen to the same stuff etc…etc…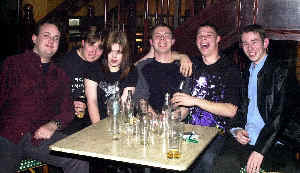 Place your own comments on this spate of closures and on other topics on S.GB's chat forum.