Hate crime investigation started after Graffiti Attack
MERSEYSIDE Police have contacted the media with an appeal to the public after graffiti was found in the Bootle. We are told that at around 10.55am, on Thursday, 29 September 2016, Officers attended the Peel Road area of Bootle and found a number of swastika symbols on front doors, walls and garages in Peel Road and Percy Road. Working with Sefton Council, One Vision Housing and Riverside Housing, the graffiti was removed and a letter drop was carried out in the local area to encourage people to come forward with information on this incident and other issues affecting them.

Neighbourhood Inspector Ian Jones said:- "I would urge anyone who witnessed this incident to speak with us immediately, as I know from speaking to residents locally that people saw this graffiti and were understandably disgusted. Nobody wants to live in an area where damage is caused to people's properties in such a way. This action forms part of our larger commitment to tackling hate crime in all its forms and we want the message to be clear to victims and offenders that offences targeting disability, race, religion, sexual orientation or Trans people will not be tolerated by Merseyside Police. The Bootle Neighbourhood team and our partners are committed to improving issues in the area, from anti social behaviour, criminal damage and other criminality. A great deal of work goes on daily between Police and our partners, from crime prevention to intervention and education with young people in the community. But so much more is possible when communities call us. Help us identify the problems and we will act. However, information we get from the community is absolutely vital, and allows us to take robust action against those responsible. There are many ways in which you can provide information to Police and other authorities and I would urge people to speak with us whenever you have issues, in whichever way you choose. People can give us information in a number of ways, either through speaking to their Neighbourhood Officers, calling:- 101, or the independent charity Crimestoppers on:- 0800 555 111. I would also encourage people to register with our new, free community messaging service MerseyNow, where we can keep you updated on community news and crime prevention advice."

Cllr Trish Hardy, Cabinet Member Communities and Housing, said:- "Graffiti of this nature is simply appalling and has no place in our communities. If anyone has any information about this isolated incident, please come forward so those accountable can be dealt with. We will also pass any information on to Merseyside Police and hope we never see anything like this again."

To see a list of local Councillor surgery time visit:- Sefton.Gov.UK for further details.
Green light for fracking, but what does it mean for North Merseyside?
WHAT will the announcement that the Government has approved Cuadrilla's application to produce shale in Lancashire have on Southport and other parts of Merseyside?

In a landmark decision, Sajid Javid, the communities secretary, gave consent to Cuadrilla's plans to drill and frack 4 horizontal wells, overruling Lancashire Council. It will now be able to use its Preston New Road site, located between Blackpool and Preston, in line with planning inspectors' recommendations.

Fracking beneath the area to explore for shale gas, in Lancashire, is set to start in 2017... It's hoped that the industry will bring jobs to the area and also making us less reliant on imports. On the flip side, residents are worried about Earth tremors like the one felt in April 2011, that measured 2.3 and 1.5 on the Richter scale. That was found to have been caused by test drilling. The anti fracking group 'Frack Off' then used it to put added pressure on Councillors at Lancashire Council, over the controversial 'fracking' technique to extract gas from the ground.

Following the announcement that the Government has approved Cuadrilla's application to produce shale in Lancashire, Claire Jakobsson, Head of Energy and Climate Policy at EEF, the manufacturers' organisation, said:- "Until the UK actually has some production sites in operation we will know very little about the commercial viability of this energy source, so this approval could be a significant step forward for the UK's future in shale. Following the decision, we could see production start within the next 18 months. It's hoped that this development will provide vital information on the longer term prospects for a UK shale industry. Approval of the second application, currently under consideration, would help to build this picture further and we hope the green light will be given for this too in due course. Shale gas has the potential to deliver significant economic benefits to the UK, from more affordable energy to security of supply, through to jobs in the energy and manufacturing sectors. It is right that we explore this opportunity and understand the potential for shale gas as part of the UK's energy mix."

So what are your views on this topic? Have the views of Sefton, that is part of Merseyside and not Lancashire been overlooked? Please email your views to us via:- News24@SouthportReporter.com.
A new voice for New Ferry
CALLING all Residents, businesses and community groups, what's going on in New Ferry? Groups are now coming together to create a new local voice for the Town. Early on in 2016, Wirral South Constituency Committee invited businesses and community organisations to a meeting to discuss the setting up of a new Town Team for the area. The meeting was a success, with groups including Port Sunlight Village Trust, New Ferry Residents' Association, New Ferry Village Hall, and New Ferry Rangers FC, all turning up. Other organisations, including Grove Street Primary School and St. Mark's Church, couldn't make the meeting, but have indicated their support and involvement in the project. Cllr Tracey Pilgrim, Chair of Wirral South Constituency Committee said:- "It's never been more important for people to be able to have their say on things that matter in their neighbourhoods. New Ferry is a busy community with issues that are common to other Towns, on the Wirral, as well as some unique ones of its own, and the Town Team will reflect on these issues and find solutions in partnership with residents, businesses and community groups. If you want to make a difference in your local community, we want to hear from you." Through this project, a New Ferry Traders' Association is also being formed, to make sure that businesses can have their say. The Town Team will work with representatives from the Police and Fire Services and the Council's Anti Social Behaviour, Youth Services and Outreach teams, and the Wirral Chamber of Commerce. If you are a member of a local community organisation, a business or a resident of New Ferry, please contact Shannon Kennedy on:- 0151 666 3076 or send then an email to find out more about how you can help your local area.

Warrants executed in crackdown on criminal use of scrambler bikes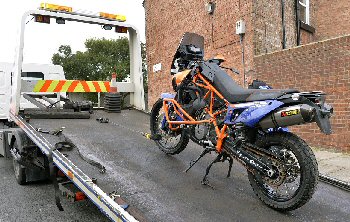 ON Thursday, 6 October 2016, Police executed a series of warrants as part of the Merseyside Police response to the criminal use of scrambler bikes in the region, on Sunday, 2 October 2016. It is reported that on that day, 60 scrambler riders took to the roads of Merseyside causing severe disruption to other road users and putting safety of members of the public at risk. At times the riders were seen to go through red lights, riding on the wrong side of the roads and carrying out dangerous manoeuvres. Merseyside Police has issued a number of calls for information in relation to those who were in the group, and have also asked for people to come forward with information about those who are illegally riding scramblers and where they are being stored.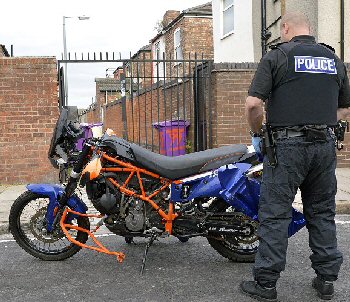 As a result Merseyside Police have arrested a 40 year old woman and seized a scrambler from an address, in Garston as 1 of the warrants was executed.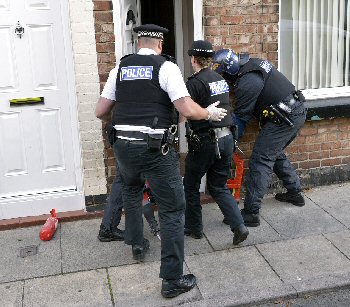 A warrant was also executed in Dovecot and a quantity of drugs (cannabis resin, cannabis bush and what was believed to be 3 wraps of cocaine, along with mobile phones and drugs paraphernalia). A 21 year old man from Dovecot was arrested on suspicion of possession of controlled drugs and was taken to a Police Station where he was questioned by detectives.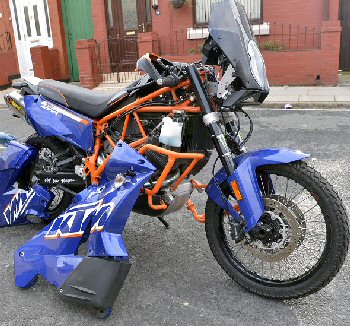 Assistant Chief Constable Ian Critchley, said:- "The scrambler riders on Sunday, 2 October 2016, had a complete disregard for public safety. Their actions were reckless and criminal and it is only through sheer luck that a member of the public, a Police Officer or 1 of those bikers was not seriously injured. On Monday, in another incident, a stolen scrambler bike collided with a car, in Stockbridge Village. The woman driver of the car was injured and shaken up as a result of the incident. 1 of 2 men who were on the bike was arrested and the other made off, neither of the men were wearing helmets. I would like to reassure the public that we are responding to this reckless and criminal use of scrambler bikes, and work is ongoing to identify those involved and put them before the courts. We have a dedicated team of staff looking at CCTV footage and I am pleased to say that since our appeals we have had a number of calls and we are acting on that information. The warrants we've executed in the last couple of days are thanks to information that has come in to us and I would urge anyone who has any information which could help us take these bikes out of circulation and make our streets safer to come forward."

Anyone with information on who is using these bikes and where they are being stored is urged to call:- 101 or Crimestoppers anonymously on:- 0800 555 111.