New analysis shows that if you own your own home you are likely to live longer
ANALYSIS from Home Owners Alliance shows that, in the North West, if you own your own home; you are likely to live longer. Across most of the UK there is a direct correlation between Home Ownership levels and life expectancy according to an analysis conducted by the Home Owners Alliance; where Home Ownership levels are higher, so is life expectancy. However, Home Ownership levels have been declining for the past decade (peaking in 2002 at 69.7% down to 63.8% according to latest official figures from the April to June 2016 Labour Force Survey). High demand for homes is pushing house prices to unaffordable levels. Political parties, experts and the government all agree that the underlying cause of the housing crisis is that we have not been building enough new homes for decades.

Home Ownership vs. Life Expectancy graph:-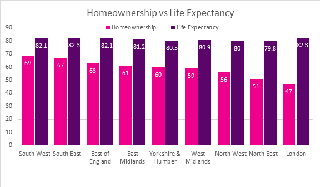 The decline of Home Ownership is having and will increasingly have profound, long lasting and adverse economic and social consequences. For example, it increases poverty among pensioners, increases social problems for children raised in insecure rented accommodation, reduces living standards among lower and middle income earners, pushes up the housing benefit bill and increases inequality. And, as our analysis shows, it also has an impact on life expectancy. The only exception to the correlation between Home Ownership and life expectancy is London, where life expectancy and Home Ownership are not strongly linked.

Home Ownership vs Life Expectancy map:-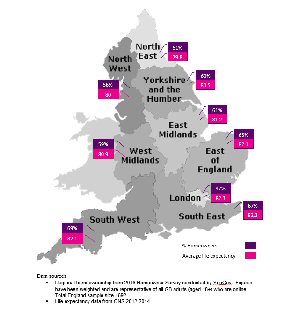 Paula Higgins, CEO of Home Owners Alliance believes, "Reversing the decline in Home Ownership should be 1 of the Government's highest priorities. We know that Home Ownership in this country has tangible benefits; including longer and happier lives. But the high costs mean it is out of reach for more and more people; widening the gap between the rich and the poor and fuelling social inequality. The UK urgently needs a functioning and stable housing market as the current housing situation is deeply unfair."
Help request to public following robbery at an Off Licence in Bootle
MERSEYSIDE Police, in Sefton, are appealing for information following a robbery, on Wednesday, 19 October 2016, at an off licence, in Bootle.
At about 6pm a man, believed to be armed with a handgun, walked into S&N News and General store on Knowsley Road, Bootle, and is believed to have hit the shopkeeper over the head with the weapon before emptying the till and escaping with a quantity of cash towards the park by Peel Road. Officers carried out an extensive search of the area, but were unable to trace the male.
The offender, who is described as being about 25 years of age, was wearing black tracksuit bottoms, a grey top, grey hooded jacket and a black and grey bandana.
Detective Sergeant Andy Wright, said:- "This was a very frightening incident for the staff and customers who were working in the store at the time. The shopkeeper, who suffered a head injury, was extremely shaken up by his ordeal. I would like to reassure people who live locally that we are doing everything we can to trace the offender. Shopkeepers provide an invaluable service in our local communities and I would urge anyone who lives locally and has any information which could help us with our inquiries to call us."
Officers will be examining CCTV from the area in a bid to identify the offender, this week.
Anyone with information can contact detectives at Sefton CID on:- 0151 777 3046, or Crimestoppers on:- 0800 555 111.

Smokers urged to sign up to Stoptober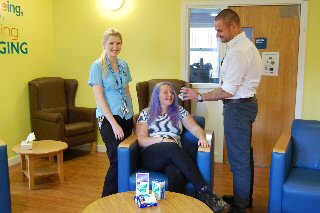 THIS October people are being urged to sign up for Stoptober and quit smoking for good. Stoptober; the National 28 day quitting challenge from Pubic Health England; is back for the fifth year and Cheshire and Wirral Partnership NHS Foundation Trust (CWP) is encouraging people to join up and 'quit together.'
In February 2014, CWP launched a new approach to nicotine dependency and was the first mental health trust in England to become smoke free. The Trust supports patients with a range of Nicotine Replacement Therapy (NRT) during their stay in Hospital, followed by on going support at home, to help people to stop smoking for good. Support is also offered to members of staff to help them to address their nicotine dependency.
CWP's Director of Nursing, Therapies and Patient Partnership, Avril Devaney, has been nationally recognised for her work in addressing the harm to people with mental health conditions caused by smoking. She says:- "Smoking has been identified as the single biggest cause of inequality with people with mental illness dying 15 to 20 years earlier than the general population. Our aim is to help people to live longer, fuller lives by supporting them to address their nicotine dependency by helping them to access the right person centred support for them." To sign up to the nation's biggest mass quit attempt, search Stoptober online or contact your local stop smoking service by calling for FREE on:- 0800 043 5134.
Cheap Purple ready to rock at the Fox and Goose Southport!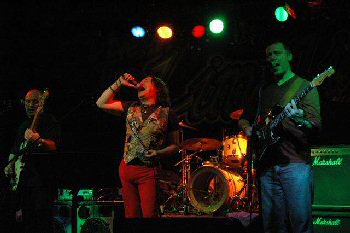 THE band Cheap Purple formed in Liverpool in Spring 2005. This band needed to happen! Not only does Gary possess a passing resemblance to the man Gillan himself his amazing vocal acrobatics certainly brings the Gillan stage persona thundering to life! Gary has been performing classic rock around the venues of Liverpool and Wirral for many years and this experience on the boards shines through.
Ian Bamford's virtuosity on guitar superbly compliments that of Speed King Ritchie Blackmore. Ian's faithful reproduction of Mr. Blackmore's twiddly bits is indeed a marvel to behold. Like Gary Ian has been performing in local bands for years and toured Europe extensively with Frank Zappa tribute The Muffin Men. On bass is the inimitable Keith Mulholland whose bass playing is second to none. Now, if you are a true Deep Purple "anorak" Keith should be familiar to you. Keith was the bass player with Garth Rocket and the Moonshiners, Ian Gillan's alter ego in the late 1980's and early 199'0s, Keith toured and recorded with Gillan and is still in touch with him. So you never know who might turn up at a Cheap Purple gig!
On keyboards is our very own Jon Lord, Dave Goldberg. Apart from working with Cheap Purple he has been seen knocking out the odd tune or two in his excellent Fleetwood Mac tribute:- "Rumours Of Fleetwood Mac." he is also a member of "Liverpool Express" and the Merseybeats, However in Cheap Purple tickling the ivories Jon Lord style is the order of the day and, as in the tradition of Mr. Lord, Dave certainly keeps those ivories smiling!
Last but by no means least is our stalwart powerhouse of thunder, the amazing Mr. Paul Ryan. Rhino has been teaching drum kits a lesson for longer than he cares to remember. Like Ian Bamford, Rhino has toured extensively at home and abroad as drummer for Zappa tribute The Muffin Men, working with greats such as Jimmy Carl Black of The Mothers of Invention fame. He has also worked with Keith on sessions with Ian Gillan as part of the Garth Rocket project.
Cheap Purple has managed brilliantly to recreate the sound and feel of an original Deep Purple show, and has even had Ian Paice play drums with them, The power and energy blasts from the stage, transporting the audience back to the heady days of the 1970's when British Rock; true classic rock; ruled the World.
This band is a truly must see experience. See them live at the Fox and Goose, Cable Street, Southport, on Saturday, 22 October 2016. Doors open 9:30pm and tickets are just 4 on the door, or £3 in advance from:- Skiddle, Tickx, and Ents24. This is a strictly over 18's event.