Harvest Festival celebrations at Dale Park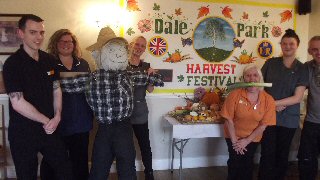 RESIDENTS and members of the care team at HC One's Dale Park Care Home in Southport hosted a special afternoon of activities as it opened its doors to celebrate the Harvest Festival, on Thursday, 6 October 2016.

In the lead up to the day resident's painted decorative pictures of wheat, harvest vegetables and field mice and also made a scarecrow, which Residents named:- "Dodger the Lodger". Resident's also helped to create a Harvest Display.

On the day Dale Park Care Home welcomed members of the local community as part of its Harvest Festival celebrations with an extended Harvest Church Service from local Vicar Rev. Peter Hughes and Pastors Christine Sherman and Sheila Murray. In front of a beautiful Harvest display the Reverend Hughes played the organ and we enjoyed singing along to thanks; giving hymns such as:- "All things Bright and Beautiful" which the Residents and guests thoroughly enjoyed.

After some Church readings and Thanksgiving prayers, Activity Co-ordinators Lavinia Wright and Abigail Woods read out some Harvest and Autumnal poetry to celebrate National Poetry Day which coincided with the Festival. Poems included Sir John Betjeman's Diary of a Church Mouse and Ted Hughes's Harvest Moon and some other poems written by local Primary School Children. The celebrations continued with entertainment from Jazz singer Sophie Bennett with Bitter Shandy's for all. A Great Day was had by all!

A key part of the day was the distribution of the home's Harvest collection to elderly neighbours. Dale Park Care Home provided Shoreline food bank in Southport with items they had gathered for their Harvest collection. The home also held fundraising activities for HC One's charity partner The Silver Line, which raised £53 for the charity.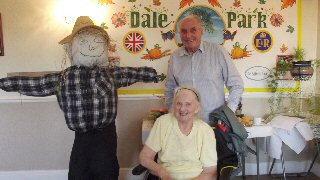 The Silver Line is the only free, national, confidential helpline open every day and night, offering information, friendship and advice to older people. HC One recently announced a £100,000 donation to the charity, which will cover the costs of 20,000 calls to the helpline.

Harvest Festival is an annual celebration to mark the end of the main Harvest season, and a time to give thanks for the crop that has been grown. Traditionally it is a time when people share collected food items with those in need in their local community.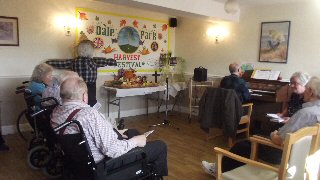 HC One currently has the highest compliance rating of all independent residential care home providers. HC One is also celebrating achieving a 9.4/10 average rating on the sector's leading care home comparison website carehome.co.uk. The high rating demonstrates HC One is 1 of the best companies in the care home sector as rated by service users.

HC One Dale Park Care Home Turnaround Manager, Jan O'Hanlon, said:- "Residents and guests alike enjoyed a busy, fun packed day. Everyone particularly enjoyed signing along to the church hymns that reminded them of their younger days."

HC One Managing Director, Glen Mason, said:- "At HC One we know how important it is for Residents to join in with events and activities with the local community. It sounds like the Harvest Festival celebrations at Dale Park Care Homes were great and enjoyed by everyone who attended."

Northern Powerhouse secures its first shared datacentre for Higher Education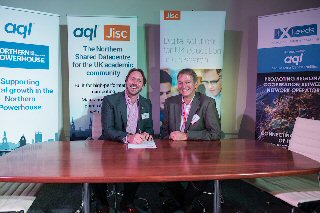 IN a regional 1st, the North's major Universities have signed a deal to ensure 21st century digital infrastructure is available to education and medical research. The shared datacentre, procured by Jisc and delivered by aql®, provides a cost effective solution for UK research and education through the provision of secure housing of digital systems and services. In a world where 'big data' is becoming the norm, being able to support the provision of huge processing needs, opens doors to a number of significant benefits.

For Universities collaborating on core areas, such as medical research, large data sets need to be shared, and at speed; this is where a shared datacentre comes into its own. Through outsourcing of High Performance Computing (HPC) facility, Jisc members can benefit from specialist skills and emerging trends in big data management, leveraging the extensive capabilities of the Janet network. Northern Powerhouse Minister Andrew Percy said:- "Improving digital infrastructure will help equip businesses and Universities of the Northern Powerhouse with the building blocks they need to grow and compete effectively in the global market."

Among the first Higher Education institutes (HEIs) signing up to the service are Liverpool University, Sheffield Hallam University and the Universities of Sheffield and Leeds. Dr Barry Haynes, Head of Infrastructure Architecture at the University of Leeds said:- "The successful delivery of the northern datacentre is a key element supporting the University of Leeds Data Centre Strategy to invest in a fit for purpose, modern solution to host and manage the University's data and applications. As datasets and collaborations increase, access to flexible cloud and hosted services have become essential to the delivery of IT services. This investment will help us realise valuable operational benefits and provide a resilient and well connected hosting facility".

aql®'s secure, carrier neutral datacentres, with direct access to the Janet network will support the UK academic community's need for high performance IT infrastructure, not only for research, but also for critical operational infrastructure such as back office systems and IP telephony.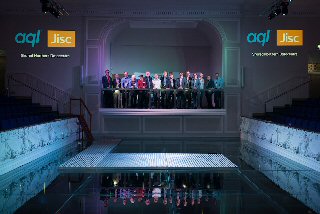 The facilities are designed with high performance computing in mind, including highly reinforced floors, high cooling and power capability, strong security measures, and specialist installation equipment. Dr Adam Beaumont, CEO and Founder of aql® stated:- "As a Northern Powerhouse partner, providing this significant infrastructure for big data research is a great achievement for aql and for Leeds. We have a strong track record in providing secure datacentre services. We're keen to ensure that we support the research industry with the security measures and expertise to allow them to leverage the power of their data fully."

aql® already hosts the main high capacity Northern access point into Jisc's Janet network, giving national and international access to the academic community. This network also has a direct connection into IXLeeds; the Northern Internet Exchange; which provides an opportunity for high capacity access between the Janet network and other commercial networks and key healthcare data stakeholders such as EMIS, making this ideal for supporting public private big data research projects. Jeremy Sharp, Director of Strategic Technologies at Jisc said:- 'We are very pleased to be able to give our members access to this first-rate shared data centre, and to pass on the cost savings by centrally procuring this service on their behalf. The northern data centre is one of two shared datacentres Jisc facilitate for UK HEIs and the scalability of service they provide means they are as cost-effective as they are efficient."

aql data centres provide world class security and power, ideal for intensive applications to support the academic community's key role in the Northern Powerhouse.