Morecambe and Wise Statue Unveiled in Blackpool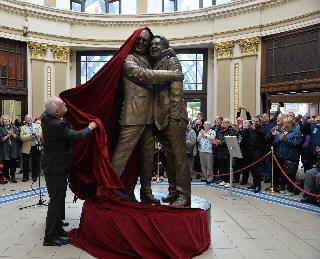 THE nation's 1st statue celebrating the comedy genius of Morecambe and Wise has been unveiled at Blackpool's world famous Winter Gardens.

The stunning 8ft tall bronzed statue; created by renowned sculptor Graham Lbbeson; was unveiled by Eric Morecambe and Ernie Wise's families at the Winter Gardens this morning in front of hundreds of adoring fans.

Eric and Ernie performed in Blackpool more than 1,000 times in their career and the statue was commissioned to celebrate the 75th Anniversary of Britain's best loved comedy double act first appearing on stage together in 1941.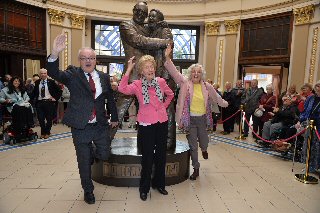 Eric's widow Joan, who was joined at the unveiling ceremony by eldest son Gary, daughter Gail and a representative for Ernie's widow Doreen, said:- "The statue is simply wonderful, Graham has really captured Eric and Ernie to perfection. For it to be unveiled here in Blackpool, where I personally have so many happy memories of Eric and Ernie and our families together down the years, is very fitting. This has been a really special day I will remember forever."

Gary Morecambe added:- "Blackpool was Eric and Ernie's spiritual home, their careers really took off here, and to see them together again in this wonderful tribute is fantastic. Graham is a brilliant artist and the likeness to my father and Ernie is stunning. I am sure fans of Eric and Ernie, indeed everyone who sees it, will get a big thrill out of it. I think my father would have been gobsmacked by the whole idea of a statue. The fact it is here in Blackpool would have been a huge thing for both Eric and Ernie as it is a town they had so much success in and affection for."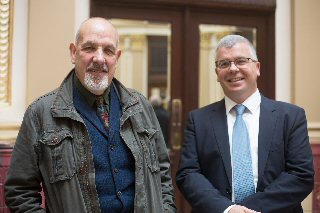 Sculptor Graham Ibbeson said:- "It has been an absolute honour and a privilege for me to bring Morecambe and Wise; 2 of my all time heroes; together again with this new statue which I am incredibly proud of. Eric and Ernie were able to bring the nation together through their genius and laughter and this statue celebrates them as they should be, a double act which Britain and the world took to their hearts."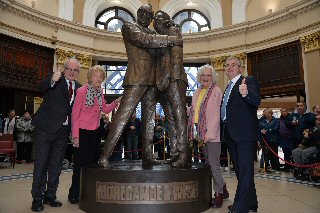 Michael Williams, Winter Gardens Managing Director, said:- "This is a very special day for both the millions of fans of Morecambe and Wise and Blackpool. Eric and Ernie performed in Blackpool more than 1,000 times during their career and it is especially fitting that this stunning new statue has been unveiled here, which is regarded by their family and friends as the boys 'spiritual home'. We are sure this wonderful tribute will become a must see for comedy fans the world over."
The statue, which has been funded through donations of £75,000, will be on permanent display in the spectacular domed entrance to the Winter Gardens.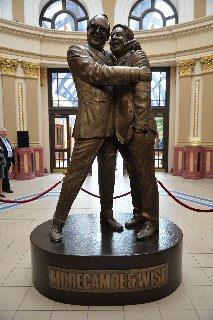 Sculptor Graham Ibbeson has a long history with Eric and Ernie having also created the Eric Morecambe statue which was unveiled in 1999 by the Queen and now adorns the promenade in the comedian's hometown, Morecambe. During their years in Blackpool the pair entertained hundreds of thousands of people, playing at seven theatres, 6 summer seasons and enjoying a starring role in the 1955 Royal Variety Performance at the Winter Gardens.

Centre's help for street drinkers
MORE than 100 street drinkers who attended a Centre set up to support them received medical treatment and other help. This figure is shown in an analysis of people attending the REST (rehabilitation, education, support and treatment) Centre in Fraser Street which supported individuals and attempted to help them reduce their alcohol intake. Other services such as housing and homeless support were also available when the Centre operated between June and September 2016. Street drinkers were allowed to drink alcohol at the Centre under supervision.

The review of its use shows that 173 different individuals; 128 men and 45 women used the Centre, the youngest being 19, the oldest was aged 66. A total of 124 people were referred to treatment services including GPs, Hospitals or services dealing with alcohol issues. Seven people had wounds dressed. 8 people went into detox and rehabilitation programmes and 86 were referred to Addaction the drug and alcohol treatment charity.

The Centre was funded by the Clinical Commissioning Group Citysafe and Public Health and operated by the Whitechapel Centre. A full evaluation of its work is being carried out by the Centre for Public Health at John Moores University.

"The evaluation will assess not only how successful the Centre was for the individuals who attended but will also look at its wider implications for the City such as the effects on anti social behaviour. We will then be in a better position to look at the future of this type of Centre. However, it is clear from the raw numbers that the Centre was well used during the summer and that many of the people who attended there were helped with medical treatment, which they may not otherwise have had, as well as other support. Along with our partners we will continue to look at the best ways to reduce the levels of street drinking in the City." said Councillor Emily Spurrell, Mayoral Lead for Community Safety.
Cerebral palsy charity bags more funds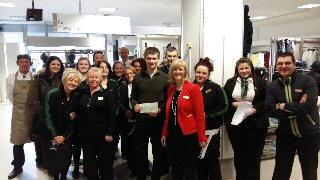 WIRRAL based cerebral palsy charity Stick 'n' Step has received more good news in its fundraising efforts having been chosen as M&S Birkenhead's Charity of the Year for a second year running.

M&S Birkenhead in the Pyramids Shopping Centre has supported Stick 'n' Step for a number of years through goodwill gestures such as providing Easter eggs for the children, however, it was in 2015 that the store decided to make Stick 'n' Step its official:- 'Charity of the Year' for 2015.

As a result, Stick 'n' Step received approximately £3,500 and the charity was delighted to be selected as M&S Birkenhead's chosen charity for 2016, which will see funds raised go towards helping the children in their conductive education and learning.

In addition, Stick 'n' Step will also be one of a number of local charities and good causes that will receive the 5p carrier bag donation on every bag sold. It's surprising how this mounts up and the charity has already received £1000 as a result.

M&S's store manager, Chrissy Verdin, is delighted that Stick 'n' Step is the beneficiary of her staff's fundraising efforts:- "Stick 'n' Step is one of our favourite charities. As the charity is local to us, it seems natural to support them in any way we can. The work it does is extremely popular with our staff and we can see that our fundraising is making a real difference to the children."

Sarah Smithson, operations manager at Stick 'n' Step, concurs:- "The way M&S has helped us over the years has been so valuable. We rely completely on donations to run our Centre and the sums raised by M&S bolster our confidence to carry on what we're doing. Being chosen as 'Charity of the Year' two years running was a great honour and the total amount raised on the 5p bag donations really does prove that every donation, no matter how small, mounts up."

Stick 'n' Step provides support services to children with cerebral palsy and their families.
The charity works with over 70 children, allowing the children to gain the skills they need to live independent lives through conductive education sessions. The specialist sessions are provided free of charge to the families by Stick 'n' Step.

For more information about Stick 'n' Step and how you can help, visit:- StickNStep.Org or call:- 0151 638 0888.
Southport and Formby cancer recovery programme shortlisted for Macmillan Excellence award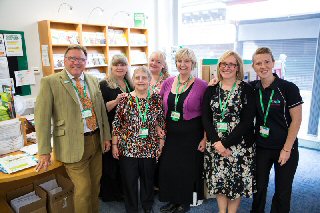 A Southport and Formby based Macmillan cancer recovery programme has been shortlisted for a prestigious award recognising their inspirational work supporting people affected by cancer in the area. Southport and Formby Cancer Recovery Programme, based at Southport and Formby CCG; Macmillan Cancer Information and Support Centre, was nominated by colleagues in the Integration Excellence Award category, which recognises exciting new initiatives, products and services. This category's winners have all improved the quality and experience of care for people affected by cancer. The Southport and Formby Cancer Recovery Programme was established to support people with cancer during their recovery. It aims to improve physical and mental health and alleviate the feelings of isolation that can often follow the end of treatment. The hub of the service is the Southport Macmillan Information and Support Centre, but the team comprises members from various health and social care organisations who work together seamlessly. Patients finishing treatment receive a specially designed information pack detailing the support they can access, such as Health and Wellbeing events, Move More sessions and a whole host of support groups. Helen Jones, Macmillan Cancer Information Centre Manager, said:- "The programme has made it more routine for people with cancer to come to us. Macmillan is all about giving the best possible support to people affected by cancer and, as a team, that's where our hearts lie too." A surprise celebrity guest will be hosting the awards ceremony at the Hilton Birmingham Metropole Hotel, on Thursday, 17 November 2016, where the winners will be announced for the 1st time. The awards, which are now in their 5th year are a perfect opportunity for us to recognise and thank pioneering teams and individuals who deliver the highest standards of care for people affected by cancer. In 2015 more than 300 Macmillan professionals, as well as representatives from Macmillan and leading healthcare institutions attended the awards ceremony. No 1 should face cancer alone. For support, information or if you have any questions, call Macmillan Cancer Support free on:- 0808 808 00 00 (Monday to Friday, 9am to 8pm) or visit:- Macmillan.Org.UK.