Service leavers' website launched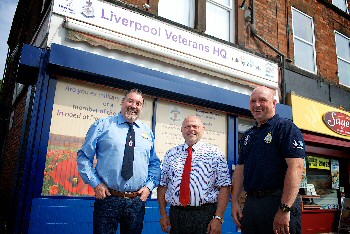 A website with a wealth of advice and support for personnel leaving the Armed Forces is being launched by Liverpool City Council. The website; ServiceLeaversLiverpool.Co.UK; has been developed, as part of the Armed Forces Covenant in conjunction with Liverpool Veterans Centre, to help those whose service has ended.

Councillor Ian Francis, Armed Forces Champion for Liverpool, said:- "Leaving service is a daunting time and affects not just the service leavers but also their families. Our Armed Forces make tremendous sacrifices to keep us all safe and it is absolutely vital that we do all we can to help them re-enter civilian life and make the best decisions. The website contains lots of information about the services that the Council, its partners and other organisations can provide and is part of a package of support we are offering across the City."

Bob Blanchard, Chair of Liverpool Veterans' Project, said:- "It's important to remember that many service personnel entered the forces straight out of school and so when they come to leave it will be the first time they have had to do many of the things we take for granted. Finding a job and accommodation are 2 of the biggest challenges, but even things that we all do without thinking about it such as paying Council Tax, registering with a GP and sorting out a TV Licence may be new to service personnel."

Earlier this year. Kev Archer, 43, left the Army following 22 years of service, latterly as working with the families army welfare service. He is now working as a families officer at Liverpool Veterans Centre, helping support those who are leaving the forces. He said:- "I was fortunate in that I gave myself time to prepare for leaving and had a good CV ready and had also planned out where my family was going to live. As well prepared as I thought I was, I still remember going to the Job Centre and being shocked that the system was all online. I was expecting rows of jobs boards with vacancies pinned to them and when I mentioned this I was laughed at by a member of staff who said I must have been living on another planet. Some personnel have to leave the service due to illness or injury or get discharged and it all happens very quickly and leaving the forces family can be like a bereavement. It is really important that they have easy access to advice and support to make sure they and their families have a stable transition."
---
Eldonians to receive Freedom of Liverpool
CAMPAIGNERS who successfully fought the disbursement of a 150 year old community and drove its regeneration are being awarded the Freedom of Liverpool.

In 1983, residents of the Eldonians in Vauxhall came together and formed a Housing Co-operative to prevent the City Council from demolishing their homes and moving them to other estates across Merseyside.

They came up with an alternative plan to build new affordable homes and community facilities on the site of the derelict Tate and Lyle sugar factory. Today the area boasts over 400 houses, a community sports centre, a nursery and a community village hall; and won the World Habitat Award in 2004.

Tony McGann OBE was one of the key figures in the campaign and has been a major influence in the area ever since.

On Saturday 1 July, he is being awarded the Freedom of Liverpool, as is the Eldonians Community Based Housing Association, which he chairs.

Tony said:- "This is a very proud day for the whole of the local community. Everyone who lives in the Eldonians has huge pride and passion in the area and a terrific sense of community spirit and it is truly humbling that we are being recognised. Speaking personally, I am proud and delighted to be made a Freeman of Liverpool. All I want to do when I go away is come back to Liverpool. Our people are the best in the world and to be honoured by your home City is amazing."

The ceremony is being held outside the Eldonian Village Hall as part of an all day community celebration which will be attended by local residents.

Lord Mayor, Councillor Malcolm Kennedy, said:- "Tony and his colleagues at the Eldonians typify some of the greatest characteristics of scousers; a huge love for the City, a determination to improve lives and caring for their neighbours. This is an area I know and love intimately and it is a huge honour for me to be able to reward decades of hard work by presenting the City's highest civic honour to both Tony and the Eldonians."

Mayor of Liverpool, Joe Anderson, added:- "Liverpool is fortunate to have so many fantastic people that spend their lives doing amazing things which make a huge difference to the lives of so many. I've known Tony McGann for a long time, and the Eldonians is 1 of our City's proudest achievements, held up nationally as an example of how a community can develop, build and manage their own housing. It is right and proper that we formally recognise and celebrate their achievements by awarding them the City's highest civic honour."
---
Appeal issued after Mum and 4 year old injured in a road traffic collision
A woman and her 4 year old daughter who were seriously injured in a road traffic collision in Bootle have been discharged from Hospital and returned home. Emergency services were called shortly after 7pm, on Tuesday, 20 June 2017, to Balliol Road, at the junction of Oriel Road, in Bootle, following the collision which involved a white Ford Focus travelling towards Stanley Road. The girl was taken to Alder Hey Childrens Hospital where she received treatment for serious head injuries. Her mother also suffered head injuries and was taken to Aintree Hospital. The driver of the Ford Focus stopped at the scene and is assisting officers with their investigation. Inspector Michael McFall from the Roads Policing Unit said:- "This was a very serious collision which resulted in a woman and her daughter sustaining serious head injuries. We are asking anyone who witnessed the collision or who may have seen the white Ford Focus prior to the collision, to contact us. We'd also ask drivers who may have been in the Balliol Road area, of Bootle, on the evening of 20 June 2017, to check their dash cams, just in case they've captured some relevant footage." Anyone with information is asked to call:- 101 and quoting reference number:- 0517152595 or Crimestoppers anonymously on:- 0800 555 111.

1 week to go - Full programme of events for Liverpool Arab Arts Festival 2017
LIVERPOOL Arab Arts Festival (LAAF); the UK's biggest annual celebration of Arab arts and culture; has revealed a host of new performances and attractions to join the exciting programme of events made public in spring. Newly announced details include works exploring border discrimination, migration, and Trump's travel, alongside fun filled free events like a food trail down Liverpool's famous Lodge Lane and music performances by London Syrian Ensemble.

The 9 day festival of theatre, music, visual art, dance, literature, film, food and family fun takes place from 8 July to 16 July 2017.
This year LAAF explores the theme of 'The space between us', responding to Liverpool's City wide 67-17 50 Summers of Love season, celebrating the release of the Beatles' Sgt Pepper's album. The title is taken from a lyric from:- 'Within You Without You' a track on side 2 of the album written by George Harrison, which tells of overcoming the forces that prevent us from recognising what unites the world.

As ever, LAAF will be punctuated by fun filled, free events for all the family, and organisers have now announced more details of some of the activities and performers on those key dates.
Artists taking the stage at Eid on the Square, on 8 July 2017, Tiber Square, Lodge Lane, a joyful community celebration marking the end of Ramadan will include:- Anwar Ali and Dave Owen, Sound of Yemen, and Reham Al-Hakimi as part of a colourful, packed programme of family friendly cultural entertainment, food, arts and crafts, made possible thanks to a grant from the Big Lottery Fund.

As part of the day's activities, Kuwait born food writer Sarah Al Hamad will lead the:- 'Lodge Lane Food Trail,' taking food lovers on a tour of some of the diverse independent restaurants and food businesses in the area; the go to place for world cuisine in the City.

At LAAF at the World Museum, on Saturday, 15 July 2017, people of all ages can discover the creativity, captivating stories, and fascinating traditions of the Arab diaspora. Added to the bill announced in spring are London Syrian Ensemble, a collective of some of Syria's finest musicians based in the UK, who will play a diverse repertoire of classical and traditional music from the region, and resident storyteller Alia Alzougbi, who will share humorous and evocative tales from the Arab world.

Ancient and contemporary Egypt will collide in the heart of the museum's ancient Egyptian artefacts collection, with Joon Dance's Ancient Modernity, a:- "living, breathing, dancing museum of modern Egyptian culture."

As is now tradition, LAAF will close with the 'LAAF Unison Family Day,' on Sunday, 16 July 2017, at the Sefton Park Palm House, which will return the event they say will be:- "bigger, bolder and brighter than ever before." As well as 'the new star of Nubian pop' Alsarah and the Nubatones, audiences will have the chance to see London Syrian Ensemble perform, as well as high energy traditional and modern street dance performances from a collective of Cairo's best dance talent. Reham Al-Hakimi and the Al Awadhel Band will be back by popular demand. Along with the programme of international music and dance acts there will be an:- Arabian souk, cultural cuisine, and activities for all the family.

Adding a new venue to the programme, LAAF brings a selection of thought provoking interactive work and participatory projects to Liverpool Central Library, on Wednesday, 12 July to Friday, 14 July 2017. 'Tania El Khoury's As Far As My Fingertips Take Me' is a conversation through a gallery wall between an audience member and a refugee. Through touch and sound, an artist shares stories of people who have recently challenged border discrimination.

Liverpool Central Library is also the location for 'Coat of Many Words,' a series of workshops, which will weave together the personal memories, experiences and stories of members of migrant communities now living in the City. The narratives will become a unique historical garment, which will then go on display at World Museum, and form the focal point for:- 'Coat of Many Words - Migrant Stories,' a discussion event where people who have travelled from the Arab World and elsewhere around the globe, now living in Liverpool, share personal journeys in their own words.

Over at Bluecoat, and ahead of:- 'Comma Press' forthcoming anthology Literatures from Banned Countries, on Thursday, 13 July 2017, will bring together writers from some of the seven banned countries affected by President Trump's divisive immigration ban. With readings by Zaher Omareen, Cristina Ali Farah and Al-Saddiq Al-Raddi, this event asks what good is art in response to such times?

In addition to 2 evenings of films presented with Arab British Centre, Monday, 10 July and Friday, 14 July 2017, PictureHouse at FACT will host a showing of CLASH, Mohamed Diab's gripping new film focusing on Egypt's turbulent recent social upheavals, Sunday, 9 July 2017.

To mark the launch of LAAF 2017, and as part of Bluecoat's 300th anniversary celebrations, founders of Liverpool Arab Arts Festival Bryan Biggs (Artistic Director of Bluecoat) and Taher Qassim (Chair of Liverpool Arab Arts Festival) will reflect on LAAF's journey from a small 'weekender' at Bluecoat, to becoming the UK's biggest celebration of Arab arts and culture, and 1 of Liverpool's most celebrated events, on Friday, 7 July 2017.

Throughout the festival, internationally renowned visual artist Rachel Gadsden will work in partnership with guest artists Ali Saeid Ashour and Amna Hussein on the production of artworks live and in collaboration with audience members. This work is part of an Unlimited International Research and Development project called:- 'It was Paradise.'

Taher Qassim, Chair of Liverpool Arab Arts Festival, said:- "We work hard to bring the best and most exciting talent to Liverpool each year, and 2017 is no different. While the events, from music to dance to performance to a food led celebration, are very different, many of them share a common theme; that of bringing cultures closer together. And of course, the theme of this year's LAAF explores the boundaries and spaces between us. It's certainly going to be a stimulating, thought provoking and entertaining 9 days."

Previously announced acts and events include:-

► The return of world renowned Palestinian singer and musicologist Reem Kelani for an intimate concert in the Philharmonic Hall's Music Room.

► 2 thought provoking plays at Unity Theatre:- 'The Crow Plucked Your Sinews' and bittersweet political comedy:- 'And Here I Am.'

► 'Wafaa Bilal's 168:01' will be an ambitious restaging of the acclaimed Iraqi born visual artist's work, which serves both as a monument to cultural losses during Iraq's history and a platform for potential rebirth.

► 'Sacre Printemps' sees choreographers Aïcha M'Barek and Hafiz Dhaou create a visceral streetscape of today's Tunisia, inspired by the pressures of building a new society using life sized silhouettes from the late Parisian street artist Bilal Berren.

► In partnership Arab British Centre, LAAF will present films at PictureHouse, at FACT Liverpool, 'As I Open my Eyes,' Leyla Bouzid's brilliant directorial debut of the story of a young Tunisian woman at a crossroads in her life, and 'This Little Father Obsession,' a fresh, original and disarmingly honest look at the hold of patriarchy in contemporary Lebanese society directed by Selim Mourad.

For more information on the full Liverpool Arab Arts Festival programme, and to book tickets, visit:- ArabArtsFestival.Com