Green Acres Rainford opens its doors to Naming Ceremonies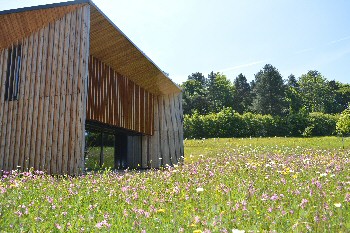 NAMING Ceremonies at Green Acres Rainford offer parents the opportunity to celebrate the birth or the naming of a child and to welcome them into the family unit. Set in 65 acres, the serene and peaceful woodlands at Green Acres Rainford provide the perfect setting for an alternative and non-religious ceremony.
Keely Thompson, Marketing Manager said:- "We are excited to be able to offer families our stunning Woodland Hall with its floor to ceiling glass windows overlooking a wildflower meadow and picturesque valley for baby naming ceremonies. Our venue will provide a truly unique and special day to celebrate your precious new addition to the family."

Naming ceremonies are typically led by a family member or celebrant, they can involve readings or poems, parental promises and commitments to the child as well as to each other, the appointment of 'guideparents' and perhaps a symbolic action such as planting a tree, signing a certificate or writing in a wish book. Baby Naming Packages start from £350, this includes hire of the stunning Woodland Hall for one hour, a unique ceremony written and conducted by Lorraine Hull, Liverpool Celebrant and tea, coffee and juice for after the ceremony.
---
Steam Packet Company supports rehabilitation charity's trip to the Isle of Man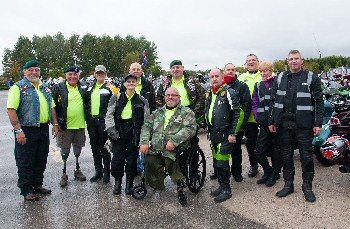 A former member of the Royal Engineers has spoken about how a trip to the International Southern 100 Road Races, supported by the Isle of Man Steam Packet Company, has assisted his rehabilitation following a life changing injury.

Jeff Winder was serving in Iraq in 2004 when he lost a leg in an explosion while clearing improvised explosive devices in civilian areas. His self confidence was badly affected and despite being a keen biker he had not been on a motorcycle since suffering the injury.

That changed when fellow former soldier Rob Maxwell invited Jeff to join a bikers' trip to the Isle of Man with the Letsdo rehabilitation charity. Rob has been bringing injured former service personnel to the Southern 100 since 2015, encouraging them to engage in social activities and restore their enjoyment of biking.

The Steam Packet Company has assisted with the travel costs for each visit, and this year will be bringing over a group of 6 from Northern Ireland and England for the Isle of Man Steam Packet Company Southern 100 International Road Races, which take place around the Billown circuit from 10 July to 13 July 2017.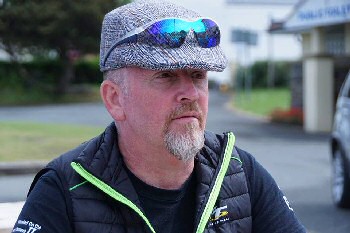 Jeff explained:- "The trip to the Southern 100 was an eye opener as the people on the Island were all very friendly and interested in our group. The racing was excellent, the weather was great and Rob did a fantastic job making sure everything went smoothly. He always goes above and beyond, as did the Steam Packet Company. We were well looked after by the Steam Packet Company staff, who kept our group to one side and assisted us onto the ferry before escorting us to our seats. The trip to the Isle of Man helped restore my confidence and self worth, and has given me a chance to show others what can be done if you put your mind to it. Letsdo has helped many other veterans and other disabled people realise that there are things out there that can help put a smile on your face. I'd like to thank everyone involved on behalf of myself and the silent few who really appreciate what has been done for us."

Letsdo was formed by Rob and Steve Timblin, who both underwent limb amputations following injuries sustained while serving in the British Army, to assist former armed forces personnel come to terms with life changing injuries and find new confidence. Rob said:- "We organise events to encourage injured veterans to develop a positive mental attitude by giving them something fun to focus on. Jeff's story is just one of many that show that visiting the Southern 100, and the wonderful people of the Isle of Man, contributes massively to their rehabilitation as they come to terms with devastating and life changing injuries, and realise being injured doesn't mean the things you enjoy in life are over. I'd like to thank the Isle of Man Steam Packet for its continued support, which plays a massive part in ensuring these trips go ahead."

Isle of Man Steam Packet Company Chief Executive Mark Woodward added:- "It is very moving to hear Jeff's story and to understand how these visits to the Isle of Man are directly helping injured veterans. We are honoured to play our part and hope attending the Southern 100, which we have sponsored for so many years, continues to assist with this rehabilitation."

New measures to tackle environmental crime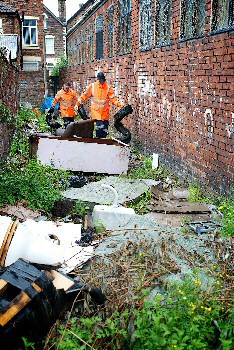 AN environmental crime hotline and a crackdown on late night takeaways that don't clear litter from outside their premises are among new measures set to be introduced to tackle blight in Liverpool. It is the latest in a series of measures being proposed following a request from Mayor Joe Anderson for action to make Liverpool cleaner and greener. The hotline will enable residents to provide information in confidence to help the City Council catch individuals involved in environmental offences such as fly tipping, litter and dog fouling; and they may be eligible for a reward if it leads to penalties or charges. There will also be a crackdown on late night takeaways that don't take steps to reduce the amount of litter around their premises; with persistent offenders having their license conditions reviewed and their opening hours reduced. It follows a doubling in the number of staff tackling fly tipping and cleaning alleyways, with 4 new teams working 7 days a week. The work; focused initially on Kensington - is being followed up with pest control to tackle rodents, and education and enforcement activity to support residents to keep areas clean. The enforcement team have also been supplied with hidden cameras to gather evidence in fly tipping hotspots and issue £400 fixed penalty notices to offenders.

Mayor Joe Anderson said:- "We are absolutely determined to tackle the curse of litter and fly tipping which blights some parts of our City and are in this for the long haul. We are doing our bit by investing more in clearing the backlog of rubbish in alleyways and following this up with support to help make sure people dispose of their waste sensibly. But on the flip side, we will not hesitate to take enforcement action where we are able to act on information, whether it is provided confidentially by members of the public or from investigations carried out by our staff. Our residents deserve to live in a clean and green environment and not have it trashed by residents and landlords who think it is someone else's responsibility to clear up their mess. If someone provides us with information that leads to prosecution, it is right and proper that we provide some kind of reward for that if it is deemed appropriate."

Other measures being considered by the Cabinet, on Friday, 7 July 2017 included:-

► Working with schools to educate children and families about the importance of minimising waste and recycling more and introducing an annual competition with prizes for the best ideas.

► Continuing to give environmental grants of up to £500 for community clean ups, flower planting and the creation of community gardens.

► Visiting businesses to make sure they are adequately licensed for waste disposal.

Funding is coming from efficiency savings made by creating a new arms length company to operate refuse collection and street cleansing; Liverpool Street Scene Services Limited.

Councillor Steve Munby, Cabinet member for neighbourhoods, said:- "This is a comprehensive plan to tackle the issues caused by litter and fly tipping in Liverpool through a mix of clearance, enforcement and education. We are doing our very best to show we care for the area to inject pride back in to neighbourhoods and want that to be reciprocated by people helping us to keep the City tidy as well."

Work is underway to clean and repair four foot alleyways to improve the storage of waste, as well as introducing larger recycling sacks, expanding weekly recycling services for City Centre apartment blocks and piloting weekly recycling. And a team of 14 environmental enforcement officers from Kingdom are issuing £80 fixed penalty notices to people caught dropping litter. Street cleaning currently costs Liverpool Council Tax Payers £8.5 million per year and last year more than 6,500 tonnes of waste was collected from street cleansing rounds. Earlier this year, 2 serial fly-tippers who were caught dumping tonnes of illegal trade waste, including asbestos, yards from a children's dance school were jailed following a surveillance operation by the Council and Merseyside Police.
---
Metro Mayor welcomes priority for Cross Rail for the North
LIVERPOOL City Region Metro Mayor, Steve Rotheram has welcomed the announcement from Lord Andrew Adonis and the National Infrastructure Commission Northern Powerhouse Rail today to make Northern Powerhouse rail one of the top three investment priorities for Government. The proposal for a high speed West to East rail link connecting northern Cities was a key manifesto pledge for the Metro Mayor, and has been a major priority for the City Region. Lord Adonis's recommendation comes after both major parties pledged to support the project during the recent General Election campaign. Steve Rotheram commented:- "I welcome the latest endorsement from Lord Adonis and the National Infrastructure Commission. There is now a growing recognition that this is a project with national significance and value that is at least as important as HS2 and the Heathrow Third Runway. Quite simply it is absolutely key to the Northern Powerhouse vision and the compelling need to rebalance the UK economy."

Steve Rotheram recently joined forces with his opposite number in Greater Manchester, Andy Burnham. To champion the project, but also emphasise the overwhelming case for starting the project in Liverpool with an initial phase connecting the City to Manchester and Manchester Airport. He explained:- "Of course I want to see this project delivered in its entirety, but we should start where we can get the biggest and best value for money return. Linking Liverpool to Manchester would be by far the easiest and most economically viable phase and would have the added benefit of also connecting our City Region to HS 2. This would integrate North to South and West to East high speed networks and provide much needed additional freight capacity to support the growth of the Port of Liverpool. It would also link the Cities with the greatest degree of physical and economic synergy, and where the agglomeration benefits are greatest. It's by deepening and improving connectivity between Liverpool and Manchester that we can, in the short term, create an integrated urban economy with scale and diversity to balance London."