Liverpool loves maths!
LIVERPOOL is going maths crazy, on Friday, 7 July 2017, with:- Schools, Nurseries, Children's Centres, Museums, Cafes and even Shopping Centres, all getting involved in a range of activities. The aim of the City's 2nd annual Maths Party Day is to celebrate numeracy and show people of all ages aspects of the subject they may never have seen before. It is part of the Liverpool Counts initiative to raise standards, spearheaded by the Liverpool Learning Partnership which was set up by school and education leaders to prioritise the needs of learners. More than 150 schools will be taking part in the day's activities, workshops and party celebrations and all pupils will have access to a 'virtual' party bag of activities they can do at home. Museums, Galleries, Theatres and other cultural organisations will have maths trails for children at their venues, including both the Everyman and Unity Theatres. It is planned to be a rich learning experience for all students and an enjoyable day, and the highlights include:-

► Maths Time and Rhyme Times for pre-schoolers at Chavasse Park in Liverpool ONE, at 11:30am and 1:30pm, supported by teaching students, from Liverpool Hope University.

► A Wigwam Maths Party at the Wigwam Café on Rose Lane in Mossley Hill including number hunts, string challenge and challenges for grown ups, from 9:30am to 2:30pm.

► Games and activities at Gateacre School's Big Little Library at Belle Vale Shopping Centre, from 1pm to 4pm.

► Let's Play Maths Games day at the Sugar and Dice board game cafe, on Cornhill, within the City Centre.

Although exam results have improved in Liverpool over the last decade, performance in maths still lags behind English and recent changes to the GCSE examination means it now incorporates many topics that were previously confined to the A level paper. Assistant Mayor and Cabinet member for schools, Council lor Nick Small, said:- "Despite huge improvements in attainment in Liverpool over the last decade, maths is an area where pupils still lag behind the rest of the country. Good numeracy skills are an increasingly important part of many skilled jobs and essential to everyday life as an adult. It's not about becoming a mathematician; it's about being able to understand your payslips and bills, or get the best shopping or banking deals. The maths party is about making numeracy accessible and fun and showing that is not just about what you do in maths lessons, but in what you do at home as well."

Parents are also being encouraged to get involved as Children's Centres will give out party bags to youngsters containing mathematical activities they can use with mum and dad at home, while those with older children have access to a "virtual bag" which they can use as a family. It comes hot on the heels of a highly successful Dragon's Den maths competition and awarding of the Liverpool Counts Quality Mark to another 20 schools in the City. Elaine Rees, Chief Executive of Liverpool Learning Partnership, said:- "We are looking to Friday, building on the success of last year, ensuring that numeracy is championed across the City.

It's a great opportunity for all of us to celebrate the role and purpose of maths in our everyday lives."

A list of the community events for the Maths Party can be found online.
---
Next of Kin Appeal for a Margaret Reymueller
SEFTON Coroners Office have told the media that they are trying to locate the family of Margaret Reymueller, from Manchester Road, Southport. Ms Reymueller was aged 89 when she passed away, on Sunday, 25 June 2017. If anyone can help the coroner identify and trace Ms Reymueller's next of kin, please call:- (+44) 0 151 777 3422 or send them an email Sefton.Coroners.Office@Merseyside.PNN.Police.UK.

Dog mess problems are 'in the bag' thanks to successful parks pilot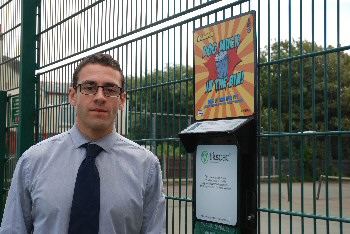 DOG owners in Wirral are increasingly 'doing the right thing' when it comes to picking up after their pets, one year after the Council began its zero tolerance approach to enforcement of dog fouling laws. Enforcement officers working for Kingdom, who are the Council 's enforcement partners on litter and dog fouling, say they are impressed by how many people they see instinctively pick up their dog's mess when they have fouled in public. Their observations back up the Council 's own, long held view that is a small minority of irresponsible dog owners who give everyone a bad name when it comes to this issue. More than 200 people received fixed penalty notices during the 1st year of Kingdom's enforcement of dog fouling laws in Wirral; that's 227 in total, between 9 May 2016 and 8 May 2017. This is in part down to information given by members of the public which gave officers the intelligence to target their efforts on specific areas where the problems are. Now into the 2nd year of the enforcement contract, Wirral Council is shifting its approach slightly in an attempt to change the behaviour of the minority who still don't pick up. A pilot project in 4 Wirral parks where there are dispensers in place giving out free dog poo bags has proved successful. These dispensers are currently situated at Dibbinsdale, Royden, Harrison and Victoria parks, but more are due to be installed at other parks in the coming weeks. Providing owners with a free supply of bags helps to remove 1 of the most common excuses enforcement officers hear when they catch an offender; that they forgot to bring their own bag on a walk.

Cllr Phillip Brightmore, Wirral Council 's Cabinet member for Environment, said:- "It is great to hear that so many of our residents have such pride in their neighbourhood and would not dream of leaving any kind of litter behind. Taking personal responsibility for what happens to your own rubbish when out in public is absolutely the right thing to do. The deterrent is now well established and I think most dog owners know that not only is it wrong to leave dog mess behind, but they will also be fined on the spot if caught doing it. But the kind of behaviour change we need to encourage amongst this small irresponsible minority is likely to take longer to achieve and we need to come at it from different angles, not just the deterrent angle. This is why we are providing the dispensers, partly funded by the proceeds of fines, enabling everyone to do the right thing. Seeing bags readily available will hopefully encourage them to take one and pick up after their dog. Or at the very least it will make them realise that it is the right thing to do; and there can be no excuses. We expect responsible dog owners will also remind them of that fact."

As well as being part-funded by the proceeds from environmental enforcement, there are also sponsorship/advertising opportunities on the dispensers themselves which help to pay for the installation and supply of bags. Cllr Brightmore adds:- "Once bagged, dog mess can be put in any public bin. And there are some 4,000 out there across Wirral and many of them situated in the areas where most people visit. If there isn't a bin immediately to hand, carry it with you until you come across one. Don't, under any circumstances, think it is an acceptable alternative to leave bagged dog mess behind or hanging from a tree. This is still an offence and if caught you will still receive a fixed penalty notice for littering. Not collecting and disposing of your dog's waste is irresponsible and disgusting. Enough is enough."