Barclaycard presents British Summer Time Hyde Park:- 'Saturday, 8 July 2017'
Photos by Mark Kaye and Jo Forrest,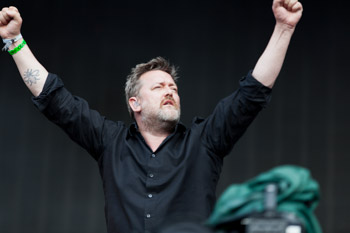 LONDON might not be Merseyside, but this event brings crowds from all over the world, not just from London, so we though we should take a look again at this event to what was on offer this year.
British Summer Time (BST), is 1 of the biggest music events in the UK, who have been nominated for 5 Festival Awards, and rightfully attract the biggest names to London's Hyde Park. This year's event was no exception, despite all the resent security issues.
This unbeatable live music event saw 65,000 people gathered in Hyde Park to catch the festival's fastest selling show since 'The Rolling Stones,' in 2013, on Saturday, 8 July 2017 and we had the honour of attending. The show line up offered a glistening indie rock line up, such as:- The Killers, Prince Harry, Rosamund Pike, Downton Abbey's Joanne Froggatt, Dermot O'Leary, Louise Redknapp, Alan Carr, Jimmy Carr and Gail Porter.
In fact the almighty rock stars The Killers headlined the 5th sold out show, channelling their megawatt energy to the crowd through an electrifying anthems filled set. This was the bands 1st performance in the capital since 2013.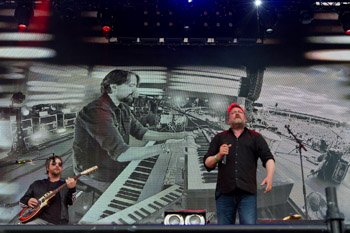 Walking on stage to a blast of pink confetti, The Killers - 1 of the biggest rock bands of the 21st Century, selling over 22 million records worldwide; with their Charismatic front man Brandon Flowers called out to the adoring crowd:- "Can you believe its been four years? We need to be reacquainted with each other."
The band opened with their newest single 'The Man' - a taste of what's to come from their forthcoming fifth studio album Wonderful Wonderful. Swiftly showing that they are taking no prisoners, the Las Vegas rockers then took everyone back to 'Somebody Told Me' the mammoth hit that put them on the world map 13 years ago.
In a performance that is sure to be acclaimed as the band's finest yet, The Killers led a sea of waving arms and screaming fans to powerhouse renditions of their mega hits like:- 'Smile Like You Mean It', 'When You Were Young' and a stripped back version of 'Human' before closing with the super smash:- 'Mr Brightside' and a flurry of fireworks.
The set list was also sprinkled with treats for loyal fans, including a performance of 'This River Is Wild,' an album track from their 2nd album 'Sam's Town,' which celebrated its 10 year Anniversary, in October 2016, and 'Shadowplay', a Joy Division cover from their b-sides and rarities album 'Sawdust.'
Critically lauded Mancunian band Elbow led the crowd through their airborne hits, perfectly matching the cool change that swept through Hyde Park after sweltering summer's day.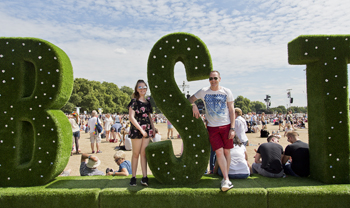 The band; who were accompanied by 2 violinists on stage; soared on:- '1 Day Like This' with singer Guy Garvey leading the crowd through a tender sing along of their 'Ivor Novello' winning hit. Guy appeared to be living for every minute, excitedly leading the masses into what he dubbed a 'reverse Mexican wave.' "It's a beautiful ripple of love.." he said beaming with pride.
The set also mixed big numbers like 'Grounds For Divorce' with freshly cut singles 'Magnificent (She Says)' and 'All Disco' from their latest album, 'Little Fictions,' which topped the UK charts earlier this year. The band also thrilled fans with performances of tracks from previous hit albums like 'Lippy Kids' (from 'Build A Rocket Boys!') and 'The Birds' (from 'The Take Off' and 'Landing of Everything').
Unquestionably 1 of the most eagerly anticipated performances of this year's line up, 'Tears For Fears' made their glorious comeback, playing all the hits in London for the 1st time in 12 years. The legendary pop band walked out on stage to Lorde's rendition of 'Everybody Wants To Rule The World' before launching into performing the classic hit themselves. New Zealand singer Lorde covered their song for 'The Hunger Games Catching Fire' original soundtrack in 2013.
"The last time we played in London, it was 2005," Rolan Orzabal reminisces. "This is a wake up call. 'Wake up,' 'Tears For Fears' because England quite likes you."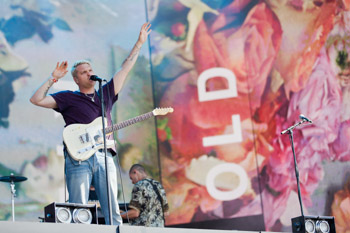 The band wasted no time taking the crowd down memory lane with their timeless singles, leading a mass sing along to:- 'Mad World', 'Change', 'Head Over Heels' and an unexpected cover of Radiohead's 90's anthem 'Creep', before closing with the show stopping 'Shout' much to the delight of thousands of screaming fans.
Elsewhere, Californian indie rockers 'Cold War Kids' treated fans to a killer set befitting of a glorious summer day in London, featuring:- '1st,' 'Something Is Not Right With Me,' 'Hang Me Up To Dry' and 'Love Is Mystical' a single from their latest album 'L.A. Divine.'
Earlier in the day, sharp suited Irish youngsters The Strypes kicked off the action on the Great Oak Stage, followed closely by Twickenham indie rockers Mystery Jets who performed best loved numbers from their 12 year long career including:- 'Someone Purer' and 'Serotonin.'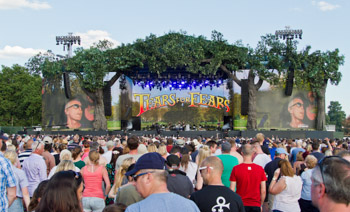 Blaine Harrison, lead vocalist of Mystery Jets, rocked up in a classic George Michael style 'Choose Love' top. He said:- "It's London Pride today and I'm so thankful you are spending this day with us" before dedicating 'Young Love' to the crowd.
Fans flocked to the Barclaycard Stage to catch top notch sets from a string of performers including:- London trio 'White Lies' and Brighton band 'British Sea Power.' Meanwhile over on the Summer Stage, crowds pouring in for 'The Killers' caught performances by:- 'Clean Cut Kid,' 'Callum Beattie,' and more.
As the Barclaycard presents British Summer Time (BST) is 1 of the UK's leading festivals and seen as a bench mark for others to try to reach, so with many of the UK's top music events on Merseyside, we would love to know what works at BST that could be used here on Merseyside. Also what do we do best, that could be done in London. If you have any thoughts on this please do email us to:- News24@SouthportReporter.Com.
To book tickets for 2018, visit:- BST-HydePark.Com.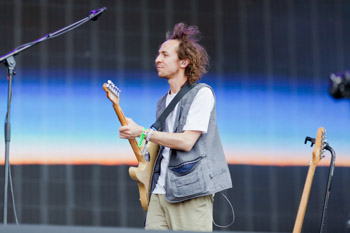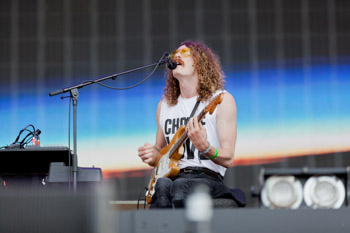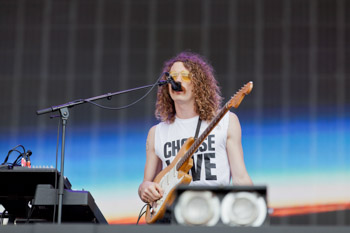 Remember you can order photograpic prints from us. Help us keep this site online. Please don't brake our copyright by copying any of the text or images in this website, even if its only for 'personal use.'