The Orange Lodge Parade in Liverpool City Centre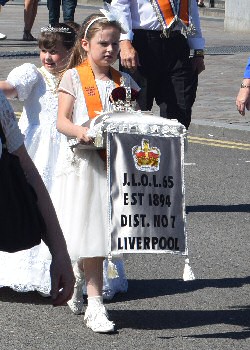 ON Sunday, 9 July 2017, the Orange Lodge held a small parade in Liverpool City Centre ahead of the larger parade in Southport of the 12 July 2017. These are a few photos of that Parade. Please let us know your views on this parade via emailing us to:- News24@SouthportReporter.Com. Why not also 'Tweet' @SouthportReport and let the world on your thoughts about this news item!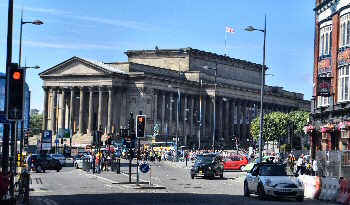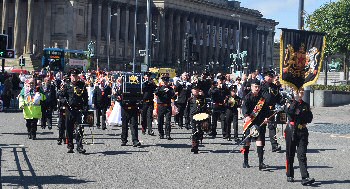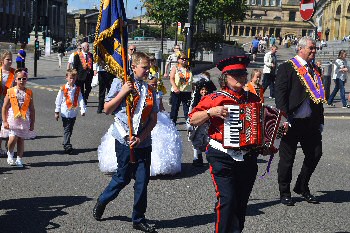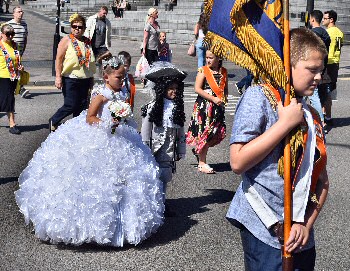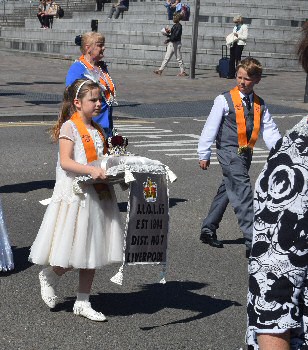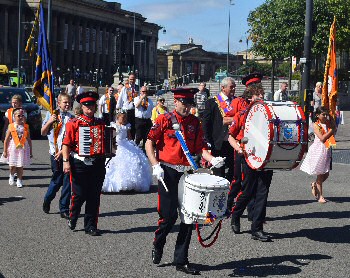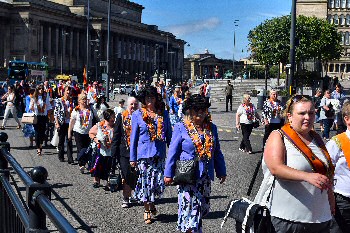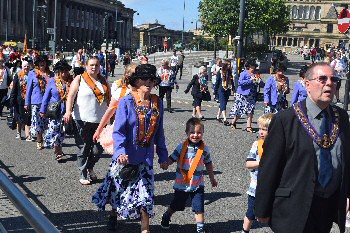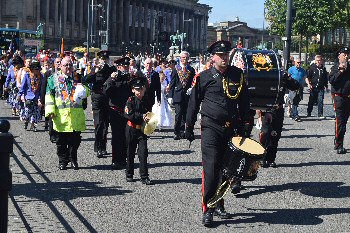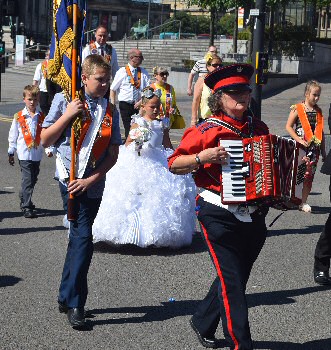 'Hope and Glory' Liverpool's biggest, newest music festival update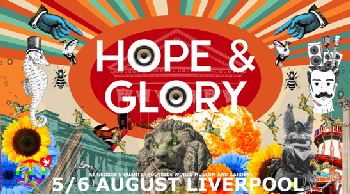 WITH only weeks to go until Liverpool's newest festival 'Hope and Glory' takes over Liverpool's City Centre, more details on the exciting and extravagant entertainment happening over the weekend have been announced.

As well as enjoying music from the festival's incredible line up of top name acts; including headliners:- 'James' and 'Hacienda Classical' the 3rd stage 'In The Lady Garden' has a whole host of fun to offer.

On Saturday, 5 August 2017, the Liverpool International Air Guitar Competition will be taking place throughout the day, with entrants battling it out to show their best moves to the crowd. Entries for the Air Guitar Competition should be made to:- Hello@TinyCOW.Co.UK with their name, age and top 3 songs to rock out to.

The stage also plays host to an array of special solo acoustic performers and respected journalist and author Simon Price who will be 'In Conversation With' some of the weekend's stars including:- Charlotte Church and Lucy Spraggan. Liverpool's top fashion and lifestyle blogger Stephi La Reine will also share her style expertise in the Fashionista Hour.

On Sunday there will be exclusive acoustic performances from ex-Augustines frontman William McCarthy, who makes his return to Liverpool after his former band played their final show there in 2016. Kent singer Nic Bennett, The Voice UK 2016 contestant Cody Frost and more will also feature. Closing the stage will be the grand 'Duelling Pianos,' a thrilling contest between virtuoso ivory ticklers in a life or death struggle to showcase their skills!

One lucky ticket buyer will also be walking away with ₤1,000 and 2 tickets to next year's Hope and Glory in the festival's Victoriana fancy dress competition; so expect:- handle bar moustaches, bearded ladies and bloomers galore!

Across the whole site there will even more weird and wonderful pop up comedians and entertainment including:- the Football Legends charity darts match, celebrity charity arm wrestling, The Victorian Acrobatic Team, Harminder the Elephant and Dinosaur Baby in the Pram, the highly entertaining sights of inflatable crustaceans' in the 'Dance Of the Lobsters; Lobsterlicious', as well as a:- Foam Party, Prince Albert's Little Secret (Cocktail bar), Mothers Ruin (Gin bar), Mr Edison's Electric Emporium, Dr Johnson's Clandestine Gathering, The Hoop and Stick and Darwin's Little Darlings.

Tickets available from:- HopeAndGloryFestival.Co.UK.

See next week for further details...
---
92 Scrambler Bikes recovered aster search warrants executed in Bootle
MERSEYSIDE Police's Matrix officers have executed a total of 25 warrants and recovered 92 bikes after search warrants were executed in Bootle. Matrix Officers are reported to have found them at a container site, off Derby Road, Bootle, as a result of community and Police led intelligence. The bikes include:- scrambler bikes, quad bikes, mini scrambler bikes and high-powered superbikes. Tests have so far established that 8 of the bikes are stolen. Examinations are ongoing on the remainder of the bikes. The stolen bikes recovered so far include:-

► A BMW touring bike, stolen from Liverpool earlier this year, prior to its owner boarding a ferry to the TT races on the Isle of Man.

► A large quad bike, stolen in a burglary within Bootle, in May 2016.

► A KTM 350 scrambler bike, stolen during a robbery in St Helens, in 2016.

► A Kawasaki Quad bike stolen during a burglary at Rainford Recreation Club, March 2016.

► A Yahama stolen from Nottingham area in 2011.

► A Suzuki quad bike stolen from Warrington in April 2017.

► A Kawasaki ZR 800 stolen from Birmingham area in May 2017.

► A Kawasaki scrambler bike stolen from the Derbyshire area, in December 2016.
​
A machete and masks were also recovered together with helmets, goggles, gloves and footwear.

Detective Inspector Steve Reardon said:- "We will continue to take pro-active action against those involved in the criminal use of scrambler bikes on our roads and will do everything possible to locate and seize suspected stolen or nuisance bikes and arrest those who are putting the safety of others at risk. I would like to take this opportunity to reassure communities across Merseyside that we understand their concerns about scrambler bikes and are relentless in our efforts to tackle them. Such behaviour cannot and will not be tolerated on the streets of Merseyside and our response reflects how seriously we take this issue. I would urge anyone with information which could help us take these bikes out of circulation and make our streets safer to keep coming forward."

Anyone with information on who is using these bikes and where they are being stored is urged to call:- 0151 777 3047 or Crimestoppers anonymously on:- 0800 555 111.
---
Liverpool makes UK's top working spaces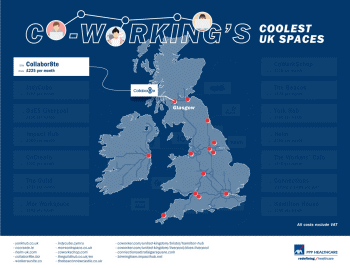 CO-WORKING spaces, defined as membership based workspaces were diverse groups of freelancers, remote workers and other independent professionals work together in a shared, communal setting, are opening up all over the country and transforming the small business office dynamic. As well as trendy open plan environments, with hot desks and access to meeting spaces, many feature free extras like endless tea and coffee, superfast Wi-Fi and a range of inspiring ways to co-operate and interact with fellow coworkers. The unique set up means that as well as planned community events, unlike traditional office spaces there is an atmosphere that's relaxed yet professional, collaborative and creative, with community at its core. Not only does sharing a working space with fellow entrepreneurs, freelancers, self employed give more control over their working lives, it also provides cost effective, social workspace that can massively help those starting up in business and those wishing to expand without renting office space. According to Small Business Labs, the number of people renting these types of spaces will grow globally from just under 1m in 2016 to nearly 4m in 2020. In fact, brands such as Starbucks are encouraging its space to co-working, with the ultimate goal to become, what they have coined as the 3rd Space, ie Home, Work and Starbucks.

Mike Davis, Head of SME at AXA PPP healthcare says:- "A flexible modern working environment where employees can flourish is key to building and maintaining a high performing workforce and, at the same time, it safeguards your business from the costly risk of losing valuable people."

In this handy infographic (attached), experts from AXA PPP healthcare show a selection of the coolest working spaces from around the country. For more from AXA PPP healthcare visit their Business Health Centre.
---
Show your love for your park this '#LoveParks Week'
JOIN in with the 100 million visits to UK parks this '#LoveParks Week,' running until 23 July 2017 and tell the world why you love your park. 'Love Parks Week,' now in its 11th year, is Britain's biggest celebration of these valuable spaces. Wirral Council is joining the celebration, and encouraging everyone to share why they love Wirral's parks. This #LoveParks Week, we are encouraging as many people as possible to go out and enjoy their local park. Members of our many "Friends Groups" will be out and about so feel free to come and say hello, grab the "I love my park because …" board and snap away or take a selfie and let's all get sharing those fantastic photos of why we love our parks and don't forget to use the hashtag #LoveParks. Using this tide of public support, with people sharing how much parks matter to them and why, environmental charity Keep Britain Tidy will campaign to secure the quality of parks for future generations to enjoy. Paul Todd, Keep Britain Tidy's Green Flag Award manager said:- "We believe that everybody, wherever they live, should have access to a quality green space. We are asking everyone to join us in showing how much they care and helping us to protect parks for future generations." Cllr Phillip Brightmore, Wirral Council's Cabinet member for Environment said:- "Wirral is home to some of the UK's best parks and green spaces. This makes Wirral such a great place to live. They are a credit to our staff, volunteers and Community Groups that help to maintain our local area to such a high standard. During Love Parks week take the opportunity to visit your local park and see for yourself the great green spaces we have right on our doorstep." To find out more about the Keep Britain Tidy programmes and campaigns visit:- KeepBritainTidy.Org.