New road safety strategy for the Liverpool City Region given the green light
THE Liverpool City Region's Road Safety Strategy 2017 to 2020 was approved at Liverpool City Region Combined Authority meeting, on 14 July 2017. This 3 year strategy aims to reduce the number of those killed and seriously injured on Merseyside's roads.

The plan outlines the methods and measures that will be used by partners who make up the Merseyside Road Safety Partnership; Merseyside District Councils, Merseytravel, Merseyside Police, the Office of the Police and Crime Commissioner, Merseyside Fire and Rescue Service, North West Ambulance Service, Highways England, and the health sector. This has also been shared with the Cheshire Road Safety Partnership covering the Halton borough, who will be adopting a similar approach.

The measures and methods used to help achieve safer roads include:- education (promoting road safety messages through targeted campaigns and training), enforcement (ensuring road users adhere to safety measures that have been implemented, particularly driving at a safe speed) and engineering (identifying and introducing remedial measures to improve road safety and ensuring new highway projects operate safely).

Cllr Liam Robinson, Transport portfolio lead for the Liverpool City Region Combined Authority said:- "We all have a role to play to ensure our roads are safer and the number of accidents and injuries on our roads are reduced. We can play our part, but we also need our residents and road users to play their part too by listening to and taking on board the information around road safety awareness and adhering to road safety law, particularly around speed limits and to not be distracted whilst driving, for example, by using your mobile phone."

The strategy also includes targeted action plans to keep cyclists, motorcycle users, senior road users and pedestrians safe on and around Merseyside's roads.

Liverpool City Region Metro Mayor Steve Rotheram added:- "I want the Liverpool City Region to be safe for all road users, cyclists, motorcyclists and pedestrians alike and through collaborative working, we can achieve more by pooling our resources and expertise. Through this strategy, all agencies and road users have shared goals to work towards reducing the number of casualties and fatalities on our roads."

Jane Kennedy, Merseyside Police and Crime Commissioner, said:- "Every death or serious injury on the roads of Merseyside is one too many. By working together to manage education, enforcement and engineering, we hope that Merseyside's roads will be safer. From an enforcement perspective, Merseyside Police will play its part by ensuring those disregarding road safety are robustly dealt with through the appropriate penalties, but we can reduce the need for enforcement action through better education, awareness and understanding the consequences if people continue to flout the law."
---
CCTV images issued as part of appeal into disturbance at McDonalds, Bootle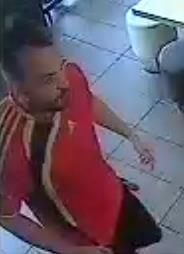 MERSEYSIDE Police Detectives investigating a disturbance at a fast food restaurant in Bootle have issued CCTV images of 3 men who they believe could assist with their enquiries.

Officers were called to reports of 5 men having fled the McDonalds restaurant following a fight shortly before 6.30pm, on Monday, 26 June 2017. It is believed that 3 men, 1 armed with a metal bar, had entered the restaurant and then started to attack 2 other men in the restaurant.

All 5 men then left the restaurant, with the 3 attackers seen getting into a dark coloured car which was driven off along Stanley Road towards Liverpool City Centre.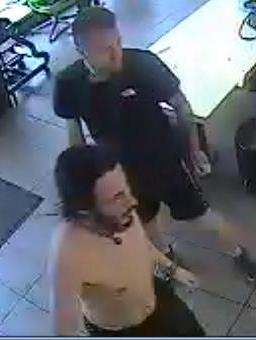 It is believed that there were a number of other customers in McDonalds at the time of the incident and Officers are appealing to anyone who was in the restaurant and who may have information which could help them with their inquiries to call them.

1 of the men is described as white, aged mid to late 20's, of slim build with dark shoulder length curly hair and facial hair. He was wearing a blue T-shirt, which was later removed, dark coloured shorts and dark footwear.

The 2nd man was white, also aged mid to late 20's, of slim build with short fair hair and facial hair. He was wearing a black T-shirt, black shorts and dark footwear.

The 3rd man is described as a white man, aged mid to late 20's, of medium build with short dark receding hair. He was wearing a red T-shirt, black shorts and dark footwear.

Detectives have issued photographs of 3 men who they believe could help them with the investigation.

Officers are also keen to speak to anyone who may have any footage of the fight on their mobile phones to get in touch.
Anyone who recognises any of the men, or has any information which could assist the investigation is asked to call Detective Constable Dave Rutherford on:- 0151 777 3035, or the Crimestoppers line anonymously, on:- 0800 555 111.

Liverpool ready for License to (street) party!
LIVERPOOL City Council is boosting community spirit with plans to waive the legal costs of staging street parties. Currently, any individual/group who wants to host a street party needs to apply for a Traffic Regulation Order (TRO) which can cost in excess of ₤2,000. The recommendation, which will be presented at a Cabinet Meeting, on Friday, 21 July 2017, looks to establish a Community Events Order which would allow residents to apply to hold community events in their neighbourhoods, with the Council covering the cost of a TRO which would cover a 12 month period. The order would allow the City Council to close roads so that community events or street parties could take place. It also has the benefit of allowing children to play safely in traffic free areas, creating safer zones and encouraging young people to get active outdoors, improving their health and wellbeing. If approved, it would come in to force from April 2018 for 12 months, renewing each year. This means residents will have until 31 December 2017 to submit an application for a street party which will be assessed in the New Year, and if it's successful they could hold their event from April 2017. Initially closures in the same area would only be permitted once a month to ensure minimum disruption to the road network.

The City Council's Highways Team will provide a full guidance note for anyone thinking of applying, which includes:-

► Events are to be organised and funded by the applicant, not by the City Council.

► The applicant must consult with all residents in the area. If any objections are raised, the Council will work with the person who has submitted the request to identify a solution. Ward members will make the ultimate decision.

► Not all roads can be closed, so alternative options should be considered; major roads and bus routes are exempt from the scheme.

► Road closures can't exceed 3 hours.

► Applicant must be able to demonstrate they have the appropriate Public Liability Insurance to cover the event.
► All signs and barriers would need to be organised and paid for by the organiser. If it's going to be a regular event it is recommended the applicant purchase the traffic management equipment.

► If applications for events in 2018 are made after 31 December 2018, residents will have to pay for the TRO which could be around ₤2,400.

► The initiative forms part of Play Streets; a nationwide drive for local authorities to develop a scheme that will encourage young people to play safely on the streets.

Liverpool City Council's Cabinet Member for Highways and City Services, Councillor Steve Munby, said:- "We often receive requests from residents who wish to close their road to host a street party, but the costs associated are prohibitive for both Council and the individual. This Community Events Order would enable the City Council to cover the costs of a 1 off, annual Traffic Regulation Order which would then give communities the freedom to put on an event in their area. Not only is it a simple and effective way to encourage children to play out on traffic free streets, but in turn, it gives neighbours the chance to socialise, growing the community spirit and engendering pride in where people live. I'm sure residents will be thrilled with the prospect and I look forward to seeing a whole host of events taking place in communities across the City in 2018."
---
Thousands to Attend Jehovah's Witness Convention in Liverpool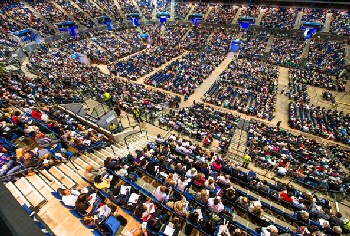 AN estimated 18,000 people will travel to Liverpool, in August 2017, for the annual convention of Jehovah's Witnesses. We are told that the theme of this year's convention is:- "Don't Give Up!" This will be the 6th year the event has been held at the Liverpool ACC "Arena." However, for the 1st time, this year there will be 2 separate events.

That news has gone down well with members of staff at the ACC. Christine Robinson, concierge at the arena, said:- "It is a joy to work with you. Myself, the supervisors, event managers and staff all look forward to working this event every year and have done for the past 5 years."

Other members of staff made similar comments like:- "Delighted to care for another convention. Great to work with you again. The staff ask to be on duty."

The 1st 3 day event will begin on Friday, 4 August 2017 and the 2nd will take place on Friday, 25 August 2017. An open invitation has been issued to the public.

Jeff Stacey, a convention spokesman, states:- "With so many tragic events happening both nationally and internationally, we truly believe the theme of this year's convention couldn't be more timely! We will discover how the Bible and even nature teach us lessons about how to endure. There will be a feature film to enjoy each afternoon and on Sunday morning we are looking forward to the encouraging discourse:- 'Never Give Up Hope!' Everyone is welcome, even if it is just for an hour or 2 over the course of the weekend. We warmly invite all to come and benefit from the educational programme!"

The convention is free to attend, and no collection will be taken. The Liverpool events are among over 40 being held in the UK.
---
Merseyside man wanted on recall to prison
MERSEYSIDE Police is appealing for the public's help in tracing a 32 year old man who is wanted on a recall to prison. In February 2017, Anthony Hughes was released on license after serving a sentence for kidnap and blackmail. Hughes was recalled to prison in April 2017 after he was found to have breached the conditions of his license. Extensive efforts have since been made by Merseyside Police to find Hughes. Hughes is described as:- white, about 6ft 1in, of average build, short brown hair, blue eyes, unshaven, with a Scouse accent. Hughes also has tattoos of Mum and Dad and a "large praying hands" tattoo covering his back. Hughes is known by the nickname:- "Yozzer." He is known to have connections to the Fazakerley and Kirkby areas of Merseyside and the Halton Brook area of Runcorn in Cheshire. Anyone who has seen Anthony Hughes or has any idea of his whereabouts, is asked to call Merseyside Police either on Crimestoppers on:- 0800 555 111 or on the non-emergency contact number:- 101. Alternatively you can provide information to Crimestoppers online.