SonFest Southport 2017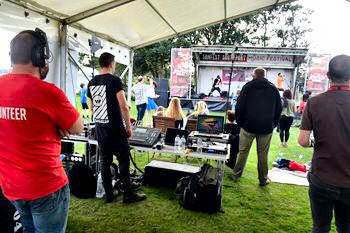 ON 7 September 2017, the 2nd SonFest was held on King's Gardens, on the Promenade, Southport, with the 1st this year being held back in August. If you don't already know, SonFest Southport started held back in 2014 and has grown into a very popular event, thanks to their title sponsor:- 'Fill the Gap Concerts,' from North Carolina, in America. The Christian Music Festival mixes live music of a variety of styles from jazz to pop, to folk and to gospel, with the promotion of Christianity. "This event is organised by local Churches and sponsored by local businesses, as a gift to the community and a way to introducing people to the life giving, life changing message of Jesus Christ." said a representative SonFest Southport. These are a few photographs we took at the event. Please email us your thoughts about this event to:- News24@SouthportReporter.Com and also for more information about the 2018 event, go to:- SonFestSouthport.Org.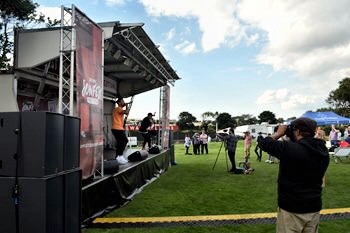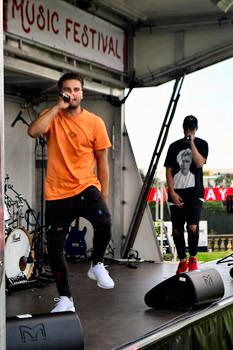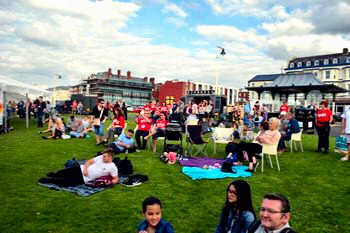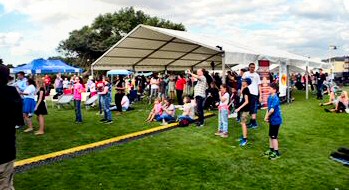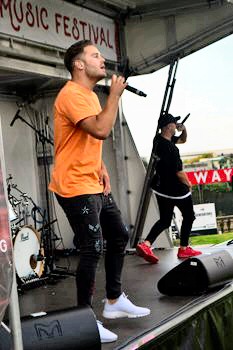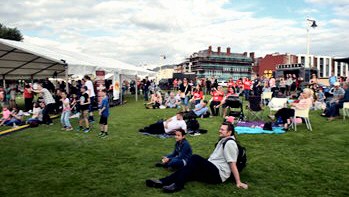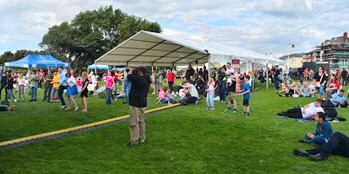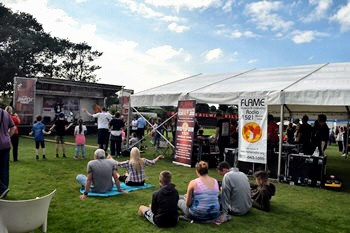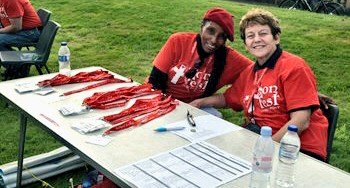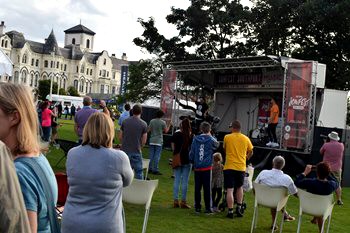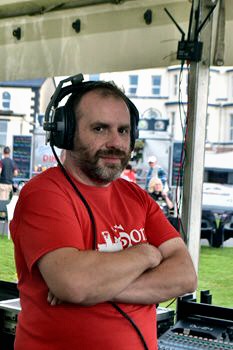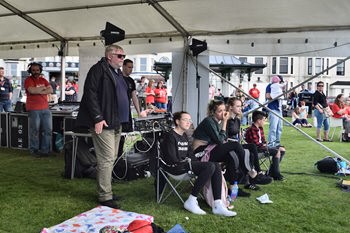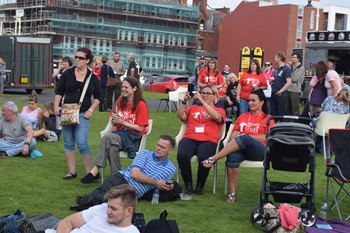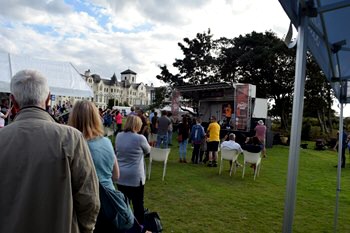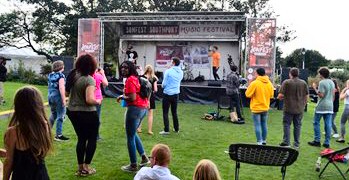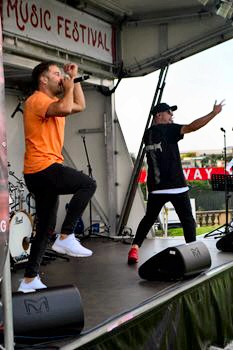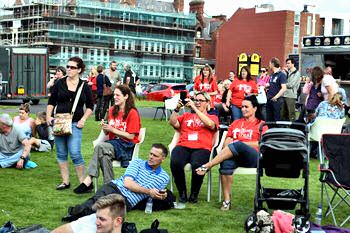 Merseyside Business Games 2017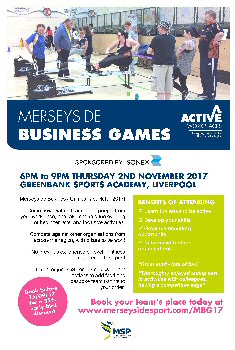 MSP are hosting their annual Merseyside Business Games event in November, with an evening of fun and inclusive teambuilding activities on offer. Bring a team of colleagues along from your workplace and see the business benefits that physical activity can bring.

The event returns to Greenbank Sports Academy in Liverpool, from 6.00pm to 9.00pm, on Thursday, 2 November 2017. The evening consists of teams (5 to 7 people per team) taking part in a variety of exciting beginner-level sports and activities, scoring points for their team in a bid to become the most active organisation in Merseyside! Businesses of all shapes and sizes attend the event, and no previous experience of sport or level of fitness is required for individuals to take part.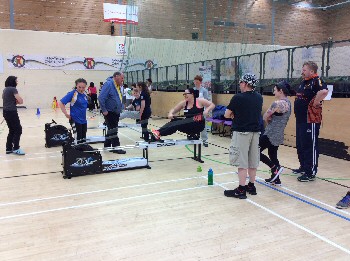 Merseyside Business Games is organised by MSP, who promote physical activity and sport in the workplace as part of their 'Active Workplaces' programme. There are clear business benefits to having a more active workforce, with research showing that active staff take 27% less sick days than colleagues who are inactive. Investing in workplace physical activity also enhances an organisation's Corporate Social Responsibility, reduces staff turnover and improves staff morale, team working and communication. Danny Woodworth from MSP said:- "This event is a great way for staff to come together to bond with their colleagues and network with other organisations. Attendees in 2016 told us that they thoroughly enjoyed taking part in a variety of activities, learning top-tips to be more active to improve their health and wellbeing."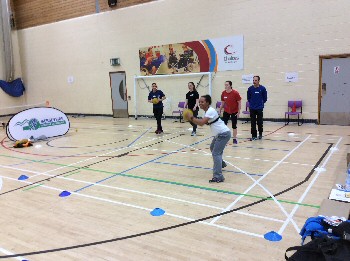 This year's event, sponsored by Sonex Publishing, is now open for any organisation in Halton, Knowsley, Liverpool, Sefton, St Helens or on the Wirral to enter. For further information about the event or to book your place please visit:- MerseysideSport.Com/MBG17. You can also contact the Active Workplaces team on:- 0151 728 1811 or send them an email.
---
Society in Southport calls for Schools to register for Money Minds financial education programme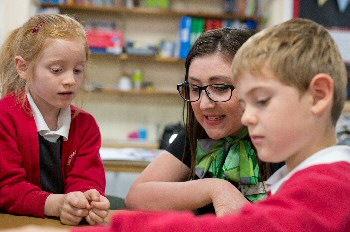 YORKSHIRE Building Society colleagues in Southport are offering to deliver innovative financial education lessons at local Schools as they aim to improve social mobility for young people. The Society is calling for Schools in Southport to contact them at the start of the new academic year to sign up to benefit from the Society's Money Minds programme. Money Minds is a free programme consisting of a series of activities and projects designed to promote discussion and learning about money among children and young people aged 5 to 19 of all abilities. Recent research by the Education Policy Institute suggests the most disadvantaged pupils are more than 2 years behind their classmates when they sit their GCSE's.

Graham Stukley, Yorkshire Building Society's branch manager in Southport, said:- "Learning how to effectively manage finances is a vital life skill. As research has shown that disadvantaged pupils are over 2 years behind their peers by the time they are 16 and we want to use our colleagues' expertise in financial education to help narrow that gap. Our Money Minds sessions are designed to engage pupils and enable them to test and expand their vocabulary and understanding of money through fun activities. We're committed to supporting Schools in Southport in teaching financial education and hope that our Money Minds programme will help to improve financial capability and social mobility across the UK. If you are a teacher who is interested in having a lesson delivered then you can register on our Money Minds website."

In the 2016/17 academic year over 8,000 pupils in the UK benefitted from a Money Minds lesson. Money Minds comprises a series of activities and projects designed to promote discussion and share learning among children and young people of all ages and abilities. Topics range from keeping money safe for ages 5 to 7, planning a party to learn budgeting skills for children aged 8 to 11, up to calculating interest and responsibilities to repay loans for older children. The activities seek to build decision making skills, team working abilities and practical maths knowledge as well as financial literacy. They are delivered by Yorkshire Building Society colleagues as part of the mutual's award winning corporate volunteering scheme, which allocates each employee 31 hours' paid leave every year to carry out volunteering in local communities. Each Money Minds session is delivered in conjunction with a classroom teacher and each Society colleague completes a Classroom Ethics and Safeguarding Awareness course prior to leading the group. More information and how to register your interest about Money Minds can be found online or by emailing:- moneyminds@ybs.co.uk.
---
Cabinet approves further rate relief for local businesses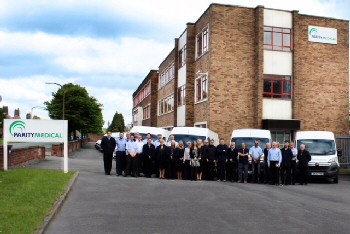 WIRRAL businesses which have been adversely affected by this year's 'Business Rates Revaluation' may qualify for financial assistance to help provide relief against the impact of the changes.

Wirral Council's Cabinet today approved a recommendation to amend its existing policy to provide 'Discretionary Rate Relief' to local businesses to reflect the availability of additional funding provided by central Government and pass this financial support on to those that need it most.

The Government is providing additional support in 3 distinct areas; supporting small business, support for public houses and an extension to the discretionary fund. Now that Wirral Council has full details of these schemes; and the software to process them; it is seeking to agree an amended:- 'National Non-Domestic Rates Discretionary Relief Policy' in order to allow local businesses who qualify to access this new support.

Cllr Janette Williamson, Cabinet member for Finance and Income Generation, said the Council is determined to see these new forms of rate relief passed on those businesses that need it most. "A priority in the Wirral Plan is for Wirral to be a place where employers want to invest and businesses are able to thrive. Encouraging small businesses to develop and grow is at the heart of this and as business rates represent a significant cost to them, we are keen to ensure small businesses in particular can access rate relief. The Council already operates a discretionary rate relief policy, which was approved for 2017/18. With the detail behind the Government's proposals for 3 other schemes now announced, the Council policy is being amended in order to provide support for more than 600 businesses and 100 public houses in Wirral this year. Better still, these discounts will be awarded without businesses needing to complete an application form. This is a real demonstration that Wirral is a welcoming and supportive place to do business, with a local authority that will give them the best possible chance to succeed."

As part of the extended Discretionary Fund, the Government is investing ₤300 million over the next 4 years to support businesses which face a significant increase in their business rates as a result of the 2017 revaluation. Wirral's allocation is ₤912,000 over 4 years; ₤532,000 in the 1st year, reducing over subsequent years when the fund expires.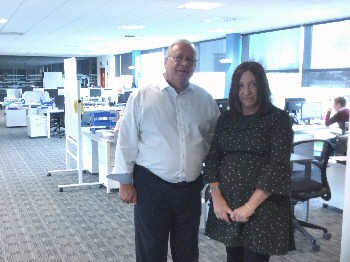 In Wirral, the proposal is to provide local small to medium sized businesses with relief if their business rates were projected to rise by more than 5% and their new rateable value is less than ₤200,000 as a result of the revaluation. It is forecast that more than 600 local businesses will benefit.

Under the 'support for small business' relief scheme, around 30 Wirral small businesses will qualify to have their business rates increase capped at ₤600 per year, while as part of the 'support for public houses' initiative, which is for 1 year only, around 100 Wirral pubs and similar venues will receive business rate relief of up to ₤1,000 provided they have an rateable value of less than ₤100,000.

The help has been praised within the local business community. Peter Russell, the Chairman of recruitment firm Russell Taylor Group, which is based in Bromborough, mentors young local entrepreneurs and he said support such as this is a lifeline to fledgling businesses. Peter said:- "Getting help and support with overheads such as this can make or break a small business that has recently started up. It is really good news that companies which are facing a big increase in their business rates will qualify for this financial relief; it will cushion the blow while they continue to grow."

And Steve Wood, Director of Birkenhead based Parity Medical, added:- "Our company is growing, but the award of partial rates relief after the national revaluation is still very welcome as it allows us to re-invest in infrastructure and continue to increase our workforce, further supporting the local economy."

Cllr Williamson emphasised that rates relief will be particularly beneficial to a sector of the local economy which is going through an especially difficult period. She said:- "This support will provide a much needed boost for businesses and to public houses in Wirral in particular. Pubs all over the country have been struggling of late with an average of 27 closing per week. Hopefully this rate relief will provide a bit of a buffer in difficult times."
---
Kings Gardens Open Day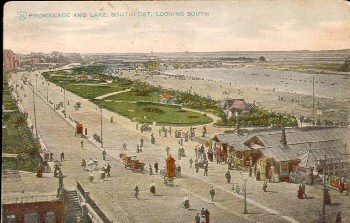 KING'S Gardens, Southport will be blooming with a host of family fun events to celebrate its wonderful heritage. An afternoon of fun for all is planned this weekend with fairground amusements, donkey rides, magic shows and much more, on Saturday, 9 September 2017. Taking place in the community gardens from noon, there will also be a chance to learn some circus skills in various workshops. The heritage open day is an opportunity for everyone to experience what life was like on the land where King's Gardens now stands. Residents will have a chance to see how the landscape of King's Gardens has changed throughout the years with a special photograph display and a:- 'Under The Sea' Big Draw event. The Big Draw is a marquee moment, celebrating how the gardens and the promenade looked previously. Focusing on the times when King's Gardens would have been 'Under The Sea,' the creative masterclass will feature a host of arts and crafts activities, including the chance to create Koinobori; a type of Japanese wind sock; to create a truly under the sea feel. More information can be found by contacting:- 0151 934 2421 or following the Sefton Parks Facebook page.