Luke Daniels, Brings beautifully crafted Acoustic Music to The Atkinson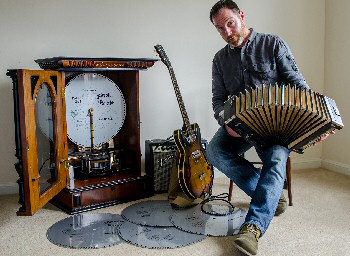 THE Polyphon is a disc playing music box, a mechanical device manufactured in Leipzig, Germany in 1880. Disc projections, called plectra, engage with a series of ratchet like star wheels, that, when moved through 40 degrees on their axis, pluck 120 teeth on the instruments bed plate and comb, these teeth then resonate, sounding predetermined notes. Upon the musical comb, the fast treble notes are sounded furthest from the arts centre and the slower base notes nearest the centre. Newly manufactured 19 and 5/8 inch diameter steel discs rotate at 1.4 rpm and perform the 1st new music written for Polyphon in over a century.

A BBC award winning folk musician and former Riverdance band member who has performed with Ian Anderson of Jethro Tull, Cara Dillon and De Dannan. He was also Folk Musician in Residence of the Scottish National Museum of Rural Life and tutor on the traditional music course at Royal Conservatoire Scotland in Glasgow.

His 2015 album of melodeon music transcribed from early wax cylinders and 78's was described in the Scotsman as "outstanding." A soloist on the Lord of the Rings and The Hobbit soundtracks he performed at the Royal Festival Hall with the London Philharmonic Orchestra. His commissioned work for the PRS for Music New Music Biennial in 2014 was broadcast live on BBC Radio 3 from London's Barbican Centre and Glasgow Royal Concert Hall. He has performed at the Edinburgh Festival's Assembly Rooms and on Broadway with Riverdance.

His musical partnership with the School of Philosophy at Edinburgh University culminated in sell out shows at Celtic Connections Festival on 2 consecutive years with Songs of the Scottish Enlightenment. He recently sang and played live for Mark Radcliffe on his BBC Radion 2 folk programme and was described by Mark as a "master melodeon player."

Luke is a musician and songwriter of true pedigree and the evening promises to be a night of outstanding acoustic songs and music, at The Atkinson, on Thursday, 28 September 2017. You can book your tickets now online or call the Box Office on:- 01704 533 333.
---
Takeaway shut down after vermin found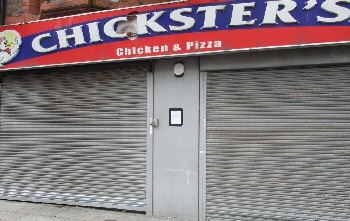 A take-a-way in Kirkdale has been shut down by environmental health officials following concerns raised by local residents and ward Councillors about vermin and the condition of the building. An inspection was initially carried out, at Chickster's, on Stanley Road, Kirkdale, on 13 September 2017, following complaints from local residents and Councillors concerning the general condition of the building, food premises and other problems associated with waste. Officers found evidence of rats, flies and cockroaches in the food storage and preparation rooms and basement and deemed hygiene and cleaning standards to be low meaning it posed an imminent risk to health. The Council successfully applied for an emergency prohibition order at Liverpool Magistrates Court, on Monday, 18 September 2017. Councillor Steve Munby, Cabinet member for neighbourhoods, said:- "We were alerted by local residents and Councillors about this takeaway and when they carried out an inspection we have had no choice, but to have it shut down because it poses a risk to public health. We will of course work with the owners to support them to address the issues we have found and if they do this to our satisfaction they will be able to reopen."

The order was granted by District Judge Lloyd who agreed that the premises must remain closed until agreement has been reached with Liverpool City Council that the Emergency Prohibition order can be removed.

Fuel poverty alleviated for thousands
MORE than 3,300 households living in fuel poverty in Liverpool have benefited from a partnership between energy giant Scottish Power and Mayor Joe Anderson's Hope Fund.
The ScottishPower Energy People Trust, an independent charity which provides funding to registered charities to help vulnerable and disadvantaged people out of fuel poverty, awarded a ₤50,000 grant to Mayor Joe Anderson's Hope Fund, last October 2017.
Around 14% of households in the City are living in fuel poverty, which equates to around 30,000 homes, the worst rate in the country. It is estimated poor housing conditions cause up to 500 deaths and 5,000 illnesses requiring medical attention each year.
Over the last 12 months, trained energy advisors from the City Council's Healthy Homes team have been working with local families to help them reduce energy costs. This includes switching to cheaper tariffs, checking they are claiming all the benefits they are entitled to and improving energy efficiency.
The grant provided by the Trust was used to bring in additional funds and in total it helped assist 3,312 households. This includes:-

► ₤230,000 worth of energy efficiency improvements including:- repairs to boilers and radiators, gas safety checks, whole house draught proofing and the installation of LED light bulbs.

► ₤33,060 of fuel debt assistance to help people pay gas and electricity bills.

► Making sure households were claiming all the benefits they were entitled to worth ₤213,000 for 122 households, equivalent to ₤1,700 each.

Mayor Joe Anderson said:- "The funding from the ScottishPower Energy People's Trust has made a huge difference, we have turned the ₤50k into almost half a million pounds worth of improvements for local households. Tackling poverty is a priority for the City because there are far too many people struggling to make ends meet due to the impact of austerity. We have also set up our own electricity and gas supplier, The Leccy, to offer competitive tariffs and have also established the Mayoral Hardship totalling ₤2 million over the next 3 years to alleviate growing pressures on low income households."
The team also attended 57 community events and visited GP surgeries to raise awareness of fuel poverty. A total of 39 frontline staff have also been trained in giving energy efficiency advice. The City's Healthy Homes programme is open to any resident in the City, regardless of whether they own or rent a property, who has difficulty paying their gas or electricity bills, or struggles to heat up their home. A team of qualified energy awareness Officers are on hand to:-

► Give advice on understanding bills and using less energy.

► The installation of LED lighting.

► Draft proof a property.

► Help with minor window casement repair/

► Organise repair or replacement of a boiler.

► Organise to replace radiators.

► Look at how residents can switch to a cheaper energy provider.

► Check to see residents are receiving all the benefits they are entitled to.

► Install full central heating systems for those properties without (subject to eligibility.)

The service is free and can be accessed by calling:- 0800 012 1754 or emailing:- HealthyHomesProgramme@Liverpool.Gov.UK. Any work carried out following advice from the team can potentially be covered by grants of up to ₤500 per property.
Tenants in private rented properties should approach your landlord 1st; if you are on certain qualifying benefits your landlord may qualify for Energy Company Obligation (ECO) support towards the replacement of the boiler and insulation.
---
27 year old arrested over suspected human trafficking incidents
ROBERT Florin Dragnea, who is a Romanian national living in the Preston area, was arrested at Liverpool John Lennon Airport, on Wednesday, 20 September 2017. He was charged under Section 2 of the Modern Slavery Act, relating to alleged incidents at a Merseyside Hotel, between 1 January and 20 September 2017. He appeared before South Sefton Magistrates Court on Friday, 22 September 2017. Merseyside Police has specialist Officers who deal with issues around human trafficking and modern day slavery. Anyone affected by these issues or who has any information can call Officers on:- 0151 777 8493.