Rare early London transport and other English travel posters set for October 2017 26 New York auction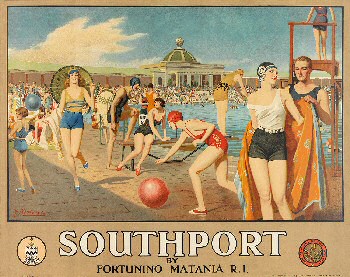 CLASSIC posters from England's golden age of steam travel are set to sell for thousands of dollars when they come up for auction in New York, on 26 October 2017 2017. All the posters being sold feature idealized London and country scenes, Henry VIII, steam trains and cruise liners, they include rare surviving work by the very best commercial artists of the time, including:- the man who set the whole trend going when commissioned to produce promotional material for the Underground Electric Railways Company of London (UERL), precursor to London Underground, in 1930. The posters include the 1 above, that advertises Southport and even has both the Lancashire Crest and the Southport Crest on it! They are among the highlights of the Rare and Important Travel Posters sale at Swann Auction Galleries. These stunning scenes combining neoclassical elegance with the age of the Flapper celebrate 1 of the most fruitful partnerships of the great age of the travel poster. In 1930, Frank Pick, later the mastermind behind the development of the London Transport brand, was managing director of the UERL when he commissioned the award winning French artist and designer Jean Dupas to produce a series of posters for his network. Dupas, who had won the prix de Rome in 1910, had also conceived what was already acknowledged as 1 of the masterpieces of print advertising when he produced the catalogue for the fur company Max in 1927. And he went on to decorate the grand salon of the Normandie, the greatest French cruise liner of the golden age of steam travel, in 1935. For the Underground project he put his considerable talents to work by turning familiar London landmarks into scenes of Elysian bliss, populated by svelte semi divine figures. These compositions were the precursors to the idealised, if rather less Olympian, series of images that were to dominate advertising for travel by road, rail and ship in the decades to come, whether under commission for the various regional railway companies, tourist boards, shipping lines or London Transport itself. Such vision and draughtsmanship from the earliest days of this movement, and on the orders of the great Frank Pick himself, are understandably a collector's dream. With titles like Where is this Bower Beside the Silver Thames and Thence to Hyde Park, Where Much Good Company, and Many Fine Ladies, they date to 1930 and are expected to sell for as much as $15,000 to $20,000 each. Other Dupas views celebrate Richmond, Camden Town, and bus and coach travel, with each of these pitched at $4000 to 6000 apiece. Plus some of the highlights include Forging Ahead, a c.1955 British Railways poster by the much sought after artist Terence Cuneo ($3000 to $4000) and a 1923 promotional poster for the Science Museum ($700 to $1000) by Edward McKnight Kauffer, who went on to become the doyen of London Transport poster design.
---
Leading heritage body will fight for public access to landmark building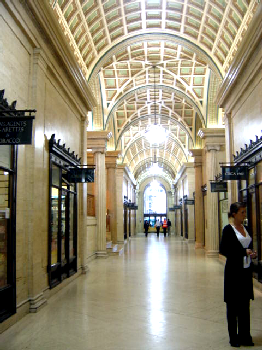 MERSEYSIDE Civic Society (MCS) is asking political leaders to speak out about the prospect of retaining public access to the magnificent 1920s' marble panelled Holt's Arcade in Liverpool City Centre by asking for action from Historic England. MCS is asking Liverpool Riverside MP Louise Ellman and the new Merseyside Metro Mayor Steve Rotheram to write to Historic England, the Government body protecting built heritage, to help save a Liverpool landmark. Holt's Arcade is threatened with closure on security grounds, following the HMRC signing a 25 year lease to move 3,500 staff members from Bootle, North Liverpool, and elsewhere, into India Buildings' upper floors.
The HMRC claim that the free movement of public access through Holt's Arcade, which bisects India Buildings, will compromise the security of its work. Holt's Arcade, clad in Travertine marble, is the centrepiece of Liverpool's landmark India Buildings, acclaimed as 1 of Britain's greatest interwar buildings by renowned architectural historians. It was designed in US Neo Classical 'City block style' by Herbert Rowse and Arnold Thornely, in 1923 and completed in 1930, for Alfred Holt and Co, which owned the legendary Blue Funnel Line, trading to the Far East and Australasia.

Holt's Arcade was devised when the City Council insisted that if this giant building was to straddle 2 blocks then the 18th Century passageway, Chorley Street, must remain a public thoroughfare. Even during WWII, Holt's Arcade remained open, in spite of being adjacent to the crucial Western Approaches Combined Operations Command Centre directing the Battle of the Atlantic. This is why the MCS believes public access to Holt's Arcade, a nationally unique public thoroughfare of superlative design and execution, needs national protection and should not be closed due to security concerns that could be dealt with by instigation of basic security staffing and technology.

Jean Grant, MCS chair, said:- "Our MP's, politicians, and the authorities at the highest national level safeguarding our historic architecture, must be alerted to the serious threat of banishing the public from Holt's Arcade by the HMRC. There is simply nowhere like it in the UK and it is one of the premier components of why Liverpool received UNESCO World Heritage Site status as the prime example of a mercantile seaport City. This alone is good reason for Historic England to ensure the public is allowed continued access to this architectural interior Tour-de-Force. After all, the HMRC will occupy the upper levels of India Buildings, while Holt's Arcade is on the ground floor. Also as high end tourism plays an increasingly important role in Liverpool's economic revival, the last thing that the City should be doing is deliberately putting 1 of its incredible architectural gems out of bounds to visitors."

MCS is supporting the online petition set up by photographer Dave Woods also calling for retaining public access to Holt's Arcade.

Joseph Sharples, Pevsner Liverpool Architectural Guide author, wrote:- "India Buildings, in scale, combination of functions and architectural treatment, emulates the most ambitious early 20th American commercial buildings. Arched entrances to (Holt's Arcade) in Water and Brunswick Streets open into spacious elevator halls, lined with Travertine marble, linked by a noble tunnel vaulted arcade of shops through the centre."

Prof. Charles Reilly, former Head of Liverpool University School of Architecture, said:- "The building would not disgrace (New York's) 5th Avenue; indeed it would sit very happily there."

Click on here for further information on the campaign to save Holt's Arcade. Also please do let us know your views on this topic via emailing us to:- News24@SothportReporter.Com.
Did you know? If you don't already know, the Merseyside Civic Society has been helping to preserve Liverpool's History and promoting design quality for the future since 1938.

Top Secret World War 2 HQ to be re-opened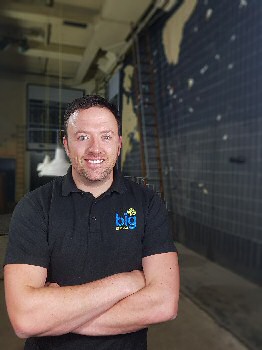 A former secret bunker; used to mastermind the Battle of the Atlantic from the heart of Liverpool; is undergoing a major transformation after heritage innovators and North West based social enterprise Big Heritage secured the keys to the attraction. Big Heritage, based in Chester, have recently signed terms with Shelborn Asset Management, owners of Exchange Flags, to take over the attraction on a long term lease.

The company has been credited with a renaissance of heritage activity in Chester, most recently organising the world's biggest digital heritage project in partnership with Pokémon GO, which attracted over 16,000 people. Big Heritage founder Dean Paton and his team of archaeologists, project managers and builders have already set underway plans to accurately restore the forgotten City Centre visitor experience back to its former glories.
Over the next 6 weeks, heritage innovators Big Heritage will be restoring a labrynth of rooms within the underground bunker HQ and recreating an entire underground 1940's street, complete with stocked sweet shop and pub, community classroom facility, and a range of interactive exhibits and attractions. The plan is to re-open Western Approaches to families in time for the October ½ Term. "Western Approaches HQ is 1 of the most important buildings in the world associated with World War 2. Whilst it was meant to be a secret during the war, sadly in recent decades it has become almost anonymous once again. In the 1940's, when Winston Churchill and his top admirals were planning how to tackle the threats in the Atlantic, the highest level of secrecy was exactly what they would have wanted; in fact, the building only officially existed in the 1960's, way after the war had ended! Now's the time to change all that and to showcase this amazing attraction to the world. And that is really, really exciting for all of us at Big Heritage and the team and I are bringing our usual innovation and energy to making the very best of this globally significant attraction. We can't wait to share it with the City and thousands of visitors every year." said Dean Paton, Founder of Big Heritage and project leader for the renovation.

Dust covered artefacts and archives are being discovered daily during the renovation of the bomb proof and gas proof building, which has a 7 foot roof, 3 feet deep walls and hundreds of rooms covering more than 30,000 square feet. In fact, some rooms haven't even been opened yet within the attraction. "We're genuinely uncovering something new every day. We've found a number of previously forgotten rooms, and have unearthed a few exciting finds along the way. It's a treasure trove of World War 2 memories archived and stored for decades. What's exciting is that much of this stuff hasn't even been seen before by the public. But we also have lots of ideas to bring the attraction to life for families, for Schools, for visitors, and for businesses based in the City. We can't wait to share it with everyone." added Dean.

Western Approaches HQ, which was also known as the Citadel or the Fortress due to its reinforced concrete protection; was staffed predominantly by WRNS (Women's Royal Naval Service), known affectionately as "Wrens" and WAAFS (members of the Women's Auxillary Air Force).

It was also home to commanders including Admiral Sir Max Horton, who oversaw the Battle of the Atlantic campaign, Captain Johnny Walker, who sank more U-Boats that any other Allied commander, and was regularly visited by war time Prime Minister Winston Churchill. Prince Phillip was also believed to have undertaken anti submarine training in the building during the war.
---
Excitement is growing for Allotment Fortnight!
SEFTON Council's Parks and Green Spaces Team have been busy sprouting plans for a 2 week celebration of all things allotments between 25 September 2017 25 and 8 October 2017. Working along side self managed sites, Allotment Fortnight will highlight various community projects, activities and food bank donation schemes across a number of allotments in the borough. Community open days will take place at 14 allotments, including:- Altcar Road in Formby, Scape Lane Crosby, Beach Road Litherland and Gardener Avenue, Bootle.

Cllr Ian Moncur, Sefton Council's Cabinet Member for Health and Wellbeing, said:- "The Allotment Fortnight is a great way for us to really celebrate our fantastic communities and the work they do at allotments all across Sefton. We have more than 1,700 allotment plots over 14 sites across Sefton so they really are the cream of the crop! During Allotment Fortnight residents are invited to come down between 10.30am and 2.30pm, on each open day and learn more about the sheer wealth of what we do at our sites. Council staff will be on hand throughout all the sites to meet with tenants and those interested in getting more involved with our allotments scheme. We'll also be running a number of food bank collection points during each open day where we encourage anyone with spare fruit, vegetables and produce they may have grown to donate to a local good cause. Our allotments are not just about growing fruit and veg. They are a brilliant community resource."

If you are a resident of Sefton and would like to rent an allotment call 0151 934 2943 for more information. Spaces are currently readily available at Browns Lane in Netherton.
The full list of locations are as follows:-
| | | |
| --- | --- | --- |
| Location | Town / Village | Date |
| Altcar Road | Formby | 25 September 2017 |
| Blundell Lane | Southport | 65 September 2017 |
| Dunningsbridge Road | Bootle | 27 September 2017 |
| Scape Lane | Crosby | 27 September 2017 |
| Birkdale Irrigation | Birkdale | 28 September 2017 |
| Hatton Hill | Litherland | 29 September 2017 |
| Hoggs Hill | Formby | 1 October 2017 |
| Sherwood Road | Crosby | 2 October 2017 |
| Moss Lane | Southport | 3 October 2017 |
| Browns Lane | Netherton | 4 October 2017 |
| Town Lane | Southport | 5 October 2017 |
| Beach Road | Litherland | 6 October 2017 |
| Queensway | Crosby | 7 October 2017 |
| Gardener Avenue | Bootle | 8 October 2017 |
---
Appeal for information following abduction and assault
MERSEYSIDE Police detectives are appealing for information to find a man they wish to speak with in connection with an alleged assault that is reported to have taken place on Friday, 15 September 2017, in Bootle. Merseyside police say that a , a man in his 20's was found at around 10am, in St Catherine's Road with injuries consistent with having been assaulted. He was treated in Hospital and an investigation was started. At part of their enquiries, detectives would like to speak to 23 year old Adam Fletcher, who is said to be from Walton, described as white, 5ft 7in tall, of slight build, with short brown hair and grey eyes. Anyone with information as to the whereabouts of Fletcher is asked to call:- 0151 777 3011 or you can call:- 101 or alternatively you can contact Crimestoppers anonymously on:- 0800 555 111.