A new inspirational new creative writing competition aimed at foster care and fostering families
AN inspirational new creative writing competition; developed by the award winning:- 'You Can Foster' campaign; will encourage children and young people in foster care and fostering families from all over the North of England to tell their stories and so encourage a new generation of adults to sign up as foster carers. And the entries, across 5 age categories, will be judged by an auspicious panel of children's authors and poets including:- children's author and screenwriter Frank Cottrell Boyce, poet Tony Walsh, children's authors Cathy Cassidy, Livi Michael and Dan Worsley.

The Inspiring Stories competition, aims to explore the ambitions of the thousands of children and young people who are in foster care across Yorkshire, Greater Manchester, Cheshire, Cumbria, Lancashire and Merseyside.

It is hoped that the stories will reveal the real sense of value and motivation that foster carers can in still in the young and the profound way in which they can help shape young lives for the better.

Children's author Frank Cottrell Boyce says:- "Stories are how we make sense of our lives. The only way we can hope to understand another person is by listening to their story. The only way we can hope to understand ourselves is by finding someone who will listen to our story. When we hear other people's stories we discover we are not alone in our troubles. And we learn that there are solutions to our problems. As G K Chesterton said... ''We don't read fairy stories to learn that dragons are real. We read them to learn that dragons can be defeated.''"

Poet Tony Walsh says:- "As a poet, a writer, an artist of any kind, ultimately it's all about storytelling, isn't it; the creation of something that connects with another human being and touches them or shapes them in some way. As someone from a very ordinary, working class background myself and having worked with a huge variety of people, organisations and communities; celebrating and encouraging the extraordinary stories of ordinary people is a big part of what I try and do. I'm a firm believer that becoming involved in the arts can be not only life enhancing, not just life changing, it can actually be life saving on occasions too. It strikes me therefore that as artists and as foster carers, in some ways we're in the same business: that of reaching out and touching people. Enhancing lives, changing lives, saving them, even. There are some amazing stories from the many quietly inspirational children and young people in foster care out there and we'd love to read them. Find a pen. Write down yours. Share it with pride. Storytelling: it's what we do."

Author Cathy Cassidy says:- "We are all made of stories, but writing those stories down gives us the chance to be seen, to be heard, to take ownership of our own lives and shape the way they unfold. Writing, whether it's inspired by fact or purely fiction, is our way at getting to the heart of things, the truth of things... and that's kind of awesome!"

Author Livi Michael says:- "Inspiring Stories is a great opportunity for young people to see their work in print. Everyone who enters has a chance to launch themselves on a literary career! We aim to encourage talent, of course, but even the ones who don't win can put on their writing CV that they have been brave, inspired and determined enough to enter a creative writing competition."

Author Dan Worsley says:- "It's an honour and a privilege to be part of the judging panel for this fantastic competition. I spend a lot of my time encouraging children and young people to read for pleasure and write creatively because I believe they are 2 crucial life skills. I'm super excited about reading the entries and can't wait to get started!"

Stories submitted can be a personal account of A fostering experience or an inspirational tale that needs to be told. Entries can be fiction, non-fiction, written or even drawn so that all ages can engage with the competition.

Children and young people can visit the competition's website to find out more and submit their stories which should be no longer than 800 words. The deadline for entries is 5.00pm, Friday, November 17 2017.

Charlotte Ramsden, Strategic Director of Children and Adults Services Salford Council, representing You Can Foster says:- "The 'Inspiring Stories' competition is about celebrating the creative and ambitious people who are, or have been, in foster care, by giving them the opportunity to tell their story. Not only do we want to hear their voices, but we want to share their stories across the region by publishing them online. We hope that this will inspire other young people who are also in foster care. You Can Foster is focused on recruiting foster carers across the North West and Yorkshire to provide local children, teenagers and young adults with a supportive home where they can achieve their dreams and ambitions. We have a real need for more foster carers and we urge anyone who is interested to get in touch with their local authority."

Frank Cottrell Boyce, born in Liverpool, is a children's fiction writer, screenwriter, academic and novelist. Frank's books include award winning:- 'Millions and The Unforgotten Coat.' Frank has also written a number of sequels to Chitty Chitty Bang Bang by Ian Fleming including:- Chitty Chitty Bang Bang…Flies Again, The Race Against Time and Over the Moon.

Frank was the writer behind the 2012 Summer Olympics ceremony and has written for a number of television shows and screenplays including:- butterfly Kiss, Welcome to Sarajevo, The Claim, 24 Hour Party People and Code 46. Despite Frank's huge success across TV, film and play's Frank's passion has always been children's writing since realising he wanted to be an author at just 6 years old. Tony Walsh aka Longfella from Salford, is "1 of the UK's most renowned performance poets" and a respected writer, workshop leader and community organiser. Longfella recently gained national acclaim for his poem 'This is the place' which brought the people of Manchester and indeed the country together after the Manchester Arena attack in May.

Standing out from the crowd at nearly 2 metres tall, Longfella has performed everywhere from The British Library to Glastonbury Festival. From Schools, universities, prisons, conferences, festivals, museums and theatres to the magnificent Palace of Science and Culture in Warsaw, Poland as a guest of The British Council. Tony's poetry has been published on both sides of the Atlantic as well as displayed with an LS Lowry image at both Tate Modern and The British Museum as part of a Heritage Lottery Fund "Best of British" exhibition. A multiple winner and finalist in top-level poetry slam competitions, Tony is the current Manchester Literature Festival Comedy Slam Champion and was the runner up in "The Times" UK Allstars Slam Final at Cheltenham Literature Festival in 2008.

Award winning author Livi Michael, was born in Manchester and grew up in Tameside where she found her love for writing at 7 years old. Livi 1st started thinking up stories whilst growing up in a tower block, in Ashton Under Lyne. Here Livi spent lots of time looking up at the moon and stars letting her imagination run wild. Livi has written 7 novels for adults and 12 for children, including:- Whispering Road, Under a Thin Moon, Frank the Black Hamster of Narkiz and Angel Stone. Livi lives in Oldham and is a Senior Lecturer at MMU, teaching Creative Writing for Adults and Children. Livi has also taught at Sheffield Hallam University and has been Writing Fellow with the Royal Literary Fund at Lancaster and Leeds Universities.

Dan Worsley is a children's author and performance storyteller from Blackpool. He spent 15 years in his home Town working as a primary School teacher before leaving his position in 2013 to focus on his passion for writing. Since then Dan has published 4 children's books, performed his stories in a variety of locations and delivered countless writing sessions and author talks; engaging tens of thousands of children and promoting a love of reading and writing. Dan also spends a lot of his time visit:- ing libraries and doing everything he can to support these vital community hubs. Dan has written a sequel to his 2014 debut, Impossible Tales, as well as 2 stories about Eric Appleby's adventures, Eric Appleby, Zero to Hero and Eric Appleby - Danger Zone. Cathy Cassidy, crowned:- 'the Queen of teen', wrote her 1st picture book for her brother at 8 years old. Growing up Cathy enjoyed making comics too, pages of pictures, features and competitions. Later in life Cathy went to Art College in Liverpool, worked as fiction editor at Jackie Magazine and spent 12 years as an agony aunt for teen mag, Shout. Whilst Cathy has loved her roles in teaching and editing, her most favourite job is as a writer, she says:- "It's the perfect excuse to daydream!"

Cathy has written over 30 books for teens and young adults, including:- Broken Heart Club, Daizy Star and the Pink Guitar and award winning Summer's Dream and Scarlett.

Fostering is when someone looks after a child or young person who can't live with their own family and is in the care of the local authority. There are a number of reasons they might not be able to live with their family and it can be a very difficult time for the child so they'll needs lots of support and care. There are around 8,255 households across the North of England who foster for their local authority. Across Yorkshire, Greater Manchester, Lancashire and Merseyside there are around 11,525 children living in foster care.
Local Authorities particularly need to recruit foster carers for certain groups of children including:-

► Brothers and sisters.
► Older children and young people.

► Children from black and ethnic minority backgrounds.

► Children that will be in foster care long term.

► Children who need more specialist care.

Categories for entry are:-

► Fostered children* up to 8 years old.

► Fostered children 9 to 12.

► Fostered teenagers 13 to 17.

► Fostered young adults** 18 to 25.

► Birth children in fostering households, up to 18.

* By 'Fostered children' we are referring to those who are currently in foster care or have been in foster care before.
** This includes those in staying or put placements and care leavers.
Number of children and young people in foster care placements in the North West of England, via area:-

► Yorkshire 4135.

► Greater Manchester 2625 (Manchester, Salford, Stockport, Trafford, Tameside, Oldham, Rochdale, Bolton, Bury and Wigan.)

► Merseyside 1315 (Knowsley, St Helens, Sefton, Wirral and Liverpool.)

► Cheshire 715 (Warrington, Halton, Cheshire West and Cheshire East.)

► Cumbria 320.

► Lancashire 1045 (Lancashire, Blackpool, Blackburn.)

Total number of foster carers not including friends and family or short breaks carers within the North West of England, via area:-

► Yorkshire 4625

► Greater Manchester 2455 (Manchester, Salford, Stockport, Trafford, Tameside, Oldham, Rochdale, Bolton, Bury and Wigan)

► Merseyside 1040 (Knowsley, St Helens, Sefton, Wirral and Liverpool)

► Cheshire 720 (Warrington, Halton, Cheshire West and Cheshire East)

► Cumbria 200

► Lancashire 1070 (Lancashire, Blackpool, Blackburn)

(SOURCE: UK Fostering Dataset 2015/16)

Work gets underway on new station at Maghull North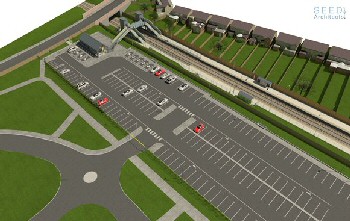 WORK has begun this week on the construction of a new Railway Station, at Maghull North, which will give increased travelling options to rail users in the area. The new Maghull North station will be located just off School Lane adjacent to the former Ashworth Hospital site, between the existing Maghull and Town Green Station, that is located on the Ormskirk branch of Merseyrail's Northern Line. The Station is a key piece of infrastructure in the Sefton Local Plan, supporting demand from an adjacent new housing development which will include 370 homes, with more homes planned for the area in the near future. It will also offer relief for the existing Station, within the Town.
Facilities at the new station will include:-

► Staffed station building and ticket office with passenger toilet.

► Passenger waiting facilities on platform.

► Step free access with lifts and a bridge to, from and between both platforms and the station building.

► 156 space car park with blue badge, motorcycle parking and cycle storage.

► Pedestrian and cycle routes from School Lane and Park Lane to the Station and Bus Stops to be located on School Lane.

► Future provision for electric vehicle charging points.

► The new station, which will be operated by Merseyrail, is expected to be open to the public in May 2018.

The ₤13m scheme is being funded through the Government's Local Growth Fund (LGF), Merseytravel and the Homes and Communities Association, which previously owned the land on which the station will be built. It will form part of the wider ₤340m investment by Network Rail and the Liverpool City Region in rail improvements over the next 3 years.

Network Rail are undertaking the scheme on behalf of Merseytravel, using the contractor Buckingham Group. Initial work has begun on clearing the vegetation on the existing railway cutting to allow construction work to begin. To help progress the work further, Network Rail require 2 weekend "possessions", which will see the closure of the railway between Maghull and Ormskirk on the weekends of:- 27 October to 28 October 2017 and 4 November to 5 November 2017.
A Rail Replacement Bus Service will be in place during this period. A further possession will be required towards the end of 2017, with full details to be confirmed nearer the time. More details on the scheme can be found on the Merseytravel's website. Information about the wider Network Rail investment and Liverpool City Region investment can be found online.

Cllr Liam Robinson, Chair of Merseytravel said:- "The start of work on the new Maghull North station is fantastic news for the local area. The new Station is a prime example of our Long Term Rail Strategy being put into practice. The facilities at the new station will give local residents more travel options and play a big part in helping the on going development of Maghull. We look forward to seeing the facilities open in 2018."

Jan Chaudhry-van der Velde, Merseyrail's managing director, said:- "The opening of another station on the network is testament to the surge in popularity of our railway, as an increasing number Liverpool City Region residents become aware of how easy and convenient it is to travel on Merseyrail. With more houses being built close by, we are confident that Maghull North will soon be seen as an essential amenity within this expanding community"

Martin Frobisher, Network Rail's London North Western route managing director, said:- "With passenger figures set to double during peak periods by 2043, the upgrade to the railway across Merseyside is vital to transform train travel for passengers in the future. We've worked closely with our colleagues across the transport industry, and the Liverpool City Region, over the past 2 years to build a robust plan to keep passengers on the move during our upgrade."

Cllr John Fairclough, Sefton Council's Cabinet Member Locality Services, said:- "Now that Planning permission has been granted, it is great to see work commencing on this important piece of infrastructure promoting public transport in Maghull. Not only does the new station provide some of the infrastructure needed to support our Local Plan, it also complements other transport schemes like the improvements to junction 1 on the M58 and the A59 making Sefton even more accessible. I look forward to the scheme progressing with the station planned to open in 2018."
---
Protestors call on ISS to treat Liverpool Hospital cleaners with dignity
A protest has been staged outside the Make a Difference Awards in Liverpool, on 22 September 2017, where the private outsourcer ISS is a sponsor. ISS facilities staff provide vital services to the Royal Liverpool and Broadgreen Hospitals, cleaning our Hospital wards, transporting patients around Hospital departments and cooking for patients, visitors and staff.

ISS stands accused by the Union of stripping its workforce at Royal Liverpool and Broadgreen University Hospital Trust of a fair sick pay policy. The ISS sick pay policy means the most seriously ill, suffering from illnesses like cancer, heart problems, or physical injuries, could face with the unacceptable choice of either working when unfit to do so, or facing severe financial difficulties.

Unite, Britain's biggest Trade Union, and they are currently calling for the reinstatement of the NHS sick pay policy. The event is a staff awards event for those employed by Trust, but despite ISS being a sponsor of the awards, its staff, cleaners, porters, and cooks; responsible for keeping the Hospital safe and running smoothly; appear that they not to be eligible for any of the awards.

On Wednesday, 21 September 2017 Liverpool City Council unanimously passed a cross party motion requesting the Mayor write to the Chief Executive of ISS Facilities Management calling for a fair sick pay scheme.
Unite regional Officer Keith Hutson said:- "This is not just about workers at ISS being treated as 2nd class citizens, they are being denied access to a humane sick pay scheme while working at a Hospital of all places. The workforce has been stripped of a fair sick pay policy. It has been replaced with an inferior scheme where employees can only accrue 12 sick days per year. This compares to the NHS sick pay scheme where workers get up to 6 months on full pay and a further 6 months on half pay. It would take around 15 years' service with ISS, without a single day off work sick to accrue 6 months on full pay. The ISS sick pay policy means the most seriously ill, suffering from illnesses like cancer, heart problems, or physical injuries, are faced with the unacceptable choice of either working when unfit to do so, or facing severe financial difficulties. Stripping workers of their dignity does nothing to help the workforce or the Hospital and we hope the Council will support the workforce and call for the reinstatement the original scheme."
---
Nicola Lyons hopes to become Miss England 2017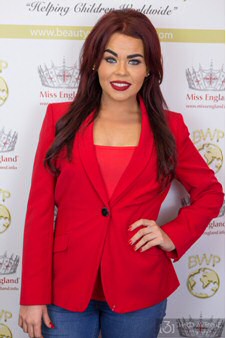 NICOLA Lyons, 25 years old, a Beauty Therapist and Make Up Artist, who is from Liverpool, has recently lost 4½ stone and is currently 1 of 21 contestants competing for a place in the 1st Miss England Semi Final Heat, for the Miss England 2018 competition. The public vote acts as 1 judge on the panel so Nicola needs the support of her local community before voting lines close in order to help her secure a place within the Miss England Semi Final, to be held in June 2018.
The ladies will now have a month to promote themselves in the area they live and on social media to gain votes from the public. During this time, contestants are also invited to raise awareness and funds for the Miss World Charity 'Beauty with a Purpose.' The judging panel will decide who is the most photogenic and who has promoted themselves and the charity including gaining votes through the public.
At least 1 winner from this heat will be selected to go through to a Miss England Semi Final, in June 2018. "The competition is about being beautiful inside and out, we are not just looking for a pretty face..." says Miss England national director Angie Beasley.
The reigning Miss England is Stephanie Hill, age 22, is a talented singer and a qualified Therapy radiographer from Hope Valley, Derbyshire. Stephanie will be representing England at the next Miss World final, which has a top prize of ₤100k.
The winner of Miss England 2018 will be invited to spend her year raising awareness for the Miss World charity Beauty with a Purpose and will receive a whole host of prizes worth ₤30,000, including a luxury holiday and a place in Miss World 2018.
Miss World then becomes a global charity ambassador for the year as her role raising millions of pounds throughout the world for disadvantaged children. Since its creating, Beauty with a Purpose has raised over ₤2 billion for disadvantaged children throughout the world.
Miss England is the only competition in the country to send its winner in to Miss World. Nicola needs your support to help win the Miss England Semi Final Heat Title.
You can vote for Nicola by texting MISS SEMI14 to 63333. Text votes costs 50p. The voting line closes on Monday, 16 October 2017, at 12 midday.

Entries for Miss England 2018 are now open, anyone wishes to enter please send a snapshot photo with your name, age, occupation and interesting fact to:- Info@MissEngland.Info or please enter the competition via the Miss England Website.