Dogs living in North West are among most exercised in England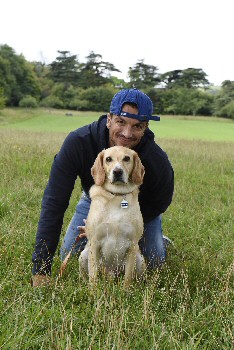 DOGS living in the North West of England are likely to get more exercise than hounds living in different parts of the country, according to a new survey. The survey, of more than 3,000 dog owners across the country, showed that 73% of dogs living in the region have 2 to 3 walks a day, compared to the national figure of 68%.

The survey was commissioned in the lead up to the RSPCA's Big Walkies challenge in October, which invites people to walk 10,000 steps a day, with or without a dog, to raise money for animals in need. The results also found that 41% of dogs in the North West have a walk of over an hour a day, compared to 35% nationally.

The survey also showed that, in the North West the dog owners who responded reported that:-

► 50% of dogs go out for a walk at least twice a day, while 5% don't go out for a walk at all.

► 21% of dog owners always let their dogs play with other dogs while out for a walk.

Nationally, the survey suggested that Dogs in London have the 'best walkies' in England, as their owners reported that they are most likely to be walked at least once a day with almost ½ having 2 strolls a day, and they are more likely to be allowed off the lead, play with other dogs and have a ball or toy to play with:-

► 44% of owners said that their dogs go out for a walk at least twice a day, while 6% don't get a daily walk at all.

► Nationally, 49% of dog owners reported to a daily walk of 30 minutes to an hour; 27% go out for 1 to 2 hours, and 9% for more than 2 hours.

► 28% of dog owners report to always let their dogs off their leads during a walk, while 18% never go off their leads.

► Animal lovers who sign up to My Big Walkies will pledge to walk at least 10,000 steps a day; approximately 5 miles; with or without their dog throughout October while being sponsored to do so.
► If they complete the challenge animal lover will have clocked up 155 miles in October; the same as walking from Blackpool to Skegness.

Dog loving singer Peter Andre who is supporting the RSPCA Big Walkies challenge, said:- "It's important to remember how much happiness dogs bring to our lives. Sadly there are many dogs which are ill treated every day and the RSPCA works incredibly hard to combat animal cruelty. I encourage dog-owners to sign up for My Big Walkies. Taking part will help raise money which will enable the RSPCA to carry out this vital work. It's also a fantastic opportunity to get out and about with your dog, while helping less fortunate dogs at the same time. It'll be fun, great for your health and fitness, great for your dog and it's all for a fantastic cause - the RSPCA."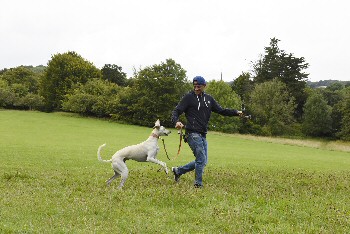 Dr Samantha Gaines, the RSPCA's dog welfare expert, said:- "The results from our survey suggest that where we live has an impact on how we exercise our dogs. London dogs in particular appear to have more opportunities to do what many dogs love; playing with other dogs and their owners as well as toys and balls. There are some very lucky pooches in the capital, but no matter where you live, you and your dog can enjoy some great walks. Taking your dog for a walk can have huge benefits for both of you. For many people dogs are a huge part of the family, and exercising with them offers great opportunities to spend quality time together and helps form a strong bond. It can also boost your own fitness and happiness levels. For dogs, having a good sniff and investigating their surroundings while on a walk can boost their health and happiness. There are also huge benefits to you as a dog owner; as a recent study showed that a brisk 10 minute walk a day can add years to your life. So imagine the benefits you will reap by walking 10,000 steps a day!"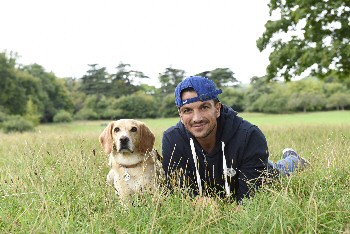 The level of exercise a dog needs will depend on their age, breed and health and 10,000 steps may be too much for some dogs. So if owners aren't sure how much exercise their dog needs we would advise them to seek advice from their vet.

To find out more and to signing up online for:- 'My Big Walkies.'
5 top dog walking locations in the North West of England are as follows:-
1. Tarn Hows, Lake District.
2. Hurstwood Reservoir, Lancashire.
3. Royden Country Park, Merseyside.
4. Brereton Nature Reserve, Cheshire.
5. Rickerby Park, Cumbria.

Merseyside Police search Leeds-Liverpool Canal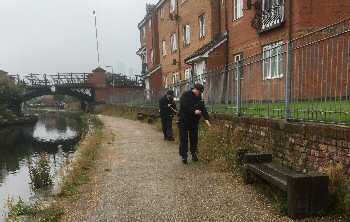 MERSEYSIDE Police Officers have been searching the Leeds-Liverpool Canal path as we continue to target criminals using open land to store weapons and other items. Officers from the Liverpool Targeted Team completed an open land search of the canal covering Vauxhall to Lydiate, on Monday, 25 September 2017.
During the search, a 26 year old man, from Netherton, was sighted on the canal path near to St Oswalds Lane, in Bootle and rode off on a pedal cycle. Officers gave chase and recovered a set of bolt cutters. The man was arrested on suspicion of theft of a pedal cycle and going equipped for theft. He was questioned and has been released under investigation for further enquiries.

Inspector Dave Brennan said:- "We will continue to be proactive in combating weapons and other items being stored in open spaces on Merseyside, both to protect the community and raise people's awareness. Anyone who uses the canal path or any open land and green spaces in Merseyside should be alert to people behaving suspiciously and storing items in these areas. Let us know any information and we will take positive action and remove any harmful items from the streets. You can speak to us directly or via the independent charity Crimestoppers."

Anyone with information is asked to call:- 101 or Crimestoppers anonymously on 0800 555 111. Information can also be provided via their online form.
---
Tate Liverpool to hold Autism Hour all week to make the world more autism friendly
THE Tate Liverpool has teamed up with leading autism charity, the National Autistic Society, to launch the UK's 1st week long event, on 2 October 2017, where shops and services take 60 minutes to provide autistic people with a break from the usual overload of 'too much information.'

The Albert Dock gallery will be holding their autism hour, at 16:00 to 17:00, from Monday, 2 October to Friday, 6 October and 10:00 to 11:00, on Saturday, 7 and Sunday, 8 October 2017. Tate will be taking simple steps to make their gallery, shop and café more autism friendly. The lights in the shop will be dimmed and the hand driers will be turned off in the toilets with hand towels provided instead. There will be quiet spaces around the gallery in case visitors need a space to relax and be calm and staff members will be able to offer assistance if needed. In the café music will not be played drinks will be served in paper cups to reduce noise levels. Ear defenders will be clearly visible in the café and foyer and copies of our:- "Planning Your Visit" easy read guide will be available

More than 1 in 100 people are on the autism spectrum which means that someone sees, hears and feels the world in a different, often more intense way to other people. Autistic people often find social situations difficult and struggle to filter out the sounds, smells, sights and information they experience, which means they feel overwhelmed by 'too much information' when out in public. The National Autistic Society's recent survey revealed that 64% of autistic people avoid sometimes going to the shops because of their autism.

Following the launch week, Tate Liverpool will be holding regular Autism Hours, responding to feedback from visitors. The forthcoming dates for Autism Hour at the gallery will be on:- Saturday, 4 November 2017, 10.00 to 11.00 and Saturday, 2 December 2017, 10.00 to 11.00.

Mark Lever, CEO at the National Autistic Society said:- "It is really encouraging to see shops and services such as Tate Liverpool getting involved in the National Autistic Society's Autism Hour. Like anyone, people on the autism spectrum and their families want the opportunity to go to the shops. But many find the often busy, loud and unpredictable environment of public places overwhelming and avoid them altogether. Our Too Much Information campaign has highlighted that the smallest changes can make the biggest difference for autistic people and we are confident this week long event around the UK will help shops and services understand how we can work towards a more autism friendly world."

To find our more information about attending a National Autistic Society's Autism Hour, please visit the Society's website.
---
Knowsley School children get classes to increase understanding of dementia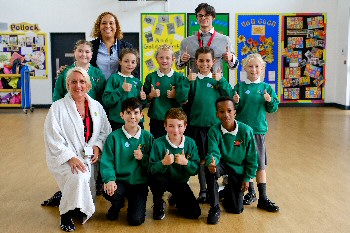 SCHOOL children from across Knowsley are being taught about dementia in a bid to boost understanding about the condition amongst young people. Villages Housing Association, which is part of the ForViva group, has teamed up with the Alzheimer's Society to host a series of classes at schools across Knowsley. The 1st session, last week, was held at Stockbridge Village Primary School in the same week as:- 'World Alzheimer's Day.' There are around 850,000 people living with dementia in the UK, with nearly a third of young people knowing someone with the condition. The education project:- 'Mr Alzheimer's and Me' has already been successfully run in Salford by City West Housing Trust, a fellow ForViva group member. The workshops include understanding the brain and memory, the role of carers and families, and the difficulties people living with dementia face in their communities.

Jenny Chapman, Interim Director of Health and Wellbeing at ForViva, said:- "This initiative is part of our plan to help create a dementia friendly generation. Young people are increasingly likely to come into contact with dementia through family and friends as the population ages. That's why our workshops focus on understanding the impact dementia can have and encouraging young people to become Dementia Friends; taking simple steps to be supportive and kind to anyone in their community with dementia."

The sessions come to Knowsley in the wake of Villages Housing Association's recent unveiling of plans for The Withens development, a ₤12.4 million investment in extra care homes and bungalows in Stockbridge Village for older people, including those with dementia. The landlord, which trains its staff to become Dementia Friends, is now set to roll out the education programme across the area.