Flats closed down due to serious risk of fire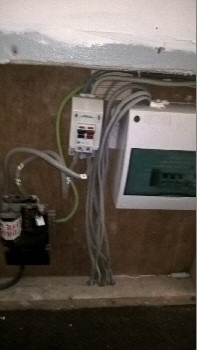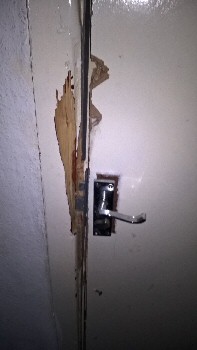 LIVERPOOL City Council has secured an emergency closure of privately rented flats due to serious concerns over fire safety. Staff from the Landlord Licensing team inspected the property, on Grey Road in Walton, on Wednesday, 27 September 2017, during a compliance visit, following concerns raised by Councillors, Police and neighbours over anti social behaviour. They found smoke detectors not working, problems with fire doors and a dangerous electricity meter.

The large semi detached house is converted into 6 flats, and the team found that the automatic fire detection providing protection to the common areas of the property was defective and completely disconnected from the electrical supply. It would not have provided any warning of a fire in the property, and threatened to prevent tenants escaping from the upper floors.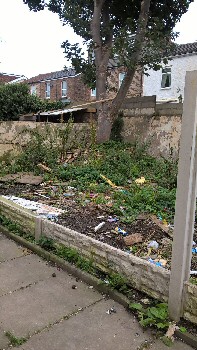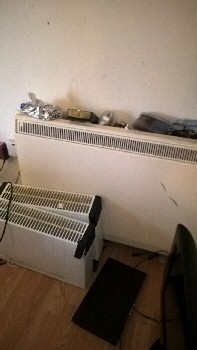 The fire detection in some individual flats was not working, further increasing the risk in the property as a large blaze could have developed in an individual flat behind closed doors without being detected. Defects with the fire doors would have meant that there was a risk that smoke and flames may block the escape route. Each door also required a key to open from the inside adding further escape time in the event of a fire, and missing self closers would have meant they could have remained open in an emergency, further allowing smoke and fire to spread in the property. In addition, they found that the electrical meter had been bypassed meaning a risk from damaged and defective wiring.

Councillor Frank Hont, Cabinet member for housing, said:- "This house was a potential death trap and was putting tenants at serious risk of injury, or even death. We used our powers under Landlord Licensing to inspect it and secured a closure order. We are determined to drive up the standard of private rented accommodation in this City and will not hesitate to take action when we find landlords putting their tenants at risk."

Other problems included:- faulty heating, broken windows, damp and mould, as well as a poorly maintained exterior. The Council's Housing Enforcement Team secured a closure notice by the end of the day and the housing options service is supporting tenants into alternative accommodation. The landlord will be instructed to carry out remediation work.

Dame Judi Dench enlists host of celebrities to champion holidays for disabled people and carers at local Centre
AS the demise of the traditional postcard becomes a hot news topic, national charity Revitalise; which runs the Sandpipers respite holiday centre in Southport; has launched:- 'Wish You Were Here,' a campaign inviting celebrities to send in their treasured holiday moments. Revitalise wants to highlight the importance of holidays, especially for disabled people and carers, who find getting away particularly difficult. The campaign, fronted by the charity's Vice President Dame Judi Dench, has already attracted contributions from a host of celebrities and the charity is busy inviting contributions from many more. The launch of the campaign comes hot on the heels of the announcement that the UK's oldest manufacturer of postcards is to set to close as holidaymakers switch to social media and apps to record and send holiday memories.

Wish You Were Here is designed to celebrate the sharing of holiday memories, since the opportunity to share one's stories with others is the single most valued aspect of Revitalise's holidays, according to the charity's guests. Celebrities, together with Revitalise guests and volunteers, are being offered the opportunity to doodle or describe their most treasured holiday memories on specially produced postcards. Revitalise is to hold a special exhibition of the postcards it receives next year. The celebrity contributions will then be auctioned to raise much needed funds for the charity.

Revitalise CEO Chris Simmonds commented:- "We are so pleased that our good friend Dame Judi Dench has agreed to front this new campaign. It clearly resonates with a great many people, who have already taken the time to doodle or describe their fondest holiday memories. Holidays are important and nothing says 'holiday' more eloquently than the ritual of sending a postcard to someone you care about. People like to share, and often it's the sharing of treasured memories with loved ones that makes a holiday special. Postcards epitomise this simple act of sharing. Of course, for disabled people and carers, holidays are even more important, because in many cases they represent the only opportunity for them to take a break from the difficult daily routine of caring and being cared for. From our own experience we know that many experience huge problems in accessing proper breaks away. So this campaign is designed to highlight the importance of holidays for everyone, irrespective of their circumstances."

Revitalise is a national charity providing respite holidays for disabled people and carers, combining 24 hour Nurse led care with a real holiday experience, at Sandpipers and 2 other accessible UK holiday centres in Chigwell and Southampton. Each centre offers a wide range of accessible activities and excursions in a holiday environment.
---
Public health director encourages us all to 'Expect Better' health
EVERY year, Directors of Public Health must, by law, produce an annual report on matters which affect their area, and present a set of recommendations for future action. Fiona Johnstone, in her role as Wirral's Director of Public Health, has produced the report:- 'Expect Better.' It recommends that Wirral Partners, health and social care organisations and residents put prevention 1st by supporting each other to live healthier lives and improving the health of the population. A new animation has been produced highlighting differences in life expectancy and avoidable deaths across the borough. The animation invites people to take action to improve their own health and wellbeing and gives details of where local residents can get support. "There are high numbers of avoidable deaths occurring across Wirral and these deaths are more likely to occur within our most challenged communities and in males. We all need to take action and work together to make the borough a healthier place to live and work." said the Director.

Cllr Chris Jones, Wirral's Cabinet Member for Adult Social Care and Health says:- "We're committed to making Wirral a healthier place to live, learn and work, making healthcare fairer and giving everyone the chance of getting the best care. In improving the health of the population and reducing the onset of long term conditions such as heart and respiratory diseases, we can increase the quality of life for local people while reducing the impact of an ageing population on health and social care services."

As part of its 20 Pledges to be met by 2020, Wirral has committed to taking action to support people to live longer, healthier lives. This includes:-

► Reducing the number of people who smoke in Wirral.
► Reducing the impact of alcohol misuse on individuals and communities.
► Increasing the number of people with a healthy weight in the borough.
► Supporting people to take more control of their health and wellbeing.