City restaurant fined for food safety offences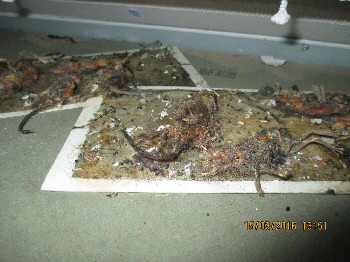 THE owners of a Thai restaurant in Liverpool have been fined more than ₤32,500 after pleading guilty to two food safety breaches. Thai Leisure Group Ltd, which owns Chaoprhaya, based in Liverpool One, was also made to pay ₤4,207 in costs to the Council and a ₤120 victim surcharge. The Magistrates Court was told that on Tuesday, 15 March 2016, Environmental Health Officers (EHO) from Liverpool City Council carried out an unannounced, routine inspection and found:-

► Extensive mouse droppings: to the rear of a fridge; on shelving in food preparation area opposite; in main kitchen on shelving containing food preparation equipment; on floor by sweeping brush and on electrical cabling and sockets.

► A dead mouse was found in the area housing the motor of the fridge.

► Missing ceiling tiles above refrigeration equipment, and within the void a number of mouse droppings on the suspended ceiling tiles and on top of the upright fridge located below the missing tiles.

► 2 glue boards with a number of decomposing mice attached within the ceiling void above a food preparation area within the kitchen.

► A build up of grease on the cabling and surfaces of the ceiling tiles.

► Various uncovered foods were on display and in various stages of preparation in the main food preparation areas of the ground floor kitchen.

► A build up of food debris and grease was discovered on floor surfaces and various equipment surfaces in the kitchen including shelving and cooking equipment.

► The front preparation counter unclean with food debris having collected in the interior parts behind the front grille.

► The restaurant's own daily pest check did not offer an accurate description of the pest activity within the premises.

► The build-up of food debris within the kitchen was also indicative of a lack of effective, routine cleaning and had the effect of attracting pests to food preparation areas.

The findings resulted in the immediate closure of the premises, with the co-operation of the manager, due to the imminent risk to public health.

Officers were also provided with an Audit report dated 29 January, 2016 from Southall Audits, an independent consultancy company instructed by Chaophraya. Southall's report noted they were "very concerned" that the pest issue was "escalating" and warned that without suitable pest proofing and cleaning:- "if an EHO was to find the evidence we found of rodent activity during our visit, there would be no question that the business would be closed and subsequently prosecuted."

The report even recommended the restaurant close and conduct a deep clean of the entire premises.

Officers were invited to re-visit the restaurant on 21 March 2017. The restaurant was still closed at this stage and it was decided that conditions still presented an imminent risk to health and the restaurant wasn't therefore permitted to re-open. A further visit took place just a day later, on 22 March 2016 and it was agreed, following that inspection, that the restaurant could re-open, conditions having improved sufficiently in the Officers opinion.
The restaurant was subsequently awarded the lowest potential food hygiene rating of 0 out of 5 indicating that urgent improvement was necessary.

Councillor Steve Munby, Cabinet Member for neighbourhoods, said:- "The Thai Leisure Group has received a very substantial fine which reflects the extreme seriousness of these charges. This case sends out a strong message that substandard hygiene in any food outlet across the City will not be tolerated, and our experienced team of Environmental Health Officers are prepared to prosecute any business who puts their customers at risk."
---
Wirral to host international parks conference
LEADING lights from some of the world's most famous public parks are heading to Wirral, in October, as the borough hosts a major international conference and exhibition. The World Urban Parks European Congress (WUPEC) comes to Wirral, from 15 October to 19 October 2017, in an event which represents a return home for the urban and municipal parks movement in a significant year of celebration for Wirral's flagship park. This year is the 170th Anniversary of the opening of Birkenhead Park, that happened in 1847, which is widely acknowledged as the world's 1st municipally funded public park. Designed by Sir Joseph Paxton it is held up as the inspiration for a number of famous parks around the world, including the best known of them all; New York's Central Park.

One of the keynote speakers at WUPEC in Wirral will be Central Park CEO and President, Doug Blonsky. Doug will be giving a presentation entitled:- 'Sustainable Cities, Vibrant Parks' which will explore the theme of this year's conference; a celebration of the heritage of public parks and the role they play in the community, and their contributions to sustainability.

Doug will be speaking on the 1st full day of the congress, on Tuesday, 17 October 2017, at the Floral Pavilion, in New Brighton. Other notable speakers on that 1st day are Professor Robert Lee, the Chair of the Friends of Birkenhead Park, and Gil Penalosa, Chair of World Urban Parks.

The 2nd day of the congress also takes place at the Floral Pavilion and concentrates on the 'sustainability' element of this year's theme. The key note speaker is Ros Kerslake, Chief Executive of the Heritage Lottery Fund, while representatives from organisations such as the National Trust, the Eden Project and Keep Britain Tidy's Green Flag awards are also lined up to speak on the Wednesday, alongside other speakers from Israel and Washington DC.

Also on the 18th, there is a special symposium taking place celebrating the life and work of Edward Kemp, 200 years after his birth. Kemp worked with Joseph Paxton at Chatsworth House and was the 1st superintendent at Birkenhead Park, and went on to become a designer of parks and landscapes in the North West, such as Hesketh Park in Southport and Flaybrick Cemetery in Birkenhead. Kemp's association with Birkenhead Park is commemorated with a blue plaque at the Visitors' Centre.

The last day of the main congress takes place in Birkenhead Town Hall and aims to develop the 'heritage' theme with speakers including Dr Christy Boylan from Dublin's Phoenix Park, Jan Heeren talking about the Amsterdamse Bos and Birkenhead Park's own Paul Davies.

Cllr Phillip Brightmore, Cabinet member for Environment, said:- "It's a real honour for Wirral to host this renowned international gathering; welcoming specialists in public parks and countryside to our beautiful borough. The World Urban Parks Congress coming to Wirral offers a fantastic opportunity for us to showcase some of our world-famous green spaces, dedicated staff and brilliant volunteers. Birkenhead Park inspired the public parks movement around the world and it will be interesting to hear just how much things have developed since the Wirral kicked things off in 1847. I'm excited to see local and international experts share good practice and discuss sustainability, keeping public parks a priority for another 170 years and beyond."

Outside of the main congress presentations, delegates will also have the chance to enjoy a range of site visits and tours of important locations including Port Sunlight and Chatsworth House Gardens in Derbyshire. There are also plenty of opportunities for people to network, understand national and international perspectives, support professional development, share best practice and explore innovative solutions.

For the public of Wirral, there is an opportunity to get a feel for what is set to take place during a public open day and exhibition, on Monday, 16 October 2017, at the Floral Pavilion. This is a free event, open to everyone, and at midday on the Monday Wirral's Mayor, Cllr Ann McLachlan, and Dr Anna Steidle, the Chair of the World Urban Parks European committee, will cut a ribbon to officially open the congress.

For details about:- tickets, packages and tours are now available online.

New reflective space for patients at the Scarisbrick Unit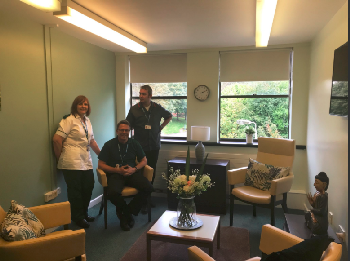 THE Scarisbrick inpatient mental health unit in Ormskirk officially opened its newly developed reflective space for patients at an event with representatives from charitable organisations and healthcare professionals.

Lancashire Care NHS Foundation Trust's inpatient mental health unit in Ormskirk officially opened:- 'The Green Room' which will provide a space for patients to relax, wind down, have a chat or use as a religious or spiritual environment. The Green Room was officially opened, on Tuesday, 26 September 2017, and will be accessed by the unit's patients as part of their recovery as well as members of staff.

The initiative for The Green Room was developed by members of staff from the Occupational Therapy service who recognised that patients are not always well enough to access the existing faith facilities within the community which would be a preferred option. The unit received a number of kind donations including a television, furniture, spiritual artwork and books provided by Ormskirk Hospital League of Friends, service users, families and faith organisations across Lancashire.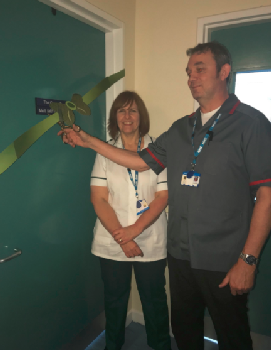 Kate Halsall, Lead Occupational Therapist for Ormskirk Inpatients at Lancashire Care NHS Foundation Trust:- "A big part of our jobs is to look at people's needs that go beyond taking medication. This involves working collaboratively with patients, listening to their wants and needs and doing our best to meet them. This project was to ensure that we are meeting the needs of all of our patients. Having a facility for patients to reflect or take part in therapeutic activities helps patients to improve the function of their lives and gives them a sense of who they are. It also helps staff here to understand the patient better and understand how they are feeling or how they work. We would like to say a big thank Rydon; who kindly offered to paint the walls free of charge, The League of Friends and our service users for their kind donations. We are so pleased to be able to provide this quiet and calm area for our patients to access prayer books or items, watch calming scenes on the television or just to enjoy some relaxing time out!"

Pete Hill, Support Worker in the Occupational Therapy Team at Lancashire Care NHS Foundation Trust said:- "1 of the 1st things we say to a patient when they arrive here at the Scarisbrick Unit is, "tell me how I can help you?" As part of this conversation, we often look in to a person's needs around faith and spirituality as factors in aiding someone to recover is often helping people to recover their spiritual needs. I often ask people what keeps them going and what makes them feel connected? Whether this is going for a walk around the Hospital, feeding the ducks, watching a football game or visiting an art gallery, we always try to make these things happen for people. However, in some cases or at that particular stage in their recovery it is not always possible to get a patient out in to the community. That is when we started to think about the things we could do that would make a difference here at the unit. When we came up with the idea of a reflective space for our patients, I began spending a lot of time on the road going to see faith leaders and forming those community partnerships we needed to make it happen. The project has been very much a team effort and thanks to all of the kind donations we have received, we are now able to provide this fantastic space for our patients, an appropriate venue for pastoral care given by faith leaders who visit the unit. This space will also be offered to staff on the ward as a resource for prayer or time out. Everything we do is patient centred and whatever the circumstances we always aim to do the best we can for those in our care. I feel extremely proud of this achievement and look forward to the next project here at the Scarisbrick unit."

The Scarisbrick Inpatient Unit (SIPU) is a 21 bedded unit based within the premises of Ormskirk District General Hospital. The unit provides care and treatment for adult service users who are showing signs and symptoms of acute functional mental illness. Service users are from the population of Lancashire and surrounding areas. For more information about the Scarisbrick Unit please go to the Trust's website.
---
Great boost for Liverpool's Capital of Culture 10th Anniversary celebrations
LIVERPOOL'S 10th Anniversary Capital of Culture celebrations have received a Great boost. Culture Liverpool has unveiled that the Great Britain campaign is the 1st major partner of the region's 2018 events and arts programme. The partnership means that next year's highlight events such as the Tall Ships Race and the end of the Clipper Around the World Yacht Race will be given even more of a national and international profile, as the Great Britain campaign will use its impressive reach across the tourism, culture, investment, export, trade and education sectors to promote Liverpool's programme and position it as a must visit destination. The announcement comes as Liverpool officially launches its sponsorship programme for 2018. Conrad Bird, Director of the Great Britain campaign, said:- "We at Great, are extremely proud to be the 1st to support the City's 10th Anniversary of European Capital of Culture 2008. Liverpool 2018 will provide the City region with another opportunity to boost the economy and showcase what a great place to work, live, trade and invest Liverpool is. The Great campaign aims to showcase the best of Britain, but also what is new and surprising. With what I've seen planned for 2018 Liverpool's partnership with Great is a perfect fit."

Liverpool's 2018 programme will shine a light on the City's progress since 2008 and its aspirations for the future. Plans are in motion to work with some of the world's best artists, musicians and cultural organisations to create a programme which will be integrated into the City's existing annual cultural offer and transcends the worlds of art, fashion, business and sport. The aim is to attract audiences of around 4 million people, create ₤100 million economic impact, engage with 50,000 through education and community initiatives and push Liverpool to the top of the 'must visit' cities in 2018. Details of the 2018 programme will be announced at the end of October 2017. Joe Anderson, Mayor of Liverpool, said:- "2018 is a landmark year for the City and the wider region, and will be a celebration of Liverpool's position at the heart of the UK's cultural scene which continually attracts global attention and exposure. It's a real coup that the Great Britain campaign is working with us to promote the tenth anniversary of our cultural title; which has already been several years in the planning. The year will be a nod to the success of 2008, but will act as a showcase for how far we've come in the last ten years in terms of our creative confidence and innovation, and also sets out a marker for our ambitions for the future. There is a buzz around the City ahead of our 2018 announcement which is to be expected given our reputation for staging unforgettable spectacles which engage audiences and push boundaries. Announcing the partnership with the Great Britain campaign is an indication of the strength of the programme, and we are excited about revealing more details in the next month or so."

The City is already promoting its 2018 programme to a global audience by virtue of its yacht in the Clipper Round the World yacht race which has just completed its 1st leg, from Liverpool to Uruguay, and returns back to the City in the summer of 2018. Another highlight announced includes a special Sgt Pepper's concert by The Royal Liverpool Philharmonic Orchestra and The Bootleg Beatles on Saturday, 13 January 2018, at the Liverpool Arena, to reprise their performance to celebrate the 1st ever concert at Liverpool ACC, back in 2008; performed by the RLPO. For more details about the Liverpool 2018 sponsorship programme via sending organisers an email.