A SUNNY END TO THE FASHION SHOWCASE

Photographs by Patrick Trollope
THE last in the run of the Starshop Fashion Showcases on Lord Street was held on Saturday 28 August on the Town Hall Gardens. Also featured was "Britain's favourite department store", Debenhams, who put on a fashion show in between the acts. All the models were staff from the Southport store. The event started at 12.00 noon with the band KBC. Performers at the show were Robbie Carter, Suzanne Morris, Sarah and Craig, Rob Cherry, Shaun Walsh and ending at 5:00pm with Beckie Bell. Congratulations to all the acts for putting on what was a really big boost for the town, both on this Saturday and on preceding days. This was the perfect way to end the 2004 Lord Street event.
Click here for more photographs from the event. 1 of 4 pages...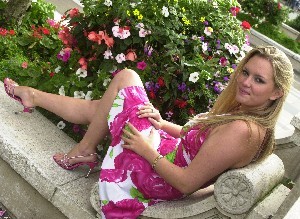 All Old Woodworking Tools Wanted.

Workshops cleared. £100 minimum paid for NORRIS planes. Old model or pond yachts wanted. Best Prices Paid. Phone:- TONY MURLAND on:- 01449 722992.

Email:- tony@antiquetools.co.uk
Website:- www.antiquetools.co.uk

Log on to our Radio Station

and hear the sounds of Merseyside 24 hours a day on your PC.