REPORTS OF UFO's, STRANGE FLASHING LIGHT AND DISTRESS SIGNALS..... ?????

ON Friday 17 November 2006, reports came in to our newsroom of ball lightning, UFO's, distress flares and mid air crashes. All the reports where around 10:45pm, about the lights, in the sky, off the coastline of Southport. Each report had the same description and direction. The colours were light electric blue and white flashes that where witnessed by doorman on the Kingsway, drivers on the coastal road and people from as far away as Blackpool and Formby. One of the doorman at the Kingsway said:- "The flashes where like concentrated lightning, but it is far to cold for lightning." They was not the only ones who thought it could have been lightning, for our editor was puzzled by it as he was heading into Southport, along the coast road. Another whiteness from Blackpool, who was out walking her dog, said:- "It looked like a distress single flair being fired into the sky. I ruled this out, as it was far too high up and far too bright. Then within a few seconds another bright flash lit up the sky, but this time above the cloud level making the cloud glow. I then thought it could be a flash of light from the electric's on the Northern Line, but again I quickly ruled it out, as it was above the cloud, not below it. That is why I phoned in to find out what it was." On Saturday night our phone line was jammed with messages and people asking us what was it. One even asked if a UFO had crashed! After a bit of digging by ourselves we came up with an explanation, that has been backed up by the local astronomic community. No, sadly it was not a UFO, or anything exciting like that... it was in fact, space related. We have found out, with thanks to ESA, that it was two Meteors falling to earth. Meteors may radiate from one point, but they can flash anywhere in sky, and though they are mostly faint flashes as they burn up at very high altitude, a few do have low level burn up. This was a low-level burn up of 2 large Meteors, and was part of the annual Leonid meteor shower, which happens every year in early to late November. Leonid meteor displays can be most spectacular depending on the concentration of dust, and this year forecasters are indicating that a sharp peak of perhaps 100 to 150 (mostly faint) Leonids per hour should be visible with the naked eye this year. The Leonids meteor shower is at its peak from the 17 November 2006 to 21 November 2006, and this event of a low burning up is not all that common, nor unusual. The shower can be seen nightly running from Northwest to Southeast.

If you want to see the Meteors this is our advice:-

• Stay up late:- Meteor showers peak between midnight and dawn. Nap early if you must.

• Get out of town:- Go far away from city lights and haze.

• Get comfortable:- Bring a lounge chair and blanket. November is cold, so also take gloves and a hot drink.

• Be patient:- It takes a few minutes for your eyes to adjust to the dark. Also look around as Meteors may radiate from more than one point, for they can flash anywhere in the sky as well as at random initials.

• If you are superstitious, make a wish if you see one!

Also we have been told that a giant sunspot be aiming towards Earth. This sunspot will be lining up and taking aim at the Earth in the next few days. Will it release a solar flare, or corneal mass ejection towards us? Statistically speaking, this time of the year is classed as Aurora season, so be on the alert for the Aurora on any clear nights over the next few weeks. Again this will provide a magnificent display.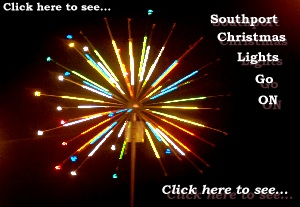 Peter Pan
Voting Website and Parliament Campaign Join Forces to Curb Government Power
Peter Brown Craven Minor League
Could you help your pet in an emergency?
MORE PODS TO HELP FILL TECHNOLOGY GAP
COUNTDOWN TO DADAFEST 6
MORE PODS TO HELP FILL TECHNOLOGY GAP
Vue
Film Showing
Times
Southport Christmas Lights Are Now On!
£1 BILLION CSA WRITE-OFF MEANS MORE INJUSTICE FOR FAMILIES
BILL BRYSON ASKS PUPILS TO DIG THEIR PLAYING FIELDS!
CHILDREN IN CARE FACE 3 NEW HOMES A YEAR
We Are Back On Air!
COUNCIL TAX PROTESTER SENTENCED TO 32 DAYS IN JAIL
Southport Sea Cadets Reunion
Missing:- "Kirsty Emmett"
FIXING A DAMAGED COMPANY REPUTATION? GOT 3 YEARS TO SPARE?
THE SILENT KILLER
Ferry Terminal Plans on View
Southport Weekender Part 3
A Housing Timebomb in the North West
Grandparents left holding the baby
Makeover for city pools
YOUTH HOMELESSNESS PLANS A GOOD FIRST STEP
DOES YOUR LOCAL SCHOOL HAVE THE XMAS FACTOR?
Leading Safety Expert's New Book Reveals Life-Threatening Hazards
PEP AND ISA SAVINGS LIKELY TO BE WIPED OUT BY IHT STING IN THE TAIL
COUNCIL TAX CAMPAIGNERS WARN OF FURTHER HIKES IN COUNCIL TAX
New Live Chat Service
1st time buyers head for the sun
Join the protest against the fascist BNP conference in Blackpool
Being a parent isn't always easy – can you help?
Missing:- "Thomas Henry"
~HAPPY BIRTHDAY~
If you have someone you want to say happy birthday to, for free,
then use the email address below to send us the names
you want us say happy birthday to, and/or a photograph.
Email us today!