Warning issued by the Guild of Master Craftsmen.
Double glazing or double Cross? Enquirers made to the GMC suggests some window and door replacement companies, builders are less than forthright when it comes to the rights of their clients. From April this year it is mandatory under Building Regulations that window, door and various building works are carried out to the new FENSA certification standards. It isn't bureaucracy; it is there for common good. It ensures quality products and fitting, heat retention and safety features. The FENSA certification will be part of the usual documentation without which a property can not be sold! If the seller doesn't have a document, he or she would need to have such work assessed by the Local Authority at cost of up to £150.00 and failure would be very expensive! Requesting a FENSA certificate is environmentally and financially advisable.
Get trained!
If you are in the Window and Door trade speak to T.E.S.T. to find out how to get qualified for the new FENSA requirements.

Email them on:-

Also take a look at our article on them by clicking here!
Got back to the Top of
the page.
St Luke's Church as a VIP again!
Not content with Irish visitors St Luke's goes one better. The Archbishop of Rwanda, Emmanuel Kolini, visited St Luke's Church and Parish in Formby during the past weekend. He arrived in Formby on Thursday evening, 26th April 2002. He stayed at the home of one of the readers. On Friday, the Archbishop was taken to Chester and on the other days he was shown round the area by members of the parish. On the Saturday evening, the Archbishop attended a buffet meal in the meeting room, where he met various people involved with Mid-African Missionary work, and the Sefton Deanery clergy. On the Sunday he preached and presided at both the 830 and 1030 Holy Communion services which had large congregations; he was assisted by the vicar, Reverend Canon A Woodhouse and the two Readers. There was a "bring and share" lunch in the meeting room after the services at which members of the congregation met and chatted with the Archbishop. He departed for London and his flight home on Monday, 29th April. It was a great privilege and honour to have him visit the parish.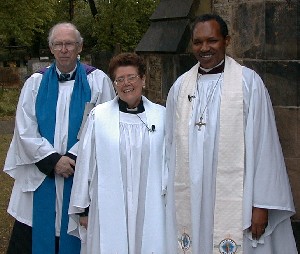 Photographs above by Allan Hobson.