Formby Village closed for a performance.....

ON Saturday, 15 December 2007, Formby village was yet again closed to traffic as a massive nativity play was watched by an enthusiastic crowd. The event had a wonderful atmosphere about it, despite the cold weather. For two hours, the centre of Formby village came to a stand still as it became the site of an enthralling play, which recreated the story of Christmas. The performance used live animals and actors who, aided by local children, enacted the script, as the narrated story boomed out over a PA system.

'Formby Churches Together' organisers, Bruni Jones and June McGibbon, told us that:- "The event was a magical success. We hoped to show the true story of Christmas to as many people as we could and, thanks to the efforts of many people, we feel we achieved our goal, very successfully. We would like to thank all who braved the cold and came out to see the event and especially we would like to thank all who took part in it. Special thanks must go to Trinity St. Peter's School, St. Luke's School, St. Jerome's School and Freshfield Primary, whose pupils took part. Also thanks to Rice Lane City Farm, who supplied the goats and sheep, Mr. G Dyson for supplying the donkey, Merseyside Police for not only supplying the Mounted Horses, but also for helping with the running of the event, Range High School for producing the handouts and finally to Formby Parish Council for its support and to Andy Johnson, who provided the PA system."

To all the churches who took part from Altcar, Hightown and Formby, 'Well done'. This was a truly well planned and run event, which we hope to see it become an annual fixture.

Click on

to see more photographs from this event!

HELP US TO SPREAD THE WORD.......

CLICK HERE

to get our Anti Drink Drive campaign message sent to you mobile phone. Then please pass it on to all your friends and relations.

STAY SAFE THIS CHRISTMAS... DON'T DRINK AND DRIVE!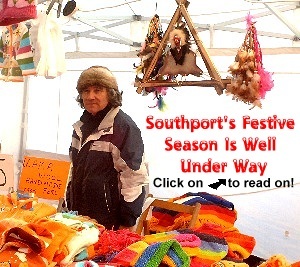 --- MORE NEWS REPORTS BELOW ---
Burglary at footballer's home
'Grazing' costs British retailers over £200 million each year
Financial Directors kept awake for all the wrong reasons
DO YOU AND YOUR FAMILY WANT TO BE ON TV?
Ok boys and girls..."Who Will Save Christmas?"
Vue
Film Showing
Times
Want you back, want you back for good…
Sadness of the death of Diocese of Liverpool Bishop Jim Roxburgh
Formby Village Nativity Photographs 2007
The Southport and Liverpool Santa Watch Web-Cam
Christmas music all washed up
'Command and control' approach to work hinders productivity in the North West
Craven Minor JFL - Last Update for 2007
Little Elves Give Santa a Helping Hand
Southport FC Juniors go into 2008 in style
ARE YOU THE 'FAN OF THE YEAR'? NOMINATIONS WANTED!
The Bishop Of Liverpool's statement over the death of Rev Canon Chris Woods
Christmas Shopping in UK; More Festive Sneer than Cheer
DONATIONS FROM HOSPITAL SHOP
Your Christmas gift to the planet
Help for drivers in new leaflet
Set a date aside in 2008 the Charity Band Night
Unanimous backing for free school bus travel
North West Comes Last In Jewson Sustainability League
Tagging sheep worth £2 just doesn't add up
Recipe for Disaster - Don't serve up food poisoning this Christmas
WARNING:- CHARITY CHECK!
Southport's Festive Season Is Well Under Way
Survey Reveals Changing Attitudes of Over 50s To Christmas
Burglary at St Joseph's Church, Tranmere
Young People Party for Red Cross and raise £1500!!!
Success In Stopping the Rot
~HAPPY BIRTHDAY~
If you have someone you want to say happy birthday to, for free, then use the email address below to send us the names you want us say happy birthday to, and/or a photograph. Email us today!