The King of English Jazz, Humphrey Littleton Dies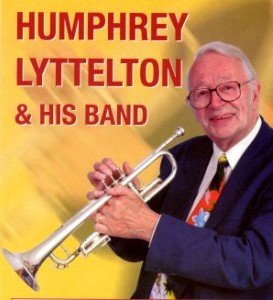 UK JAZZ legend and presenter of Radio 4 comedy show, 'I'm Sorry I Haven't A Clue', Humphrey Littleton, aged 86, died 26 April 2008. The latest series of his quiz programme was cancelled by the BBC after he was admitted to Barnet Hospital, North London, on 16 April 2008, to repair an aortic aneurysm. Best known as a musician, Littleton began playing the trumpet in 1936 and still toured with his band up until recently. In 1956, Lyttelton's Band with Penny Blues, was the first British jazz record to enter the top 20. Our editor and many of the members of the Formby Millennium Committee looked back to the Formby Festivals, which he attended and performed at. All have said that he was "A fantastic and very friendly person to be around. He has done a huge amount for charity throughout his lifetime and we were so pleased to have had him playing in Formby, not once, but on several occasions. What struck us all was how he interacted with the Sefton Youth Jazz Orchestra's members and how enthusiastic he was towards them. He was a fantastic ambassador for jazz to the younger generations and a major loss to the UK's music industry. He was also a fantastic role model. He will still be an inspiration for generations to come through his music."

Our related stories:- link 1 link 2 link 3.
COMMUNITY NOTICE:- "CHARITY AUCTION"
ST LUKE'S Church, Formby, in association with The Rotary Club of Formby are holding a Charity Auction at St Luke's Church Hall, Kirklake Road, Formby, on 10 May 2008. Proceeds of this event will go to equip the HIV/AIDS Hospice in Shyira, Rwanda. Viewings start at 9.00am with the sale starting at 10.00am. Admission to the Auction will be £1.00 on the door. A free catalogue will be given to you on arrival. Light refreshments will be on sale all day.
Next of kin appeal - John Harold Dowling
THE Southport Coroner's Office are appealing for the next of kin of a man who died on Sunday, 13 April 2008. John Harold Dowling, 72, of Grantham Close, Southport, passed away at his home. There are no suspicious circumstances surrounding Mr Dowling's death.

Mr Dowling was born in Wigan, worked in Rochdale and then in London. He returned to the area and lived in Bootle before moving to Southport in 2007.

The coroner's office is now trying to trace his next of kin. Any next of kin, or anyone who knows of his next of kin, is asked to contact Southport Coroners Office on 0151 777 3480.
Craven Minor JFL
Results 26, 27 & 28 April 2008
Under 8 Tigers
Formby JSC B 2-0 Southport FC Juniors
Town Green Tigers 6-2 Birkdale United D
Redgate Rovers Yellow 4-4 Southport Trinity B

Under 9 Leopards
Birkdale United 2-1 Southport FC Juniors A
Town Green 2-2 Formby JSC B
Deepdale 1-6 Formby JSC A

Under 9 Panthers
Southport Trinity B 3-3 Redgate Rovers Green
Redgate Rovers Black 2-3 Jaguars White
Ormskirk West End 4-3 Jaguars Red

Under 10 Eagles
Southport FC Juniors B 1-1 Southport FC Juniors A
Redgate Rovers Green 0-3 Town Green Inter

Under 10 Hawks
Redgate Rovers Yellow 2-0 Hesketh Colts Blue

Under 11
Formby JSC A 4-1 Birkdale United B
Redgate Rovers Green 9-2 Hesketh Colts Red
Redgate Rovers Yellow 9-0 Hesketh Colts Blue

Under 13
Ormskirk West End Blue 9-3 Redgate Rovers
Southport Trinity 2-1 Burscough FC Juniors
Under 9 - Ormskirk 4 Jaguars 3
Due to illness the Jags only had 6 players. The game started with Ormskirk using their advantage of the extra man and scoring an early goal but the Jags didn't let that stop them and began to dominate the game. A great cross from Kai Wilson was met by Josh Huyton who scored to equalise. A mistake at the back allowed Ormskirk to claim a second goal but this was soon cancelled out by Kyle Bell who left the scores even at half time.
The beginning of the 2nd half was once again dominated by the Jags pushing forward and the pressure told with a great move by Kallum Graham who passed out wide to Josh Huyton to cross in to Kyle Bell who flicked the ball to Tyler Rimmer to blast the ball into the net taking the Jags into the lead but the tired legs and lots of bruises were beginning to take the toll on the Jags. Ormskirk scored two goals in quick succession to make it 4-3. Jags fought back but couldn't find the net.
Birkdale 2 Southport Juniors 1
The final game of the season saw Southport Juniors going to Birkdale looking to get a result against a team that over the last two seasons they have struggled against. Birkdale started the stronger with lots of possession but all in all both keepers had nothing to do until the game kicked into life. C.Rimmer and J.Edmondson combined well to set L.Harwood free who, made no mistake but while Southport where still celebrating Birkdale got level through J.Milton who finished very well from a tight angle leaving the scores level at half time.
The 2nd half started with both teams making changes which didn't effect the overall play. Birkdale again playing the better, with lots of the ball but their final ball was missing. Birkdale's corners caused endless problems and their movement was great but Southport defended well and A.Thorpe in his unusual role of striker had three one on ones with Bondie in goal who did well on all three occasions. Birkdale finally broke the deadlock with a good move involving three or four passes and a great finish. Nobody could argue with that. Birkdale deserved to win today but Southport battled hard throughout.