They have also danced throughout the country, with great enthusiasm and dance regularly in the evenings at local pubs throughout the summer. The also take part at the Folk Festivals, days of dance and fetes all over the UK. In their red panties,
navy skirts, white blouses and straw boaters accompanied by our talented musicians they cannot be missed and livened up Southport's band stand performing to the onlookers. I had to get a question in to some of the dancers, why were their not many young people dancing, so I spotted a few young lasses and asked. "It is a shame, but people are only interested in night club dancing now. Traditions have been lost and we few vow to keep the dance alive. It is a fun and social dance form that is very energetic. I get teased at collage when people find out I do this. It is a great shame as often it is far more intermit when ball room dancing with the lads than you ever get in the night club…"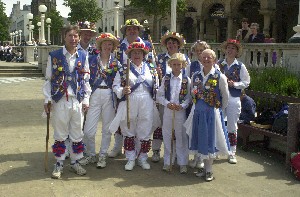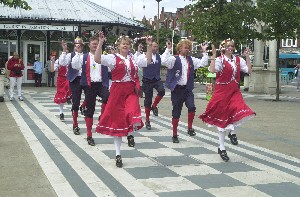 This is a bit more information about the other groups who took part:-

Singleton Cloggers were formed in 1949, leading the gala procession at Singleton village once a year.

FYLDE COAST CLOGGERS, Formed in 1987 by Squire Sheila Mugan, the Fyide Coast Cloggers are a ladies north west clog dancing team from Lytham St Annes in Lancashire. The dancers perform with a range of implements which include mollys, garlands, bobbins & sticks. A lively & exuberant team whose ages range from 121 to a 65 years young. Their colourful kit comprises of a white blouse, red skirt and green pinafore complete with the famous Lytham windmill on the bib. Finished off with straw boaters decorated with flowers.

SHAUN THE SHEEP

The sheep hail from Southport and were formed at Whitby Folk Festival, after a Rapper workshop. For them Rapper presents an exiting combination of speed, danger and thrilling challenge. The excitement of the speed, the danger of the sharp steel the thrill of finishing without major injury and the challenge of doing it all in the right order simultaneously. The Sheep have danced the length and breadth of the British Isles and preformed at venues like the. Milennium Dome, Whitby Sword Spectacular and two tours of Skye and of course Southport!

FURNESS CLOG is a team from Ulverston that specializes in the clog step dances that form part of the Furness Tradition. They also do some lively North West Morris dances from time to time. They are easily recognisable in their dark green skirts and multi colored waistcoats. Their unique repertoire is much in demand and has recently taken them as far as Albert in France, Dublin and the Isle of Man!

INCLOGNITO lead by Barbara, Carrie, Paul and Val. They have performed together since June 1997. In 1998 we danced at Upton upon Severn, Sidmouth and Towersey festivals as Clog on T'side, before reviving the name Inclognito, which they have used for a few years now in Leeds. They said "We're happy to travel. We have links with Spinning Jelly, who play traditional English and Celtic music for concerts and ceilidhs. Barbara is likely to burst into song if she forgets the steps! Paul has allegedly played the melodeon quite fast at times and Val adds her distinctive humor to our performances."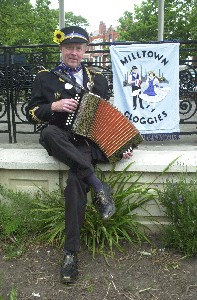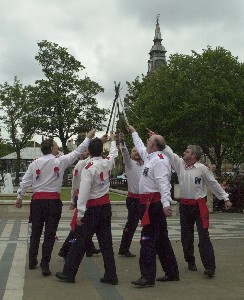 Barley Break formed in 1979 to dance North West Morris and Garland dances. their kit is a striking blue pinafore dress edged with yellow braid, complemented by a yellow blouse, underskirt and tights along with blue clogs. This season they have changed the design of their blouses they told us! Barley Break perform at festivals up and down the country and also at local events around Grimsby in North East Lincolnshire.

Yorkshire Coast Morris are based in Scarborough, but also have some members from as far away as Whitby and York. The mixed team was formed in 1979 and costume is blue and white with red, blue and white ribbons, red and blue bell pads and decorated straw hats. In the past three years we have also had sides from Alaska, Australia, and die USA at our festival.

Yorkshire Chandelier is a all female clog dance team from Sheffield, founded in 1975. They take the unusual name from the traditional corn dolly that they carry. They can be recognized by our brown mill clogs and green and yellow kit. One of the overseas events they have attended was in Virginia.

MILLTOWN CLOGGIES... A team who, not surprisingly, given their title, dance in the North West Clog Morris Tradition. They come from the former Mill town of Glossop and wear distinctive attire consisting of white dresses together with blue aprons and topped by straw hats. They have been established as a team for around ten years and their dancing is complemented by a fine band of musicians. Another globe trotting team they have danced abroad, recently in France and have put in appearances at major folk festivals in the U.K.

MOSSLEY ROSE AND CLOG. A vibrant mixed team from the former mill town of Mossley who have a history going back to the early eighties. The ladies wear red pansies decorated With white and red hearts, surmounted with straw hats decorated with flowers. The men wear black breeches, red waistcoats and traditional bowler hats. Over the years the team have devised and choreographed many of their own dances based on the influences of the North West Tradition.

FIDLERS FANCY...... Although the exact year is not documented precisely, it is known that somewhere between 1885 and 1890 Charles Burgess Fidler, a fishmonger by trade, revived the tradition of Morris dancing in Stockport. Following the growth of interest in Morris dancing during the 1970's Ollie-Hosier and Stan Gee met with Mary BrownCharles Fidler's grand daughter, the result was Fidler's Fancy Women's Morris.

SOUTHPORT SWORDS The Swords were formed in 1968 following a visit to Hexham Folk Festival, by two members of the Bothy Fol Club who were inspired by coming upon a rapper team in a pub. This interest continued later that year when the same two went to Keele Festival, learnt the Flamboroug dance and co-opted others coming into the team. After their debut performance that year the team took them up the North Skelton long sword tradition, which has continued to be the team's mainstay to the current day. "To prove our versatility and to make us Morris foreman feel wanted, as well as making paid bookings more feasible" they said "we also perform Morris dances, mainly from Adderbury and Bampton traditions. Finally, we feel that it is only fair to use this opportune to warn you that in spite of many years practice our sing have not improved. We are always looking to expand our horizons so if' like what you see this weekend, and want to see more visit us at www.southportswords.org.uk." If you missed them, see this weekend in Formby on Saturday as they entertain the crowds at the Arts Festival!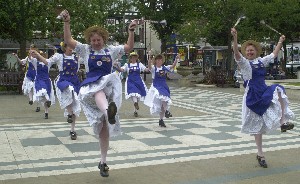 Click here to see more pictures!