Unable to travel to Japan, Gareth Howard from Southport took the drastic measures to ensure he doesn't miss any of the action of the world cup by sealing himself off from the rest of the world in a giant perspex box! He has to be the Crazy England Fan ever to seals himself in a box for entire World Cup!

You have seen Big Brother now it meets the meets the World Cup with England's most craziest football fan Gareth Howard. For 31 days and nights Gareth lived in footy heaven, watching, well up to the point when England lost... But that did not dampen his spirit for the game for long and every minute of every game he watched. "Just give me a big TV, a months supply of Goodfella's Pizzas and leave me alone until July" he pleaded at the start. The question on everyone's lips was WHY? Gareth however was very clear about his motives; "Are you joking, 31 days of football and Goodfella's Pizzas with no distractions, I'm the luckiest man on earth!" he laughed telling reporters at the start of the challenge.
"It was my girlfriends idea and I thought I could raise alot of cash for Child Line and also get a way of not missing out on the action! I have just finished University and this is a good thing to have as a talking point on a CV as well. I did not want to quit as every one has been so supportive through out, but I am glad to be back in the fresh air and able to walk. I cant wait to get a pint!" he said to us as he got out for the first time in 31 days and nights at the Coronation Pub, his local watering hole.

"I have been all over the country and seen alot of things. Despite my comments at the beginning.... 'Do you really think I'd lock myself in a box for the entire tournament if I didn't think we had a chance. If the injuries clear up and we get the luck we deserve, we could go all the way!' England as we all know lost, but I would not have quit. I have been all over the UK starting at the in London going to places like Manchester, Blackpool, Newcastle and countless others before finishing up back in my home town of Southport. I have raised some eye brows and also spread alot of football fun through out the UK not to forget raised alot of much needed cash for Child Line!"
Please keep donations going and visit www.childline.org.uk

Page 1 of 4.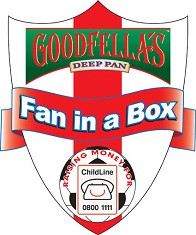 Picture, Gareth at the start of his journey bellow with thanks to Quickedge Saw Ltd.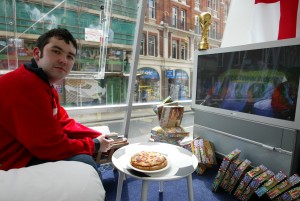 Other Pictures by Patrick Trollope. Some friends join him on his last match on the Pleasure Land Car Park.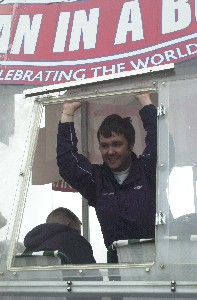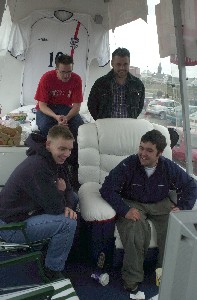 Click here to see more pictures!