Stone Roses and Primal Scream Star Played In Southport!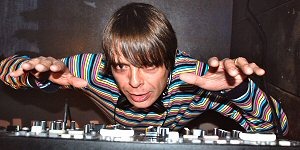 MANI, Gerald Mountfield, a former member of the 'Stone Roses' and also member of 'Primal Scream', was in Southport on the 5 June, 2009, thanks to a local promotions group called End Of Entertainments The night started very slowly, as is normal now in Southport, but quickly built up into a hive of activity, and inside Apres on West Street, Southport. the fans started to flock in to see Mani taking to the decks to deliver a fantastic DJ set. At first the fans stood back in awe, but after Mani invited them nearer, they descended on him, with cameras flashing and hands waving. Mani did his best to shake every hand and to kiss as many ladies' hands as he could. This add to the buzz that his mix was creating in the venue. It was odd to see Mani playing around with CDs and not playing music on his bass guitar, yet he looked at home on them. It was a fantastic night and a true pleasure to meet him, and from what we could see, Mani and his fans all came away with smiles on their faces! We cannot wait to see what comes next from End of Entertainments, who are putting the stars back into
Southport Night Life.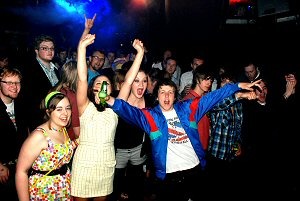 SEE OUR PHOTO COVERAGE CLICK HERE NOW!
Useful links:- Wikipedia PrimalsCream.net TheStoneRoses.Co.UK
ASK THE CURATOR
EVER wondered what it's like to handle ancient artefacts, care for unusual bugs or produce an exhibition of wonderful artworks? National Museums Liverpool is giving the public an opportunity to quiz curators and discover more about their fascinating jobs.

Posting your questions is easily done on the National Museums Liverpool website. The best questions will be selected and posed to the curator in a video interview which will also be shown on the website.

The first curator to be featured is Pauline Rushton, curator of costumes and textiles. Pauline is responsible for National Museums Liverpool's huge range of costumes, from gorgeous Edwardian frocks to punky Vivienne Westwood suits. She curated one of the Walker Art Gallery's most popular exhibitions, A Passion for Fashion in 2006 and has most recently curated photography exhibition Sound and Vision, currently on display at National Conservation Centre and A Sweet Life, on show at Sudley House.

National Museums Liverpool has a wealth of different curators that reflect the diversity and richness of the collections. Ask the curator is a unique opportunity to discover what goes on behind the scenes of your favourite museum or gallery.
A FREE pint for your Dad at the Ship Inn...
WE'RE rewarding all Dads out there this Father's Day on 21 June 2009, with a free pint at your very own Cask Marque accredited local, Ship Inn in Rainhill, Prescot. Click on HERE to see last weeks edition to find out more about this offer and to print off the voucher.