Hope Street Feast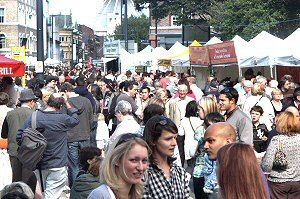 ON Sunday, 20 September 2009, the 4th Annual Hope Street Feast was held in Liverpool's Hope Street. The road was closed to traffic during the Festival along with some surrounding streets. There were market stalls; many were food stalls with hot and cold foods of bewildering varieties, national and international. Street artists roamed the area entertaining children and adults of all ages; some were in very colourful clothing doing some amazing or humorous activities. The lovely old fashioned fairground rides were quite popular with the very young. Even the Farmers' Market Stalls were doing a roaring trade.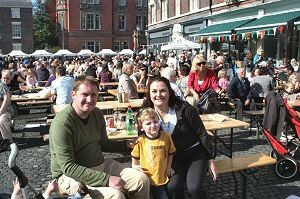 The Everyman and Playhouse Theatres had a quiz in the bar and there were tours of the theatre every half-hour, which, incidentally, were over well subscribed, and there was story telling too. The famous Everyman Bistro, a gastronomic gem in Liverpool, was providing food and musical entertainment all day. The Philharmonic Hall had an open-day and there were free concerts with the famous orchestra playing along with choirs, and short talks by the conductor. The Unity Theatre had a jumble sale with a treasure trove of craft activities. In the Hope Street Hotel, the London Carriage Works had afternoon teas available with music in the downstairs lounge. In the side streets, off Hope Street, were stages upon which various bands performed throughout the day.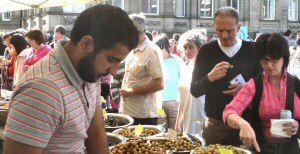 There were even Owls in the Anglican Cathedral supporting the BBC's Wildlife Photographer of the Year's Exhibition.

The Blackburne Place stage, at 1.30pm, had the revolutionary website, Projec 52, songwriter singer, Shane Beales, performing. On the Myrtle Street stage, at around 2pm, a band, called Xanda and The Pirates were playing some inspiring and thought provoking music with vocals, one of which was Purple Rain, which really pulled the crowd in. There was some terrific guitar playing. At around 3.30pm, on the Hardman Street stage, just after the Hope Street Ceili, one found a 4 piece group, The Trestles playing some fab music.

Once again this Hope Street Feast was excellent. The planning was good in the way everything was set out and organised. People obviously enjoyed it, for there were smiling faces everywhere and some stalls even sold out before time was called Sadly, time to close down came, so the stall holders packed everything away to let the traffic in and the local residents have their roads back. Well done everybody and thank you. Surely there will be another one, it was so good!

Click on here to see more photographs taken at this event.