WATER NET-WORK TO GET MAJOR IMPROVEMENT
UNITED Utilities are investing more than £2 million to reinforce its water pipelines in Kirkby and Maghull. During this winter and into next spring engineers working on behalf of the water company will reinforce approximately 7km of old cast-iron water mains by essentially threading new plastic pipes through them, as well as cleaning approximately 880m of existing mains.

This work will strengthen the overall reliability of the water network and reduce the risk of leakage.

Dan Smith, Project Manager, said:- "This work will ensure that the Kirkby and Maghull areas will have a modern and robust water supply for many years to come. Around 30,000 homes in Maghull and 10,000 properties in Kirkby will benefit directly from the work – and the newly-reinforced pipes will also bring added benefits to the Skelmersdale area, which serves a population of 50,000."

On Monday, 22 November 2010, engineers will start work on a water main outside a pumping station on Leatherbarrows Lane and then move along Giddygate Lane and Angers Lane.

This section of work is expected to take four weeks to complete.

"As the water main we are working on is positioned underneath the road we have to put measures in place to control traffic so we can work safely. From Monday, 22 November 2010, Angers Lane will be closed to traffic for 10 days. We will put temporary traffic lights in place on Leatherbarrows Lane outside our pumping station and at the junction with Giddygate Lane. We would like to apologise in advance for any short-term inconvenience this work may cause. We will do everything possible to keep disruption levels to a minimum and we will write to customers across the area to update them on our progress." said Dan.

For further details about this project please telephone United Utilities' Service Inquiries line on:- 0845 746 22 00 and quote project number:- 80003705 – between 8am and 8pm Monday to Friday's; 8am to 6pm on Saturday's and 8am to 12noon on Sunday's.
Liverpool's Christmas Market 2010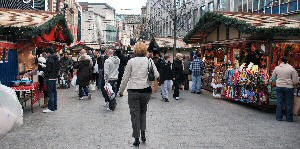 THE festive season is upon us and for Liverpool City Centre that can only mean one thing, the return of the City's much loved Christmas Market; it really wouldn't feel like Christmas without it!

Now in its sixth year, Liverpool's infamous Christmas Market promises to be bigger and better than ever before. The event is stretching across the length and breadth of the City Centre; including Lord Street, Church Street, Houghton Street, Paradise Street, Whitechapel and Williamson Square. The market will open on Thursday, 25 November 2010 and will be spreading festive spirit to its visitors from near and far until Tuesday, 21 December 2010. Don't miss it!

It goes without saying that the market will be bursting with an array of festive goodies; like hand crafted woollen goods and one of a kind wooden crafts. For those looking for something a little different the market boasts a selection of unusual gifts from around the world, including African wall hangings and South American instruments.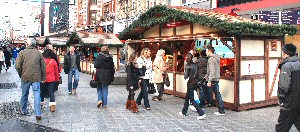 Of course, no Christmas Market would be complete without a licensed bar. Visitors will enjoy Bratwurst sausages, with a selection of German beers to wash them down and, not forgetting glühwein wine, a Christmas favourite which promises to get you in the festive spirit!

Tempting treats include a hog roast, roasted chestnuts, chutneys, French cheeses and plenty more to tickle your taste buds. Also on offer will be a celebration of international cuisine. Those with a sweet tooth will not be disappointed, with a selection of delights including German chocolates, Italian pastries, macaroons and chocolate glazed fruit.
To see our report about it, that we ran last year, click here.
If you go to this years, let us know what you think of it by emailing our news room.
Organ Donation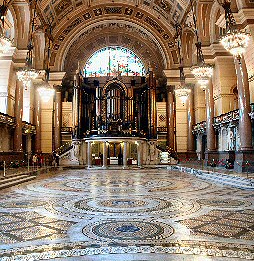 ST. GEORGE'S Hall is pulling out all the stops to raise money to restore one of the world's finest instruments.
The Willis Organ, the 3rd largest in the UK, suffered damage when the Hall took a direct hit from an incendiary bomb in December 1941. Parts of the instrument have been renovated over the past 60 years, but Liverpool City Council has launched an appeal to see the organ fully restored and brought back to its former glory.

The aim is to raise £300,000 which would go towards fixing all the 'operational' aspects – these include the 'key actions' which make the sound when the key is pressed. They date back to 1897 and are, unsurprisingly, extremely worn. The leatherwork, which dates back to 1957 also needs replacing.

A special organ recital is taking place on Tuesday, 23 November 2010, when City Organist Professor Ian Tracey will showcase his expertise with some beautifully played classical pieces. The event runs from 12.45pm to 1.30pm and costs just £1 admission to be paid at the Heritage Centre reception.

Liverpool City Council's cabinet member for culture and tourism, Councillor Wendy Simon, said:- "The Willis Organ is a stunning structure in need of some urgent repair. The Great Hall was designed purely as a venue for music festivals due to the acoustics, so it's fitting that this recital is being held to raise money for such a beautiful instrument. I hope as many people as possible make the most of this event and come and enjoy wonderful music in beautiful surroundings, and I'm sure Liverpudlians will live up to their generous reputation and donate as much as they can."

Another key piece of renovation would mean that for the first time in more than 70 years audiences could hear the solo tubas and French horn through the organ. The stunning decorative casing designed by Charles Cockerell is also in need of repair.

There are 3 ways people can support the St. George's Hall organ appeal:-
Adopt a pipe – There are 7,737 pipes up for adoption for a minimum donation of £25. Supporters will receive a certificate and have their name entered into a commemorative book which will be on display at all recitals.
Annual sponsorship – Set up a standing order and donate every year – no matter how big or small. Those who donate more than £300 will be named in the Halls Heritage Reception with complimentary seats at a recital. Those who donate more than £500 will be invited to key organ events and recognised in a public reception.
Organ experience – A unique opportunity to play on this famous instrument in the company of one of the resident organists. This costs £500 and bookings are required.

Professor Ian Tracey said:- "Hearing the Hall organ as a boy, was the catalyst for my own love of organ music and my career choice. It is one of the jewels in the musical crown of our great city, and still one of the most important concert instruments of its age and type in the world, with the power to excite the listener more than 150 years on. It is a quite thrilling instrument to play, even though age has taken its toll. I am delighted to say that it is currently undergoing staged work, which, when complete, will restore it to its former glory and all donations, no matter how small, are greatly valued."

Anyone who would like more information or to donate can call Tracy Winstanley on:- 07753 832 718.
Letters To Editor:- "Harold Ackroyd VC MC, winner of the VC"
IN response to a request for information about Harold Ackroyd by Hans Molier, from Roosendaal, Netherlands, that we ran on June 2010 Julian H. Ackroyd Peck has responded with the following:- "I am Harold Ackroyd's great nephew. I am very interested to know what the enquirer of the above request may have discovered. Harold's date of birth is:- 18/07/1877."

Editorial note:- "We have sent this to Hans Molier for you. We hope you both can get corresponding. Good luck and thank you for contacting us. Please do keep us posted of any developments with this interesting request."