The Chocolate Cellar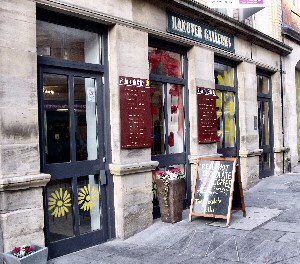 SWITZERLAND has it, Belgium is famous for them and Cologne has one, but so has Liverpool! Yes. At the lower end of Paradise Street one can find The Chocolate Cellar. Church House is the next building, so how fitting for chocoholics to find a chocolate heaven also in Paradise Street. You can find, eat, drink and on certain occasions even make your own chocolate delight in this very friendly and mouth watering shop. In fact, it is a secret well worth knowing about.

On Saturday, 22 January 2011, a chocolate fancier visited the Cellar. The event taking place was:- come in and have a go at
making some chocolates. We were told about the history of this Chocolate Cellar and given time to make our mouths water by looking around at the displays and drink a free, made on the premises, cup of hot chocolate. That was very welcome for it
was a damp, windy day outside. Then we were introduced to two of the Cellar's Chocolatiers. They showed us the materials we could use and demonstrated how one makes a sweet and a biscuit. Then we were each invited to try our hidden skills at coping and creating our own pieces. It was fun, and very rewarding, for we were able to bag up our efforts and even eat them.On Valentine's Day, 14 February 2011, the Chocolate Cellar is hosting a Valentine's Day Play Session. It will start at 6pm with a complimentary drink followed by a talk on Chocolate led by one of the friendly Chocolatiers. Next, there is a chocolate tasting session which will demonstrate to you the different ways of experiencing chocolate. Now, after all that, the main Play session will begin.

There will be 3 separate activities for you and your partner to participate in. For example, you and your partner will be able to hand dip and decorate fresh strawberries, make rice crispy cakes with a difference and decorate a chocolate bar with a Valentine Day's message. The length of time you spend on each activity is up to you.
Click on here for our photographic coverage of the event...
To book your places for the party, Call in to the Shop, or Telephone:- 0151 200 2202, or visit the On Line Shop at:- thechocolatecellar.co.uk to buy a Couples Chocolate Play Session voucher. Also see their advert page at on Mersey Reporter please here.
Closure of Peter Brown Estate Agents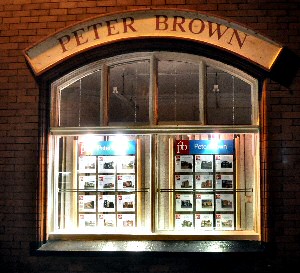 ON Monday, 24 January 2011, Peter Brown Estate Agents closed their doors for good. The current economic climate had
resulted in poor trading and this, combined with the fall consequential to the recent atrocious weather, left them no option but to cease operating.; a sad reflection of the present times both in Southport and across the country.