Sally Devine - 1955 to 2011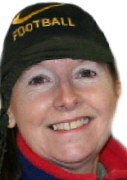 IT is with great sorrow that we have to announce to our readers the death, on Wednesday, 19 January 2011, of Sally Devine, a well loved lady from Formby, who, many of our readers will know has written sports columns for us over the years and has supplied us with many top quality photographs. Sally also developed a following by supplying many others papers, and the Southport Football Club as well, with her photographs. Despite suffering from cancer for two years, Sally was well on her way to fulfilling her dream of being a fully professional, accredited press photographer. She was also a loyal supporter and colleague of Southport Football Club and her loss will also be keenly felt by them as well as many in the media. When Sally was not using her fantastic eye for action pictures, she worked in a civilian capacity at Merseyside Police in the licensing department. She had done this job for around 30 years and they have also said that she will be greatly missed. Our editor, Patrick, met up with her a few days before the last match she photographed and she was as friendly as ever. She had a very positive attitude at the time. Southport Football Club director Haydon Preece, on the day of the match, was told by her that she felt fine as well, but sadly, 11 days later, she died in Liverpool's Women's Hospital. Haydon, speaking on behalf of the Club, said that SFC were shocked and saddened by the news and that she would be sadly missed. "Sally was a real Southport fan who contributed towards the club, showing professionalism and dedication in everything she did." We extend our sympathies to her partner, Craig Jackson, family and friends at this sad time. As a tribute to her, there will be a minute's silence before kickoff at Southport's home fixture against York, on at 2pm and then a farewell tribute will be held at the Grandstand Club in her beloved Haig Ave. Saturday, 29 January 2011. The funeral will take place at Southport Crematorium on Monday, 31 January 2011.

These are just links to reports and photographs that she had done for us over the years...
► LINK - This link goes to the "Southport FC v Sheffield Wednesday" A game she was over the moon to have photographed and the last one she snapped for us.

► Open Golf - 1st Day Of Competition - Update 1 - July 2008 - Working for us as a national reporter and also as our paper
reporter. LINK.

► Warehouse In Southport Is Re-Opened - May 2010 - LINK.

► LINK - Sandgrounders V Bradford - December 2003
Southport v Hyde - November 2004 - LINK.

► LINK - Southport FC announce new manager... January 2007

► LINK - Junior Open Gets Inspiration (Golf event) in July 2008

► LINK - SOUTHPORT FC V FRICKLEY FC 24 APRIL 2004

► 20 August 2004 - Southport FC V Vauxhall FC - LINK.

► Southport V Wigan Athletic (Friendly) - 26 July 2003 - LINK.

► SOUTHPORT FAIL TO CAPITALISE March 2003 - LINK - This was one of the very of the first reports she did for us.

Also please visit:- southportfc.net to see many more photos and also the Southport FC's tribute.
Liverpool to host International Tournament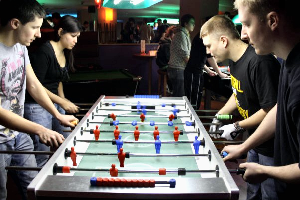 FOOTBALL, or at least table football - will be coming home to Liverpool this February. The city has been selected to host one of England's biggest tournaments of 2011.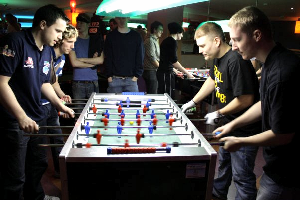 The city will be displaying another aspect of its cultural wealth, when on Friday, 4 February to Sunday, 6 February 2011, the British Foosball Association will be holding an internationally recognised table football tournament in Riley's Pool Hall, Bolton Street. Champions from across the globe have been invited, with countries such as Germany, Lithuania, Italy, Cameroon and Holland already confirming that they will be sending players over to compete.

Tournament Director and BFA secretary Joe Bundy says:- "Liverpool has always been a great place to host tournaments. We have a great venue and the people of Liverpool are always friendly to the competitors. This makes for a great atmosphere and means that the Liverpool tournament is always a date to keep free in the calendar. For this reason it was an easy decision to award this tournament with international recognition."

Members of the public are welcome to come along to watch and even test their skills against some of the best players in the world. Events begin at 6pm Friday evening and continue through to Sunday afternoon. More information go to:- britfoos.com/events/2011/
Say "Cheese!" with the Vikings
THE Widnes Vikings are pleased to offer an exciting opportunity to 10 of its fans. In mid-February, Denis Betts, his 36 man squad and entire backroom team will all be assembling at the Stobart Stadium Halton, to pose for the cameras at its annual photo shoot for 2011. And, for just £50 you could be lining up alongside them. Included in the price is a framed 10x8 image, which will act as a permanent memento of your special day. Places are offered on a strictly "first come; first served" basis, so don't delay and contact the club as soon as possible, cal them on:- 0151 495 2250 or you can email them.