Meeting the French
Report by Marcus Croman and photos by Patrick Trollope.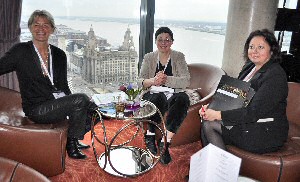 THE meeting place was in Liverpool's The Panoramic Restaurant, with spectacular with views across Liverpool and overlooking the Mersey and the Liver building, but what a fantastic place to meet representatives of the French tourist board from all regions.

The atmosphere was full of enthusiasm, with food and wine on the go all around you. We talked to many of the regional representatives about their culinary and wine offerings: Brittany is famous for its seafood and crepes, Dordogne which has lots to offer to travellers like the black truffle or fields of saffron and its red wine, Burgundy famous for its wine and Gingerbread every region has some special dish or attribute. I, myself, love talking to people about good food and wine as they go hand in hand together so well, and it was fantastic to talk to such a group of people who are passionate about these things. The French, in my view, know a thing or two about how to extract the best flavours out of the things they make.

If you would like a chance to learn some of their secrets they have special packages and tours for every type of connoisseur be it wine, cooking, making savoury or sweet crepes, or spending the day with local fishermen to catch your dinner.

It is such a shame that there are so few flights to the different regions of France from Liverpool John Lennon Airport there are more options available though via Manchester Airport, and of course there is always the ferry or the Euro Tunnel.

We will be following up these leads at some point soon. For now we recommend that if you are looking for a holiday outside the UK, you take a look at the the official French Tourism Development Agency website:- franceguide.com to get lots of ideas.

Also these 3 website are worth a visit:- tourismelimousin.com, tourisme-lot.com, vacances-en-correze.net.

KEEP up-to-date with our daily news email service...
~ Sign up ~
to our new news service on Formby-Reporter.com.
If you subscribed you can keep in up-to-date with what's going on in and around Merseyside. It is free and we do not send out massive amounts of emails. Also your email is kept under the UK's Data Protection Act, so you can be sure that you will not have problems.
...HAPPY BIRTHDAY...
If you have someone you want to say happy birthday to, for free, then use the email address below to send us the names you want us say happy birthday to, and/or a photograph. Email us today!
This week's news in pictures