FORMBY WALK OF WITNESS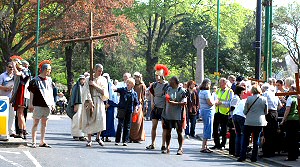 THE Formby Churches Together held the annual Walk of Witness, in Formby Village Centre, on Good Friday (22 April 2011). The event occasioned astonishingly warm weather, drawing in a massive attendance for what was a very good service. The procession wended its way from the War Memorial through the village and, at its culmination, a type of re-enactment of the crucifixion took place. The service was held outside the Formby Pool complex on the grass bank and, after the service, many who attended headed off either to Holy Trinity for hot cross buns and tea or to the Swimming Pool for refreshments. "We would like to thank Merseyside Police and also the staff at Formby Pool for their support, without it the event could not have taken place." said a spokesperson for the Churches Together group.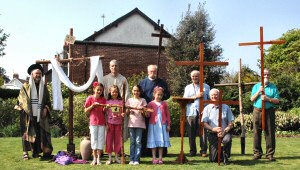 Click on here to see more photographs taken at this event.

KEEP up-to-date
with our daily news email service...
~ Sign up ~
to our new news service on Formby-Reporter.com.
If you subscribed you can keep in up-to-date with what's going on in and around Merseyside. It is free and we do not send out massive amounts of emails. Also your email is kept under the UK's Data Protection Act, so you can be sure that you will not have problems.