Colourful street party and 3 tier cake at Crossens Nursery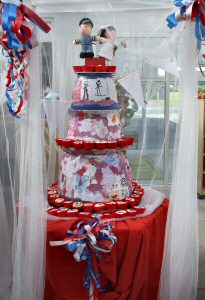 CROSSENS Nursery School celebrated the Royal Wedding on Wednesday, 27 April 2011 with a colourful 'street' party and an unusual 3 tier 'cake'. The Nursery children sang and danced in party mood, before enjoying their festive meal.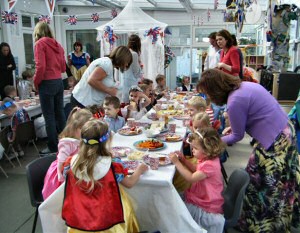 The special cake made out of papier-mâché and recycled plant pots, was decorated with cup cakes and topped by knitted William and Kate figures. The children created it with the help of the staff, parents, Artist in Residence Andy Shaw and his assistant Sharon Kelly.
WRVS presents Southport & Ormskirk NHS with £35,000 'gift'
WRVS will present Southport and Ormskirk Hospital NHS Trust with a fantastic 'gift' - £35,000 to fund a new heart scanner - at a ceremony at Southport & Formby District General Hospital on Friday, 6 May at 4.30pm.

Jonathan Parry, chief executive of Southport and Ormskirk Hospital NHS Trust will attend the ceremony, along with volunteers from the WRVS shop at the hospital.

The money is an accumulation of the profits taken from the WRVS shop at Southport and Formby District General Hospital.

Sue Collins, WRVS interim Head of Services for the North West, said:- "We're absolutely delighted to be able to hand over such a significant amount of money to a really worthwhile cause. We would like to say a massive thank you to all the volunteers and staff who make the shop so successful; they provide a really invaluable service for the people who use it."

Jonathan Parry, Southport and Ormskirk NHS Trust chief executive, said:- "We are extremely grateful for both this very generous contribution to the scanner appeal but also to the sterling work the WRVS and their volunteers perform at each of our hospitals. Everyone who has made this donation possible – from the patients and visitors who use the shops to the volunteers who make their operation possible – can be sure, that once acquired, the scanner will be of enormous benefit to patients for years to come."

Businesses struggling to find the right calibre of staff
THE government's new Work Programme, that is due to be launched in June 2011, is hoped will transform the lives of millions of people on long terms benefits. Billed as "The most ambitious back to work programme this country has ever seen" (Chris Grayling), it is hoped it will bring to an end a persistent problem which has defeated previous administrations of all persuasions.

Despite optimism of the government, the picture looks very different when seen through the eyes of employers. A recent survey by the People 1st Training Company revealed that a quarter of businesses are struggling to find the right calibre of staff. Currently in the UK, 2.4 million people are out of work yet some businesses are finding it hard to recruit staff.

Carmen Watson, Managing Director of Pertemps Recruitment Partnership said:- "Businesses are recruiting again which should offer great encouragement to the labour market, however there is a worrying trend that although companies are hiring they are struggling to find the right calibre of staff. Hiring the right staff is vital to any organisation and failure to do this can cost a company dearly. My advice to companies who are looking to hire is to recruit staff who share your company's values and culture."

The recent economic downturn, public sector cut backs combined with mounting employment regulation, such as the Equality of Duty rules which came in recently, all make compliance a costly and complex maze for both public and private sector employers.

However, it's not just when people are in work that the problems begin, recent figures announced by the Office of National Statistics stood youth unemployment at 963,000, with the jobless rate for young people remaining above 20%. Youth unemployment is at an all time high and many experts are attributing the worrying trend to an ever widening skills gap.

Last month, Chancellor George Osborne highlighted the skills gap as a real danger. In the budget he said the UK was falling behind other developed countries in terms of having a skilled and flexible work force; a situation that would potentially undermine any future economic growth.

As a result the government has found extra funding for a further 40,000 apprenticeships for young people. Apprenticeships should prove an attractive solution to both employers and perspective employees as university fees increase. With fees increasing to up to £9,000 the option of university has become a less attractive option to many young people..

Watson continued:- "The skills agenda raises much concern and there are a number of vital areas we need to look at. A critical area appears to be 16-24 years olds where we have seen an alarmingly high unemployment rate so far this year. We are clearly not offering this age group enough training and support and, in my opinion, many are not being offered training at all. This is an issue that needs to be addressed as a matter of urgency and we need to be asking companies to seriously look at how we can support an age group that are failing to get jobs."
Readers Pary Photos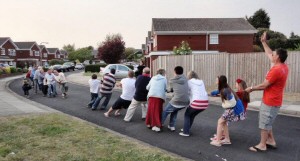 THIS fantastic picture was snapped in Formby by Hugh and Anne Dixon of the Stapleton Road Street Party. If you have any you took, like this one, then please do email it/them to us via:- news24@southportreporter.com. Our standard site T&C applies to all text and photos sent in.