Liverpool Born Actor Elisabeth Sladen Has Died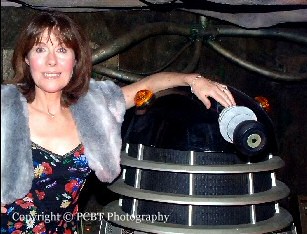 THE actress Elisabeth Sladen, known to her friends and family as Lis, has died of cancer at the age of 63. She has become well known as "brave and funny and brilliant" by all who have had the pleasure to have met her. She had been suffering from cancer and leaves behind her husband, actor Brian Miller and her daughter, Sadie. Readers of our site will know that we have done a few interviews with her over the years, and she has always been a glowing example of what is best about Liverpudlians. Her career includes being on the Liverpool Police series Z-Cars and other similar series, but she will remain best associated for the roll as the most popular of all the Doctor Who companions, Sarah Jane Smith. That popularity of her character lead to her having her very own spin off series on CBBC called The Sarah Jane Adventures. Steven Moffat, Doctor Who's, executive producer at the BBC told the media that:- "Elisabeth has had a glowing been an inspiration to all of us. She was always kind, enthusiastic, gentle and very clever. She was a ferociously talented actress, of course, but in that perfectly English unassuming way. There are a blessed few who can carry a whole television show on their talent and charisma. I can't think of one other who's done it quite so politely. All of us at the BBC are so sorry to have learned that she has passed away." To see our video interview we conducted with her, please click here.

Elisabeth Sladen - 1 February 1948 to 19 April 2011

We would like to offer our deepest sympathy to her family and friends.
| | | | |
| --- | --- | --- | --- |
| This week's news in pictures | | | |

KEEP up-to-date
with our daily news email service...

~ Sign up ~
to our new news service on Formby-Reporter.com.
If you subscribed you can keep in up-to-date with what's going on in and around Merseyside. It is free and we do not send out massive amounts of emails. Also your email is kept under the UK's Data Protection Act, so you can be sure that you will not have problems.