Colourful street party and 3 tier cake at Crossens Nursery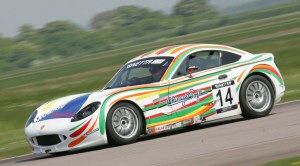 THE Liverpool based youngster improves upon first ever Top 10 Ginetta Junior finish and secures a ninth place in the latest rounds of the series The former kart star Declan Jones took his best result to date at Thruxton last weekend in rounds 5 and 6 of the 2011 Ginetta Junior Championship. Declan, who has graduated to the Ginetta Junior Championship for 14 to 17 year olds this season, had never been to the 2.356 mile Hampshire circuit before, but he made the most of the track time and following a confidence boosting double finish at Donington Park two weeks ago - in only his second ever Ginetta Junior event - he got progressively faster and faster as the weekend progressed. The Chicago Soft-backed youngster started by posting the 14th best time in practice and he then improved slightly and took 13th on the grid in qualifying in his family-run Kelvin Jones Motorsport Ginetta G40J, his best lap a 1m 33.265s.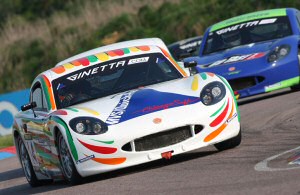 "I hadn't seen the track before the weekend. I didn't know what way it went. Didn't know what it was like. People were saying it was really fast. I wasn't sure if I liked it at first, but then it started to grow on me and every time I went out, I just went quicker. After free practice and qualifying I knew where I was losing out. I just had to keep chipping away at it." said the 15 year old.

In the first race, Declan showed great pace, but ultimately the Liverpool-based teenager had to settle for 13th at the flag. His 3rd race finish in a row though was a boost and he put that mileage to good use the next day in race 2. Indeed he gained 3 positions on the opening 2 laps and while he slipped back on the next tour, he fought back to 11th on lap 5 and moved up to P9 on lap 6, a position he held all the way to the finish.
"I had a pretty good start and just kept it in there. Then I was battling all the way through. I really, really enjoyed it. I was catching Williams Foster [who finished 8th] at one point - but I made a mistake and out-braked myself at the Complex. He then pulled away from me and with about 2 laps to go I just decided to stay where I was and just finish. Overall I think it was a really good weekend. Getting a couple more finishes under my belt is critical at this stage and it was good to learn another track too. I'd like to thank my team, everyone did a great job this weekend and I'd also like to thank Bradley [Ellis – my 'coach'] for his help and advice. I got told to go into this weekend and finish with no damage and collect as many points as I could – and that is what I did." he told the press.

In the end Declan took 20 points from the weekend and increased his tally to 38. He will now resume his campaign at Oulton Park next month over 4 June to 5 June 2011, his 'home' circuit, where the MSA British Touring Car Championship-support series will resume for rounds seven and eight. "I really am looking forward to that. I think it will be another weekend where I have just got to finish however, because I haven't done much around there. The only time I have driven there is in the wet. To race there in the dry will be completely different. Again hopefully I can get another top-ten though, and collect some more points." Declan added.

Declan's dad and boss of Kelvin Jones Motorsport, Kelvin Jones meanwhile was delighted to see his son have another encouraging weekend. Kelvin Jones told us that:- "We knew we were going to be up against it a bit this weekend but Declan still came good. The game plan was to learn the track and each session he went out in, he just found more speed up until the point we were the fastest car through the speed trap. The second race was obviously the highlight. Dec was 13th on the grid and he had a great start. He was on the pace throughout. There was nothing in it and in the end ninth was a good result. We said to him before just keep it tidy, keep it smooth, stay out of trouble and you will get the results. That seems to be especially so in this championship. There were a lot of unnecessary incidents in the two previous events at Brands and Donington. But it was nice to see that the driving standards over the last two days were a lot better. The other boys seemed to get the nature of this track. It doesn't accept mistakes or people being pushed off at high speed. The consequences of that sort of driving could be great. I haven't heard of any penalties as yet and it was encouraging to see some clean racing. I really hope this carries on. Fingers crossed."

Looking to the future, Kelvin is convinced that Declan will be able to start making real inroads now he has 3 events - almost a third of the season - under his belt. "We really felt that after Thruxton the season would start to come to us and after our home race at Oulton Park next month, Declan will then be going to tracks that he has been too before. Hopefully this is going to be a good turning point for him. I want him to try and push on from ninth now and just keep moving up the grid. That is what we want to do and that is what we will be looking for at Oulton." said Kelvin.

3 stranded on Sandbanks
LIVERPOOL Coastguard received a 999 call at 2145 local, from 3 men who had become grounded on a sandbank 'somewhere' between Lytham St. Annes and Southport.

The men, who were on a 3 metre RHIB had no means to navigate, had no lights and only two mobile phones to communicate. As the men could not be certain as to which side of the river Ribble they were, Coastguard Rescue Teams from Lytham and Southport were tasked. After firing white illuminating flares to try and locate them, Merseyside Police helicopter offered to assist in the search and located them approximately 2 nautical miles northwest of the old sandworks at Crossens.

MRCC Liverpool sent Southport Lifeboat and their 2 quad bikes to the position and with the assistance of Southport Coastguard team they transferred the men, one of whom appeared to be suffering from the effects of hypothermia, from their boat back to shore and a waiting ambulance for assessment.

It transpired that 1 of the casualties had been overboard trying to pull the craft into deeper water, this man was transferred to Southport Hospital. Southport Lifeboat later recovered the RHIB to their boat-house.
Last chance to recognise deaf communication champions
PEOPLE wishing to recognise inspirational figures in deaf learning at a top national award ceremony have just one week left to make their nominations count.

The nominations for the Regional Learner of the Year and Regional Teacher of the Year categories in the 2011 Signature Annual Awards close on 4 May 2011, and organisers are urging people to make the most of the long weekend by nominating someone who deserves recognition for their contribution to deaf communications.

The awards are hosted by Signature, the leading provider of accredited qualifications in sign language and other forms of deaf and deafblind communication, and aim to recognise those who have made an outstanding contribution to improving communications and access for deaf and deafblind people.

Signature Chief Executive Jim Edwards said:- "We know there are many individuals whose hard work in the deaf community remains unrecognised. These awards aim to honour the leading lights in British deaf communication and celebrate their hard work and achievements."

This is the awards' third year and they are set to be even bigger and better than ever – with eight prestigious national award categories and a further 26 regional awards across the UK and Ireland.

Regional nominations can be made via:- signature.org.uk/awards – a Teacher of the Year and Learner of the Year will be chosen from each of the 13 regions and these winners will then progress to the final award ceremony in London in November.
Business rates cowboys take advantage of 1 in 4 Liverpool businesses
BUSINESSES in the Liverpool area are being warned against unscrupulous agents offering to reduce company's business rates bills. In the past as many as 6,700 businesses in the Liverpool area alone have signed up with unregulated rating agents thinking they will obtain a rates refund.


Chartered Surveyor Nick Wright MRICS and Director of RatesRecovery a leading national specialist business rates consultancy says:- "Rates are the highest outgoing for many businesses after rent. The rates valuation and billing process can often be confusing and for many the prospect of pursuing an appeal is daunting. In the past many unregulated agents have taken advantage of this situation by making false promises to local businesses in return for an upfront fee. Many of the appeals made by these rates cowboys are without foundation and have little or no chance of success. Companies are being ripped off every day through a variety of telesales and door to door marketing by these people."

With the 2011/12 rates bills recently being received by businesses ratepayers should be on their guard; it is expected that rogue agents will again be on the prowl. With no Government backed regulation in place ratepayers should ensure that they only use agents who are members of the RICS and abide by its code of practice.

Ratepayers can also obtain a free, personalised, online report from:- ratesrecovery.com which details if they may be overpaying business rates and provides an easy to understand guide as to the potential level of risk. Let us now if you have had problems quoted in this report via emailing our news room to:- news24@southportreporter.com.