Scale Snowdon this summer in aid of arthritis research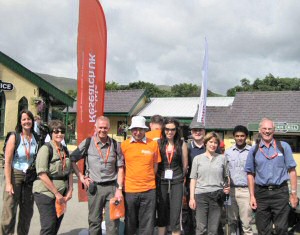 THE Leading medical research charity, Arthritis Research UK, is again organising a sponsored walk to the top of Snowdon on Sunday, June 26. The charity is looking for walkers to complete the challenge and raise funds for its research which aims to take the pain away for sufferers of all forms of arthritis.

Ruth said that:- "This is a fantastic opportunity for people to tick this off their list of life goals and walk for the millions of people with arthritis who cannot walk. Last year we had just under 100 walkers take part in our Snowdon Challenge who raised over £7,000 between them. A team of staff from Llandudno General Hospital Rheumatology Unit (pictured) joined us last year and they are getting a team ready for this year's Snowdon Challenge. I hope we'll have well over 100 walkers and raise over £10,000 this year to celebrate our past achievements and help us reach our visionary goal of a future free of arthritis. I know so many people who mean to walk to the top of Snowdon, the highest peak in England and Wales, but they just don't get around to it. And doing it this way is so much easier, we organise it all, walkers will have the help of marshals equipped with first aid kits should they get into trouble, a trained and experienced mountain guide will be present, lunch and a snack are included for every registered walker and walkers will also receive a free t-shirt and certificate of achievement on completion. No minimum sponsorship is involved, all we ask is for walkers to pay just £10 to enter and do their best to raise whatever they can. All that our walkers have to do is get themselves to Llanberis and we'll do the rest.....apart from walk for them!" said the walk organiser, Ruth Owen, Arthritis Research UK's regional fundraising manager.

Arthritis Research UK is celebrating its 75th anniversary this year so this is the perfect time to support the charity and celebrate its work. Its research has led to major improvements in the treatment of arthritis including the pioneering of anti-TNF drugs that have transformed the lives of millions of people around the world. It has been instrumental in developing longer-lasting implants and surgical techniques in joint replacement surgery. Arthritis Research UK scientists have sped up the diagnosis and treatment of children with arthritis and are developing ground -breaking tissue engineering techniques and cell-based therapies to treat osteoarthritis and degenerative disc disease, a common cause of back pain. Further information including entry forms can be obtained from Ruth by phoning her by email.
The SOUTHPORT FOOD AND DRINK FESTIVAL 2011
THIS year the annual feast of food, a festival of drink takes place over 12 May to 15 May 2011. Billed by Southport TIC as being:- "Set in England's Classic Resort", this years highlights of this FREE festival includes:- Celebrity and local chef demos including Jean Christophe Novelli; A chocolate festival; Fiery chilli festival; Dedicated English wine day; Kids' food fest; Regional ale festival; Whisky festival. The markets at this years event are said to be full of fresh local produce, so lest join the celebration of all things food and drink. For more information visit:- visitsouthport.com/foodanddrink.

The May Blitz Exhibition
TO commemorate the 70th Anniversary of the May Blitz 1941 and to honour those who lost their lives during the raid, Merseytravel is hosting a special exhibition throughout May at its Woodside Ferry Terminal, Birkenhead. The exhibition includes:-

► Original wartime documents of the Liverpool Corporation Passenger Transport Department

► Wartime transport posters

► Rarely seen photographs from the period

► A brief history of the wartime responsibilities of the Liverpool Corporation Passenger Transport Department

► Wartime memorabilia

The bombing of Merseyside reached its peak in the seven-night blitz of 1 May to 7 May 1941. It was the most concentrated series of air attacks on any British city area outside London during the war and was one of the last series of big raids on Britain before the German invasion of Russia. Neil Scales, Chief Executive of Merseytravel, said:- "it is important that people remember not only the devastation and loss that was suffered, but also the remarkable spirit of bravery and determination that people showed. This exhibition brings to life some of the stories through images and artefacts, and as it is free, we hope as many people as possible come along and see it." This special exhibition runs until the end of May 2011.

Did you know that:- The first bomb landed upon Wallasey, Wirral, at 22:15 on 1 May 1941. Around 870 tonnes of high explosive bombs and over 112,000 incendiaries (firebombs) were dropped on Merseyside during the Blitz causing massive damage to the city centre, the port and the entire area, inflicting 2,895 casualties and leaving many more homeless.
Southport Poet Wins National Poetry Search
FOLLOWING a nationwide search for modern day poems celebrating love and marriage, Denise Jones from Southport has beaten hundreds of entrants from across the country to have her poem published in a new book of love poems.

Denise's poem "Marriage is for life, not just the Wedding Day" was handpicked for inclusion by the Editor of Poetry Review magazine, Fiona Sampson, and poet Matt Harvey. This followed a nationwide search by Marriott Hotels for new poems inspired by love and marriage to be included in a new book of 'Marriott Love Poems - A Collection Inspired by Love, Weddings and Romance'. The book will be available across their 54 UK Hotels and Country Clubs and will act as inspiration for brides, grooms and all members of the wedding party, offering a new take on traditional wedding readings. As celebrated poets, the judges were looking for poems capturing the emotions around weddings, love, marriage or romance, and were delighted by the variety and high quality of the poems submitted.

Overwhelmed by the poems submitted, Fiona Sampson commented:- "The poems we've read have been very well written examples of vernacular in verse. These are poems on a big theme by real, ordinary people. They are not literary works, but part of our nation's vibrant community culture."

Matt Harvey said:- "It has been a pleasure to read the poems we've received. I found much material that touched and delighted me and I'm overjoyed that so many people felt inspired to write a poem on the theme."

Denise and a guest will also enjoy a romantic weekend at one of Marriott's luxurious hotel & country clubs, some of the most beautiful wedding venues in the country. Marriott Love Poems – a Collection Inspired by Love, Weddings and Romance will be published in April 2011 and will be available across Marriott's portfolio of 54 hotels and country clubs in the UK.