Children 'too scared' to walk to school, survey reveals
RESEARCH published in May 2011 has shown in stark detail the barriers children face each day that prevent them from walking to school, with 36% of children fearful of cars travelling too fast and a fifth of respondents scared about the lack of safe crossings on the journey to school. In the survey of over 2,000 children aged 7 to 14 from across Britain, national charity Living Streets asked about their habits, concerns, and fears when it comes to their walk to school. The survey, published to mark the start of National Walking Month, found that:-

1) Over a third of children are scared of cars travelling too fast, with a fifth concerned about a lack of safe crossing points.

2) Over a third of girls were concerned about walking in the dark.

3) Many children reported being scared of walking to school alone, with nearly one in five secondary school pupils worried about being bullied on the walk to school and 39% scared by the risk of 'stranger danger'.

4) 62% of primary school children claim to be unable to walk to school as it is too far away, yet the majority of primary school pupils live within a 20 minute walk of the school gates.

Over the past two decades, the number of children walking to school has dramatically dropped. Today, only 50% of primary school pupils and 38% of secondary school pupils currently walk. Walking is the simplest, greenest and cheapest form of exercise that can keep a child fit, happy and healthy, yet it is often overlooked in favour of travelling by car. Increased car ownership since the 1980s, coupled with fears of cars travelling too fast, means that the number of primary and secondary school pupils walking has felt a sharp decline over the past two decades. Living Streets campaigns for walking to be the natural choice for short journeys and is lobbying the Government to make it easier for local councils to reduce the speed limit to encourage people to walk more and to create safer, more attractive streets.

Tony Armstrong, Chief Executive of Living Streets said:- "This survey illustrates how parent's fears are feeding into our children and getting them out of the walking habit. There are solutions however. We're campaigning for the speed limit to be reduced and for safer crossings to create better walking environments for all. We already know from a previous survey that a fifth of parents who don't currently walk their children to school would do so if cars didn't travel as fast and we feel and safer streets would encourage more families to walk. The results from our survey should be a wake up call to Government. If they are serious about tackling obesity and encouraging local active travel, they need to send a strong message to local authorities, parents and individuals that addressing these barriers is key to healthier, happier communities. The tools to get our children walking again are already there. Through our Walk to School campaign we are already reaching 1.6 million primary and secondary school pupils, but we have a way to go yet to reverse the decline seen over the past two decades. We urge everyone to get walking during National Walking Month and to give walking the school commute an extra-special go during Walk to School Week. We believe that every school and every local council needs to invest in cost-effective schemes such as these to get our children out on the street, healthy and active."

This May is National Walking Month and Living Streets hopes to actively encourage families and children to walk more regularly, not just to school, but in their daily lives. To find out more, please visit:- livingstreets.org.uk. Walk to School Week is part of National Walking Month and takes place from 16 May to 20 May 2011. Did you know that this survey was conducted online within the UK for Living Streets by Opinion Matters, an independent research company, over 1 April 2011 to 18 April 2011. It was commissioned by Living Streets and analyses the results from 2,094 children aged under 15.

Blood, Sweat and Bicycle Wheels!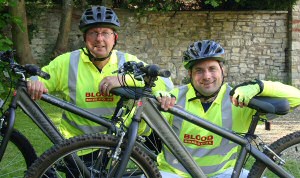 WHILST most of the country will be enjoying a 4 day Bank Holiday weekend, friends Mike Burns and Paul Lowe are getting on their bicycles to start an epic national 1,250 mile charity ride. Throughout May 2011, Mike and Paul, who both come from Somerset, will be cycling from one end of the country to the other on a charity ride which aims to link all 24 NHS Blood Centres along the way. Mike, 52, and Paul, 36, started their marathon ride in Newcastle on Sunday, 1 May 2011, and will end it some 1,250 miles and 20 days later in Plymouth on Friday, 20 May 2011. They will be joined by 70 friends and colleagues along the way who will assist them by carrying a baton with keys attached for the new vehicles passed along the route. Their quest is to build greater public awareness of the locations of all 24 NHS Blood Centres across the country, and to raise enough money to provide an additional motorcycle and 4X4 vehicle for 'Bloodbikes' - the emergency courier service. 'Bloodbikes' is a registered charity that relies solely on volunteers and fundraising to support the NHS by transporting blood, surgical equipment, X-rays and medical notes. The Bloodbikes movement was 'founded' in 1969 when a youth community action group named Freewheelers began encouraging bikers to use their riding skills to provide an efficient and reliable transport service to local hospitals. This initial group served hospitals in the Hertfordshire and Bedfordshire areas, carrying blood, drugs, plasma, diagnostic specimens and even human spare parts on occasions. Over 40 years on, Bloodbikes still provide a vital service to hospitals, operating on a voluntary basis from a number of biking groups across the UK.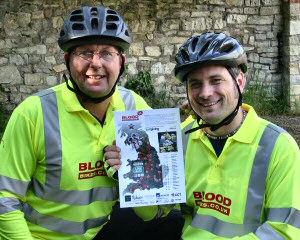 Mike said:- "The reason they need an additional motorcycle and 4X4 is that they have recently extended their service to include collecting breast milk from donors and delivering it to special baby care units. The 4x4 can also be used for bulk loads, in all weathers and in places where bikes are not suitable." Mike and Paul aim to complete the 1,250 mile ride entirely on mountain bikes with no support vehicle. It will take them three weeks on a variety of terrain with 50 percent of the route on canal towpaths and Sustrans National Cycle Networks. Mike added:- "One of the big challenges from the outset was to plan the best route, despite looking into every option we still have to zig zag the country, crossing the Pennines three times!" The complete distance will be nearly one and half times that of Lands End to John O'Groats. "We can't wait to get started now. Let's just hope the sunny weather continues." said Mike. On 21 May 2011, representatives from BMW and Volkswagen will be awaiting the arrival of the baton and keys in Plymouth, to present the two new emergency vehicles to Blood Bikes. People can see the route and find out more about the ride by visiting:- bloodbikes.co.uk.