Schoolchildren leave their mark for the future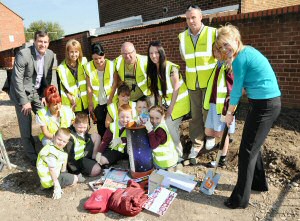 SCHOOL children have buried a snapshot of history as part of a new housing development in Knowsley. Pupils from Mosscroft Primary School in Huyton, together with Knowsley Housing Trust (KHT) and Bramall Construction, has put together a collection of items which they felt would most represent their lives today to bury in a time capsule that will not be unearthed for 50 years. It has been buried under a new development by Knowsley Housing Trust (KHT) at Tiverton Close in Huyton, which will provide 49 new homes in summer 2011. The children of the future will be able to read The Liverpool Echo and Knowsley Challenge from the day the time capsule was buried on Wednesday April 20, 2011, see photographs of the children wearing the fashions of the day, Liverpool FC and Everton FC programmes, handprints of the school children, photos of the development being built, school newsletters, KHT's Living in Knowsley magazine and much more. Steve Heverin, KHT Operational Director of Investment, said:- "We really wanted to involve the local community in this project. The children have done a great job and it is amazing to think that in 50 years time people will be given a glimpse into life in 2011 from the items we have buried."

The development is KHT's biggest ever at a cost of £4.5m. The homes, being built by Bramall Construction, will be a mix of flats and houses and the first residents are expected to move in this summer. Building work will be fully completed next year. Previously the site housed flats that had attracted anti-social behaviour and were no longer suitable to meet the housing needs of the area.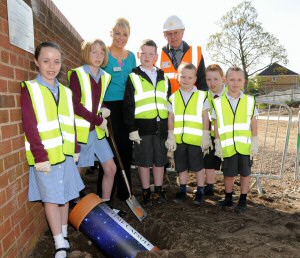 The flats have been demolished to make way for the new development and some of the original tenants will be moving back into the brand new homes.

Mosscroft headteacher Jill Albertina said:- "The project has been a fantastic opportunity for the Mosscroft community to capture all that is special about our school, our families and our children. The experience was enjoyed by all who participated and secured a place in history for our community."

William Swain from Bramall Construction added:- "Bramall Construction is very proud to be working on this exciting new development which will provide quality housing to the residents of Knowsley in keeping with their aspirations. We wanted to work with local youngsters in creating a time capsule so they feel part of the development in their community. We have also delivered health and safety talks in the school warming them about the dangers of construction sites."
HAVE YOU GOT WHAT IT TAKES TO BE AN AMBUSSADOR???
REMINDER to all bus users in Liverpool! This could be your chance to become one of just 40 Ambussadors across the UK as part of a new official quality control team being launched by bus company Arriva.

Arriva North West's Ambussadors will receive a free, 4 Weekly Saver ticket and will be tasked with rating their overall bus experience and, specifically, Arriva's award winning m-ticketing technology. More than half a million journeys have now been made using m-tickets on Arriva buses.

The bus company, which runs a range of services in and around Liverpool, launched mobile ticketing to allow bus users to buy Day Savers, Weekly Savers and 4-Weekly Savers on their phone at any time, 24 hours a day, 7 days a week. This month, the ticket range has been extended to include Student and Annual Savers as well.

To find out more about Arriva's range of tickets and services and to apply to be an Ambussador people should visit:- arrivabus.co.uk/ambussadors. The deadline for entries is Sunday, 8 May 2011.

Karen Potter Craven Minor JFL

Final Positions
Under 9 Leopards
Winners: Formby JSC White
Runners Up: Town Green Jaguars

Under 9 Panthers
Winners: Town Green Pumas
Runners Up: Formby FC Juniors

Under 10 Eagles
Winners: Southport FC Juniors Yellow
Runners Up: Redgate Rovers Black

Under 10 Hawks
Winners: Redgate Rovers Yellow
Runners Up: Southport Trinity Blue

Under 11
Winners: Formby JSC White
Runners Up: Great Crosby

Under 12A
Winners: Kirkby Woodpecker
Runners Up: Southport Trinity

Under 12B Wednesday
Winners: Great Crosby
Runners Up: Redgate Rovers Green

Under 13
Winners: Birkdale United
Runners Up: Southport FC Juniors

Under 14A
Winners: Formby JSC White
Runners Up: Formby FC Juniors

Under 14B
Winners: Crosby Stuart
Runners Up: Formby JSC Black

Under 15
Winners: Formby FC Juniors
Runners Up: Town Green

Under 16
Winners: Jaguars
Runners Up: Breeze

Under 17
Winners: Town Green
Runners Up: Formby JSC White
Cup Finals
Under 9 Jim Rourke Trophy
Town Green Jaguars 3-1 Formby JSC White

Under 10 Wilf Jenkinson Cup
Town Green Jaguars 3-4 Southport FC Juniors Yellow

Under 10 Charity Shield
Southport FC Juniors Black 2-1 Formby JSC White

Under 11 Trisconi Cup
Formby JSC White 7-0 Tarleton Corinthians

Under 11 Harry Cope Memorial Cup
Formby JSC White 2-1 Ormskirk FC A

Under 12 John Disley Trophy
Kirkby Woodpecker 0-1 Southport Trinity

Under 12 Joseph Jackson Cup
Town Green 0-2 Southport Trinity

Under 13 Tom Galvin Cup
Birkdale United 4-0 Southport FC Juniors

Under 13 Catherine Oldfield Cup
Southport FC Juniors 2-4 Birkdale United

Under 14 Allen Langfeld Trophy
Ormskirk West End 2-0 Formby JSC White

Under 14 Maric Cup
Ormskirk West End 2-1 Formby JSC White

Under 15 Tom Owens Cup
Formby JSC White 0-2 Ormskirk West End

Under 15 Peter Brown Cup
Formby Dons 1-4 Town Green

Under 16 Adam Bell Cup
Breeze 0-1 Jaguars

Under 16 Ken & Les Cup
Southport FC Juniors 1-0 Jaguars

Under 17 Geoff White Memorial Cup
West Lancs Colts 1-0 Formby JSC White

Under 17 Gordon Hyde-Price Cup
Town Green 3-3 Formby JSC Black
(aet – Town Green won 4-3 on penalties)