Local riders in NW200 in Ireland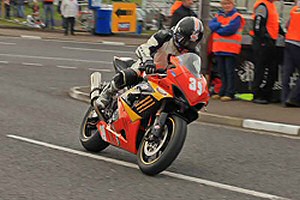 THIS week local riders from the North West riders are competing in the NW200 over in Ireland... This fantastic shot of Number 39, John Tattersall from Preston was taken by our colleagues in Octane Photographic Ltd. We have been told riders from Merseyside are taking part. We will let you know as soon as we find out more...

SuperSport - Blue Plates/White numbers:-

1 - Ian Hutchinson - Guiseley
7 - Gavin Hunt - Braddan
19 - Alan Jackson - Preston
21 - Paul Shoesmith - Poynton
55 - Dan Kneen - Braddan

SuperStock - Red Plates/White numbers:-

14 - Paul Shoesmith - Poynton
39 - John Tattersall - Preston
42 - Garth Woods - Blackburn
55 - Dan Kneen - Bradden

NW200 Superbikes - White Plates/Black numbers:-

7 - Ian Hutchinson - Guiseley
14 - Paul Shoesmith - Poynton
30 - Gavin Hunt - Braddan
39 - John Tattersall - Preston
42 - Garth Woods - Blackburn
55 - Dan Kneen - Bradden
Acorn turn it up a gear ~ Motorbike Course Launch
NORTH Liverpool based ATA (Acorn Training Academy) who specialise in motor vehicle mechanics are trying something different and venturing into motorbike courses. It has come to the attention of ATA that there is an ever increasing demand from students to learn about motorbikes. In a recent poll conducted by ATA on its current students 9 out of 10 said they would like to work on bikes as well of cars. ATA will be the only training academy to be doing motorbike courses in the Sefton / Liverpool area. After recently coming under new management the centre has re-assessed what it is offering to learners and sees the real value and demand for motorbike courses. Steve Cheshire, ATA Head Tutor commented:- "Motorkbikes have always been popular with young males and the fact that a motorbike license can be obtained at 16 makes them even more desirable. A lot of our learners are chomping at the bit to get out there on the roads and be independent and drive. Added to that the ever increasing rise in petrol and car insurance costs the motorbike route is a lot more economical. This is a great opportunity for us as our mission statement is Helping Youth Grow and this is a perfect opportunity for us to do just that." Courses will now begin over the summer months not just for youths but also for adults interested in motorbikes. With a 100% pass rate* on all qualifications so far this term itís a real chance for keen learners to progress.

* Based on Spring Ascentis MVE Entry level results.
2 Cities, 1 Voice:- An Evening with the Choirs of Liverpool Cathedral and St Peterís College, Oxford
THE choirs of St. Peterís College, Oxford and Liverpool Anglican Cathedral are to come together for a choral concert on Saturday, 2 July 2011. 2 Cities, 1 Voice: An Evening with the Choirs of Liverpool Cathedral and St Peterís College, Oxford, will help celebrate 100 years of the Liverpool Cathedral Choir and 50 years of the choir at St Peterís , in aid of the Liverpool Cathedral Foundation. The programme will feature music by Bairstow, Harris, Britten, Naylor and Parry and will be directed by David Poulter (Director of Music, Liverpool Cathedral) and Dr. Roger Allen (Fellow and Tutor in Music at St Peterís). The Cathedral and St. Peterís are joined in history as well as voice. St Peterís College was founded by Bishop Francis James Chavasse (1846 to 1928), and his son Christopher Maude Chavasse (1884 to 1962), later Bishop of Rochester, who became the first Master of the college. Bishop Francis James died in 1928. St Peter's thus became a memorial to the much-loved Bishop, who was the inspiration and prime-mover behind the building of Liverpool Cathedral, and its second Bishop. David Poulter said:- "We are really looking forward to working with St Peterís. It is especially apt that the Cathedral and St Peterís are united through the figure of Bishop Chavasse and his passion to see both buildings completed, as this concert will build our relationship and the proceeds will be used to help Ďbuildí the future of the Cathedral through the Cathedral Foundation." Tickets will be released soon on liverpoolcathedral.org.uk and cost £15 (£10 concessions, under 5s free). The deluxe package, which includes a three course meal, ticket, reception and exhibition on the history of the 2 choirs, is available for £35.

Saddle up and raise 50 for 50 on the Liverpool Chester Bike Ride
THE British Heart Foundation (BHF) is calling on cyclists to saddle up for the Liverpool Chester Liverpool Bike Ride and help raise vital funds. The 30 mile ride takes place on Sunday, 3 July 2011. It is the only cycle event in the country that includes almost 3 traffic free miles underground with exclusive access to the Birkenhead (Queensway) Tunnel. This year, the BHF is celebrating itís 50th anniversary and is campaigning to raise £50 million to fund groundbreaking research that could begin to literally 'mend broken hearts' in as little as 10 years time. Ken Fretwell, BHF Fundraising Volunteer Manager in Liverpool and Chester, said:- "We hope to have 50 riders, each raising £50, take part in this event for us and help us in our 50th year. Your support can give hope to hundreds of thousands of people across the UK so join us and be a part of 50 for 50." The event is organised by Pennine Events. To register visit:- liverpoolchesterliverpool.com.
HYPOCRITICAL TORIES STILL RELYING ON PFI
A new report by UNISON, the UKís largest union, reveals that, despite heavily criticising the Private Finance Initiative (PFI) in opposition, the Tories are relying on it in power. However, the credit crunch means that the business case for PFI is weaker than ever; a bad deal for the taxpayer has just got a lot worse.

In practice, the Tories are not only expanding PFI, but rejecting new, cheaper funding models. On the same day that a huge PFI hospital was signed off in Liverpool, the government rejected plans for a hospital on Teeside, funded under a new procurement model.

UNISON, a heavy critic of PFI under Labour and the Tories, is calling on the government to finally ditch PFI, and make projects cheaper by funding them publicly.

Dave Prentis, UNISON General Secretary, said:- "Despite criticising PFI in opposition, the Tories have pushed it forward in power, signing off new projects worth more than £6 billion. This is a chronic waste of public money. In the post credit crunch finance markets, the cost of borrowing has shot up, making the case for PFI weaker than ever. Projects searching for finance are now at the mercy of the banking sector, which is exploiting its monopoly position, even though PFI projects have not got any riskier. Our analysis proves that Government borrowing from capital markets would be far more cost-effective, saving hundreds of millions on one hospital alone. And as cuts hit communities, and hospitals and schools shed jobs and wards, the case for more efficient ways of funding major public building projects gathers pace. Tory efforts to tackle the obscene profits made by PFI companies are a sham. In practice, the government is rejecting new finance models, exchanging very short-term gain, for longer-term pain."

The reports main points:-

► Despite criticising PFI in opposition and in government, the coalition has a huge PFI programme in operation with a capital value of £6.9 bn, covering more than 60 projects. The cost of this will increase as the projects reach the procurement stage.

► The off balance-sheet status of PFI is still the main driver, especially in the face of massive public spending cuts.

► However, the case for PFI is weaker than ever. The cost of PFI has risen astronomically following the financial crisis. PFI is at the mercy of the banking sector which has exploited its near monopoly position to raise the cost of finance, despite there being no change in the risk profile of projects.

► The gap between the rate at which government and the private sector can borrow has widened dramatically, shown on page 11 of the report, tracing back this gap since Jan 2008. For example, the overall rate of return projected on the Royal Liverpool and Broadgreen PFI scheme is about 8.5%, compared to a current long term gilt rate of about 4%. Using the current gilt rate to discount the projected returns to investors on this scheme shows the cost of private finance currently an additional £160 million in net present cost (NPC) terms.

► The case for public funding has strengthened. The report puts forward other potential models, such as gain sharing from equity sales and from maintenance over-spend as more cost efficient options.

Case studies in the report include:-
► The Royal Liverpool and Broadgreen University hospital on Merseyside is one of the largest PFI projects to be tendered. The total cost of the scheme is £1.24bn and would have been £733m under conventional procurement (p10).

► On the same day as the Liverpool hospital was approved, the coalition government rejected a new procurement model on Teesside. The hospital in Hartlepool would have used 91% public finance and 9% equity - the latter to take on construction risk. A much smaller PFI scheme is now being planned (p7).

Do you agree with this? Email us now to our newsroom via:- news24@southportreporter.com with your views NOW!